How Common Are Train Derailments? More Than 6 Have Crashed This Month
There have been at least seven train derailments across the country so far this month as railway accidents have gained more attention in recent weeks.
Only two months into 2023, there have already been more than a dozen reported incidents this year.
Train derailments have gained national attention recently after a Norfolk Southern Railway train derailed in East Palestine, Ohio, releasing toxic chemicals into the town and prompting mass evacuations.
Trains have been fundamental to the American transportation system for 200 years, delivering passengers and goods across the country. Unfortunately, railway accidents like derailments are nothing new.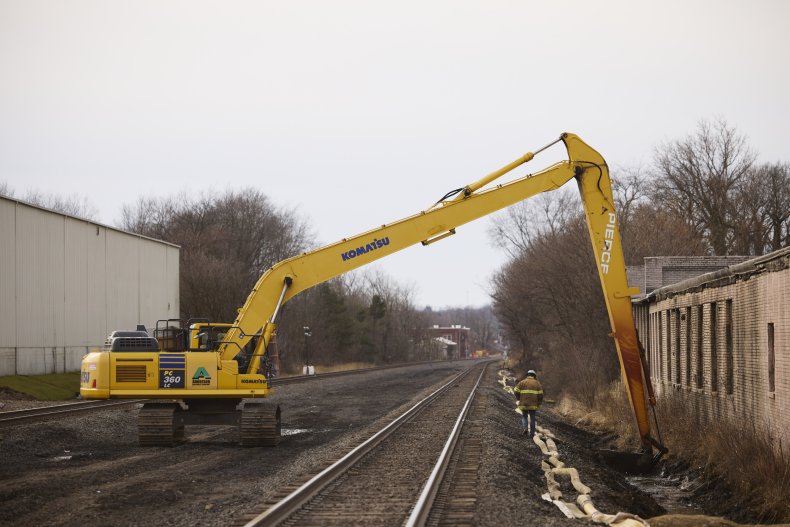 In 2021, there were 1,087 derailments that resulted in 83 injuries and three fatalities, according to the U.S. Department of Transportation's Bureau of Transportation Statistics. That's down from 1,440 derailments in 2011 and down from 2,234 derailments in 2001.
Between 1990 and 2021, there were a total of 54,570 derailments, for an average of 1,705 a year.
With that figure averaging to about 142 derailments a month, 2023 is so far on track to continue the declining trend in yearly incidents.
So far in February, there have been more than half a dozen train derailments reported.
On February 1, a train derailed in Talladega County, Alabama, just off Highway 21 in the Sycamore area, WIAT-TV reported. According to the Talladega County Emergency Management Agency, one of the cars was leaking limestone slurry but there was no hazardous material threat, and no injuries were reported.
Also on February 1, a train with the Canadian National Railway Company fell off the track outside Detroit.
A WWJ reporter said that nine cars were off the tracks, with some seen hanging off a bridge over the street below. No injuries or HAZMAT situation was reported, and the cars were reportedly empty at the time of the incident.
Two days later, the derailment in East Palestine, Ohio, occurred.
A light rail train outside of Philadelphia derailed between 2nd Street Station and Spring Garden Station at 11:45 p.m. on February 4, according to WHYY.
About 100 people were on the train, but the Southeastern Pennsylvania Transportation Authority said there were no reported injuries. Officials said the incident happened as a result of a broken piece of track.
On February 13, a Union Pacific train collided with an 18-wheeler near Splendora, Texas, killing the driver and derailing 21 rail cars, according to the Splendora Police Department.
Union Pacific spokesperson Robynn Tysver told Houston Public Media that its hazmat crews were on site, as an estimated 100 gallons of diesel fuel were released in the crash. Tysver said there was no major chemical concern.
That same day, a train derailed in Enoree, South Carolina. CSX Transportation said in a statement that there were no injuries and no reports of leaks or freight spills. The cause of the incident is still under investigation.
On Thursday, a train derailed in Van Buren Township in Michigan. There were no injuries reported, and the Van Buren Public Safety Department said there was "no evidence" of exposed hazardous materials.
The train was operated by Norfolk Southern, the same operators behind the East Palestine derailment, local outlet WXYZ reported.