U.S. Says It 'Will Try to Be Useful' in Helping Iran and North Korea Fight Coronavirus
The United States has offered to actively assist two of its blacklisted foes, North Korea and Iran, in combating the new coronavirus outbreak that has infected more 120,000 people and killed over 4,300 across the globe.
Robert Destro, the State Department's assistant secretary for the Bureau of Democracy, Human Rights and Labor, told reporters Wednesday that he could not confirm whether North Korea's reporting of zero confirmed COVID-19 infection cases was accurate. He told reporters that the U.S. is "concerned about the North Korean people and we extend our sympathies to all of the families that find themselves in the unfortunate situation of being affected."
"We also know that North Korea is a very closed society. Information is very hard to come by," he added.
The COVID-19 disease, believed to have originated in China's central Hubei district, has since spread to more than 100 countries across the globe. In recent months, new epidemic hot spots have emerged in South Korea, Italy and Iran. As of Wednesday, the latter's confirmed cases have reached 9,000, nearly 3,000 of whom have recovered, and 350 have died. Destro said President Donald Trump's administration would support the Islamic Republic, even though the U.S. has imposed sanctions against it.
"I do know that our government has reached out to North Korea, to Iran and to China, to everyone," Destro said. "So to the extent that we can be useful, we will try and be useful and to provide assistance, and we've done that on any number of occasions."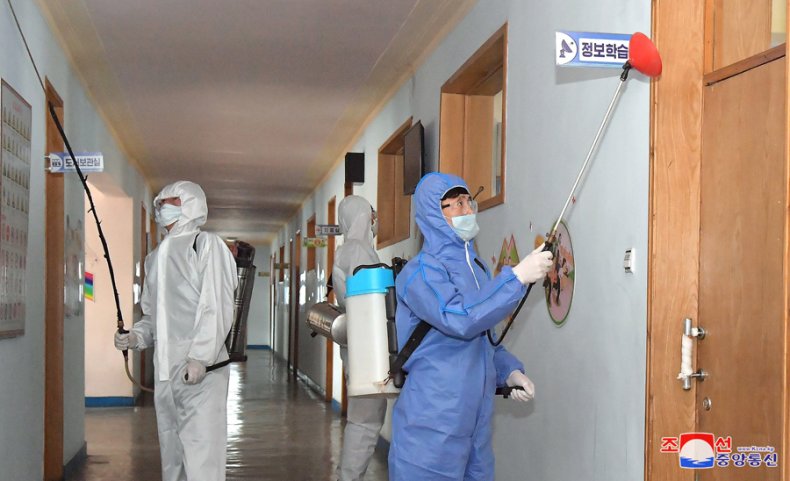 Both Pyongyang and Tehran have accused Washington of using trade restrictions that harm civilian populations as a tool to coerce them into adhering to U.S. policy. The two governments, both ruled by supreme leaders, have faced "maximum pressure" campaigns, using economic, diplomatic and military methods, by the Trump administration. But they are now with rocked by a new challenge that threatens to undermine them.
North Korean supreme leader Kim Jong Un has rallied his country's population to take strict preventive measures against the coronavirus, which has severely affected neighboring China and South Korea. North Korea has instituted thorough quarantine protocols while also utilizing mass media to advertise hygiene practices aimed at preventing infection.
On Tuesday, the Korean Central News Agency reported on new, tougher rules that "have strengthened the control for making vessels in quarantine at temporary berths not to throw sewage into the Taedong River and territorial waters." Tourism has been restricted, and foreign diplomats have been asked to leave the country.
On official state outlets, senior officials, soldiers and civilians alike have been seen wearing protective face masks, even if Kim himself has avoided such sanitary gear. The young ruler was pictured Monday attending artillery and rocket drills that resulted in the reported launch of three short-range projectiles off the country's eastern coast.
Kim has increasingly flaunted his military prowess amid a freeze in talks with South Korea and the U.S. over North Korea's denuclearization in exchange for peace, security and sanctions relief. With Kim's New Year's deadline long passed, observers await the "new strategic weapon" he vowed to debut "in the near future."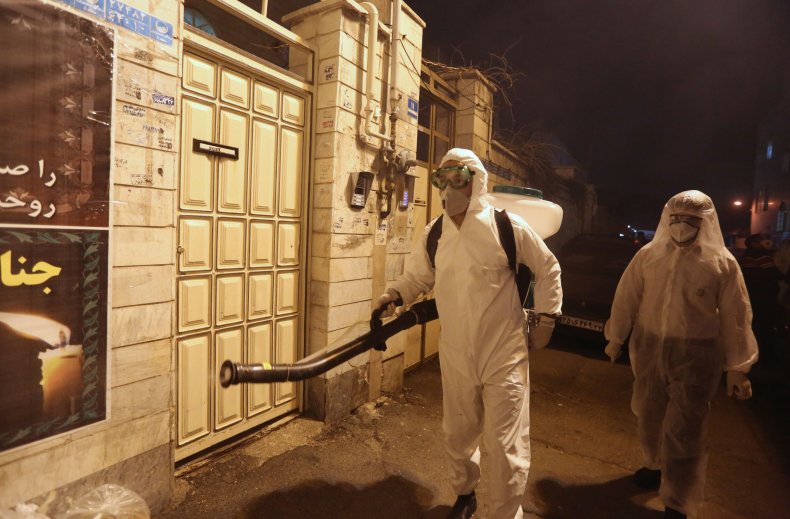 Iran, which is not believed to possess any nuclear weapons, reached a nuclear deal with the U.S. and other nations in 2015. The multilateral agreement saw Tehran severely restrict its nuclear activities in return for a lifting of international sanctions. The Trump administration walked away from it in May 2018, however, arguing that the accord did not go far enough to limit Iran's support for foreign militias and its missile development.
Soaring Middle East tensions between the longtime rivals exploded earlier this year after the U.S. assassinated Quds Force commander Qassem Soleimani in Baghdad and Iran retaliated with a missile barrage that injured over 100 U.S. troops at an Iraq base. But now Iran's armed forces have mobilized to battle the coronavirus as it sweeps through the country.
The semi-official Fars News Agency released a list Wednesday of 23 officials who have been afflicted by the disease, which has infected vice presidents, ministers and members of parliament.
Newsweek reported last month that U.S. sanctions have hindered Iran's ability to respond to the coronavirus crisis, which the State Department has accused Iran of mishandling and covering up. The Trump administration has since said it conveyed an official "offer of support to the Iranian people" through the Swiss government. However, Secretary of State Mike Pompeo said Monday that countries looking to support Tehran first "should seek a reciprocal humanitarian gesture by the regime: release all wrongly detained dual and foreign national citizens."