U.S. Is Fighting a Twitter War with Iran and Venezuela but John Bolton, Not Donald Trump, Is Leading It
While President Donald Trump himself may be the most known among his administration for his social media attacks, it's his hawkish security chief that's leading the country's Twitter war against Iran and Venezuela.
White House national security adviser John Bolton has for weeks been sparring online with leading Iranian and Venezuelan officials who have painted him as the driving force behind the Trump administration's hardline policies against them. Iranian Foreign Minister Mohammad Javad Zarif has even coined the term "B-Team" to refer to Bolton and the leaders of Israel, Saudi Arabia and the United Arab Emirates, whom he has charged with attempting to push the U.S. toward war with the Islamic Republic.
On Tuesday, Zarif accused Bolton and Israeli Prime Minister Benjamin Netanyahu of having "killed" a 2005 agreement on Iran's nuclear program "by insisting on zero enrichment," even though "Iran increased its enrichment 100 fold by 2012." He charged the two men on Twitter of having done the same to the 2015 nuclear deal that the White House abandoned last year in spite of protests from its other signatories⁠—China, the European Union, France, Germany, Russia and the United Kingdom.
"#B_Team hasn't learned. BUT THE WORLD SHOULD," Zarif tweeted.
On Wednesday, Bolton responded: "My thanks to FM Zarif for the kind words. Someday, I'll explain to him how to end a bad deal."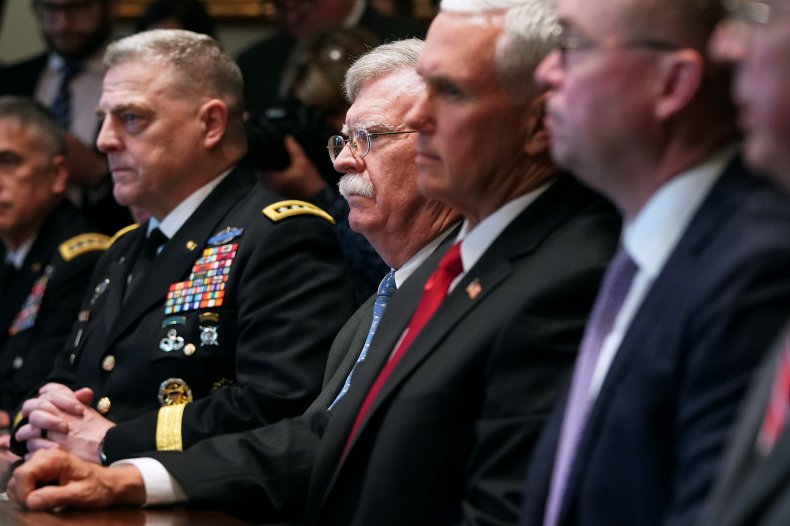 The most recent bout of U.S.-Iran tensions was set off by Trump's exit from the nuclear deal, a decision he made because he felt it did not go far enough in curbing Iran's alleged support for militant groups or its missile activity. These frictions took a new turn for the worse nearly exactly a year later when Bolton warned of a heightened threat posed by Tehran to Washington's interests in the Middle East and Iranian officials announced they would begin reconsidering their own commitments to the nuclear agreement.
Tehran has always denied seeking nuclear weapons, but has begun enriching uranium at a slightly higher level than permitted as part of what Zarif argued Wednesday was a legitimate response to repeated attempts to proceed with dispute resolution mechanisms outlined in the agreement.
Trump himself tweeted shortly after, claiming that Iran "has long been secretly 'enriching,' in total violation of the terrible" Iran deal, but provided no evidence for the claim that contradicts repeated reports by the International Atomic Energy Agency. The president warned sanctions would "soon be increased, substantially."
Trump and his top officials, including Bolton and Secretary of State Mike Pompeo, have pushed for a new agreement with Iran, but as Zarif tweeted his disagreement on Monday, "There's a way out, but not with #B_Team in charge."
That same day, Bolton was busy with another international adversary, however. In the first of what would be a three-day series of tweets addressed to Venezuelan Defense Minister Vladimir Padrino, Bolton argued that Venezuelan President Nicolás Maduro "deprived your soldiers, relied on illegal armed groups & 'colectivos' to violate the rights of Venezuela's people & has systematically executed political opponents."
"Why do you support a tyrant whose inability to govern is visible for all to see?" Bolton asked.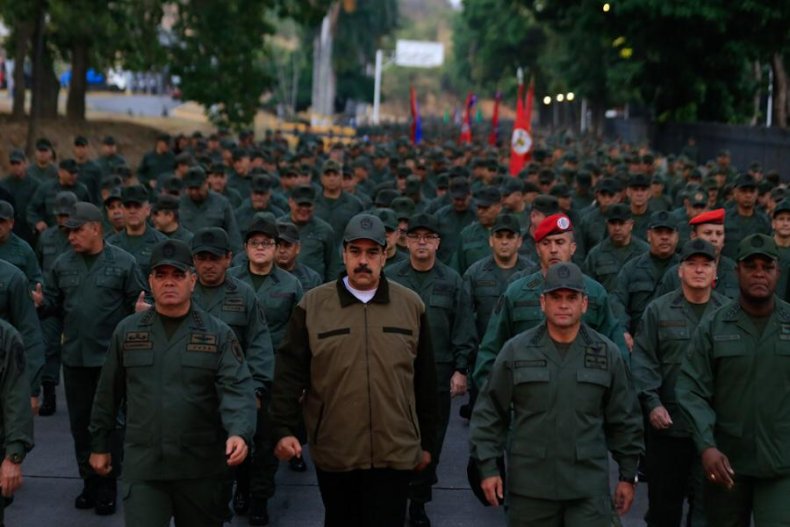 Like Iran, Venezuela has been hit with heavy U.S. sanctions and the Trump administration has gone as far as to cut all ties with Maduro's government since sponsoring parliament speaker Juan Guaidó's self-proclaimed bid for the presidency in January amid an economic crisis. While dozens of nations, including much of Latin America, have backed Guaidó, Maduro still enjoyed the support of international powers such as Russia, China and Iran, as well as the continued recognition of the United Nations.
Shortly after Guaidó tried and failed to overthrow Maduro in late April, Bolton alleged that Padrino was among the socialist leader's top officials who agreed to switch sides, but ultimately failed to do so. Padrino has denied the claim and Monday was neither the first nor last time Bolton went off against Maduro and his administration on Twitter.
"Do you want to be held to account for the arrest, torture and extrajudicial killings of your fellow Venezuelans, including members of the FANB? The atrocities are being documented for the world to see," Bolton tweeted Tuesday, using an acronym for Venezuela's National Bolivarian Armed Forces. "Are you proud to serve Maduro, a despot who has ordered the killing of thousands of your fellow Venezuelans in the last 18 months?"
On Wednesday, Padrino responded, tweeting that Bolton "insists on an unhealthy attitude against me, like an obsessive-compulsive disorder, through recurrent, persistent and intrusive statements, characteristic of the insidious political blindness to which they resort to failing to divide the FANB."
Padrino linked Bolton's "obsessive doubt" to the "clumsy and failed strategy he sold to Trump" and said that his continued position as defense minister "represents a mental torture for Bolton."
Bolton hit back about 15 minutes later, arguing that the "Venezuelan Constitution does not call for the death of over 9,000 of your fellow Venezuelans because they voice disagreement with Maduro." He continued: "Remember your responsibilities to defend the constitution and the Venezuelan people."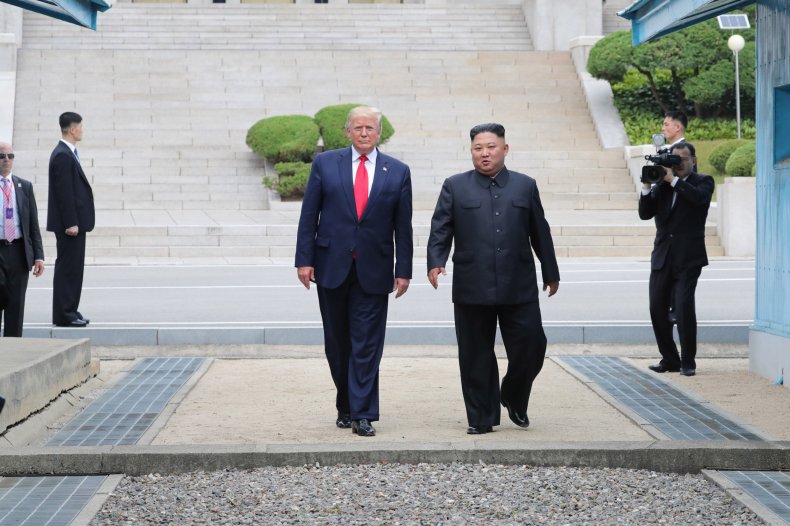 Bolton has a decades-long history of calling for military action and regime change against designated U.S. foes, including both Iran and Venezuela, two oil-rich countries Washington has accused of human rights abuses they deny. As former President George W. Bush's undersecretary of state for arms control, Bolton helped push the U.S. to invade Iraq in 2003 and later advocated for interventions against Libya and North Korea as well.
Such U.S. positions have inspired other international actors like Russia and China to take a greater role in global affairs and both Moscow and Beijing have taken opposing stances to Washington on its ongoing crises with Iran and Venezuela. As Trump accelerated diplomacy with North Korean supreme leader Kim Jong Un, Bolton has reportedly pushed back, something that may have contributed to the collapse of the last U.S.-North Korea summit in February.
Trump's latest encounter with Kim, however, was a hastily-arranged visit at the heavily-fortified border between North Korea and South Korea, a historic meeting that also involved South Korean President Moon Jae-in. When Trump became the first sitting U.S. president to step on North Korean soil, Bolton was over a thousand miles away in Mongolia, choosing a new Twitter target, The New York Times, for reporting on an alleged U.S. plan to lift sanctions on North Korea in exchange for the country agreeing to pause nuclear weapons development.
Bolton said he nor his National Security Council staff "have discussed or heard of any desire to 'settle for a nuclear freeze'" by North Korea. Asked Tuesday about the report, State Department spokesperson Morgan Ortagus said such a freeze "would never be the end of a process" but "would be at the beginning."