U.S. Threatens Maduro Supporters After Russia and China Blast Plans to Overthrow Venezuelan President
The United States' top diplomat warned there would be consequences for foreign backers of Venezuelan President Nicolás Maduro after Russian President Vladimir Putin and Chinese President Xi Jinping reportedly blasted President Donald Trump's efforts to change the regime.
Secretary of State Mike Pompeo told The Hill's Newsmaker Series event Monday in Washington that "Maduro is going to leave," despite the efforts of those not recognizing the political challenge parliament speaker Juan Guaidó poses against him. Pompeo explained that recent U.S. sanctions against Cuba, an ardent supporter of fellow leftist-led Venezuela, were intended to show officials in Havana that "they will be in a far better place if they chose a different path" than backing Maduro.
"We are making the same case to all the parties that are supporting Maduro, certainly the people inside his own military, his own army, the Cubans the next ring out, the Russians, but if you've been watching the news, the Iranians are providing support in Venezuela today as well, the Chinese too could do more," Pompeo said, calling on Beijing to instead back Guaidó.
Over the weekend, the Chinese capital hosted a gathering of 150 nations and 90 organizations seeking to be part of China's $1 trillion Belt and Road Initiative, a diplomacy-via-infrastructure project designed to boost China's global economic footprint. Venezuela apparently came up during talks between Putin and Xi, both of whom "highlighted that it is totally unacceptable when anyone tries to topple authorities in a third country, attempting to use force and illegal international pressure against a sovereign state, in order to change the leadership there," Kremlin spokesperson Dmitry Peskov told the Rossiya-1 outlet, as cited Sunday by the state-run Tass Russian News Agency.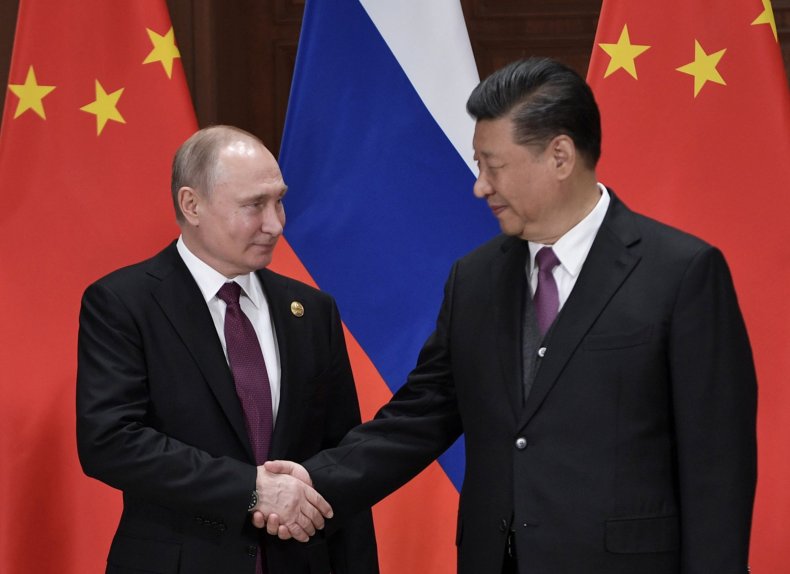 China, Cuba, Iran and Russia have all sent delegations to Venezuela in shows of solidarity with Maduro and to provide humanitarian assistance as his Latin American state undergoes an economic crisis rooted in internal mismanagement and external intervention. While the unrest in Caracas showed few signs of abating, questions have arisen as to the endurance of Washington's anti-Maduro campaign.
Facing questions about progress in U.S. efforts to remove Maduro from power, Pompeo said Monday that "we see leaders inside of Maduro's inner circle now trying to figure out what the golden ticket looks like, 'What does it look like if I leave?'" He said that at least "one of them will decide that there are better times ahead."
Pompeo claimed there were hundreds of Cuban intelligence officers and thousands of other Cubans working to prop up Maduro's administration, while White House National Security Adviser John Bolton had previously placed this number as high as 20,000. Cuban President Miguel Díaz-Canel hit back at this claim Monday, pointing out on Twitter that "the U.S., with about 800 bases and hundreds of thousands of soldiers around the world, accuses Cuba of having military in #Venezuela."
"A mockery to the world," the Cuban leader tweeted. "An offense to two sovereign nations. Bolton goes back to lying and his purpose is criminal."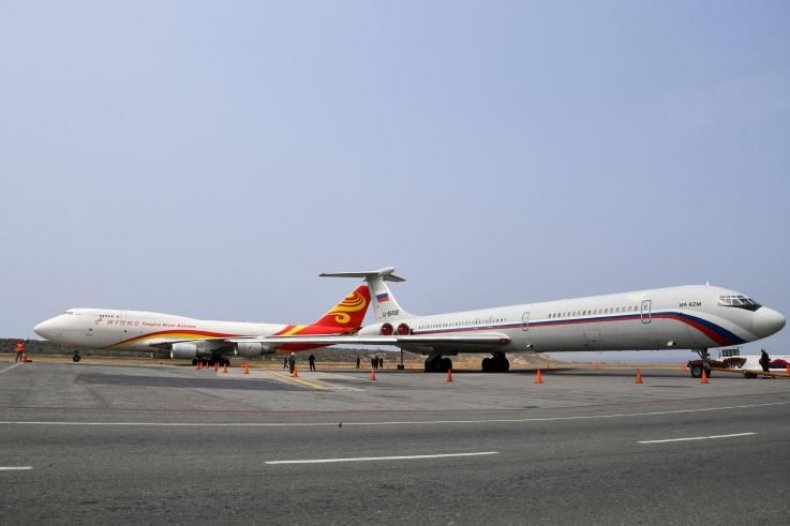 Also on Monday, officials appointed by Guaidó sat down with diplomats from Latin America and the U.S. in the Colombian capital of Bogotá to discuss courting Moscow and Beijing. In Caracas, however, Venezuelan Foreign Minister Jorge Arreaza said Saturday that he was looking to expand his country's military ties with Russia and accused the U.S. of causing 40,000 deaths through its sanctions policy.
The Trump administration and its allies have charged Maduro with corruption and mishandling his country's socialist economy, while the Venezuelan leader's supporters have blamed mounting U.S. sanctions since August 2017. Trump and his top officials have repeatedly maintained that "all options" were available in expelling Maduro.
Most Latin American nations, along with the EU, Albania, Australia, Georgia, Israel, Japan, South Korea and Ukraine, have joined the U.S. in backing Guaidó. Those recognizing Maduro included—in addition to China, Cuba, Russia and Iran—Belarus, Bolivia, Cambodia, El Salvador, Lebanon, Mexico, Nicaragua, North Korea, the Palestinian National Authority, Serbia, South Africa, Syria, Turkey, the United Nations and Uruguay.