U.S. officials are cautioning African countries against buying grains plundered from Ukraine as some nations draw closer to Russia to slow surging food prices and stave off hunger.
The U.S. sent out a warning in mid-May to 14 countries, primarily in Africa, that Russian cargo ships were selling "stolen Ukrainian grain," The New York Times reported Monday. The report comes as humanitarian agencies warn of dire consequences from food supply lines disrupted by the conflict in Ukraine and days after African leaders met with Russian President Vladimir Putin to discuss exporting needed grains.
Putin met on Friday with Macky Sall, president of Senegal and chairman of the African Union, as well as African Union Commission chairperson Moussa Faki Mahamat, at the Russian leader's residence in the Black Sea resort city of Sochi.
After the meeting, Mahamat said on Twitter that the leaders called for the suspension of Western-imposed sanctions on Russia to allow the export of grains he said were needed to mitigate a growing food and energy crisis.
"Russia is ready to ensure the export of its wheat and fertilizer," Sall said in a Tweet, adding that he was willing to meet with Ukrainian President Volodymyr Zelensky as well.
Combined, Ukraine and Russia produce nearly 30 percent of the world's wheat and barley, as well as a fifth of the world's corn and over half of its sunflower oil, according to the United Nations.
Zelensky warned of a dire food shortage because of the Russian occupation at last month's World Economic Forum.
The United Nations' World Food Programme announced in an April report that the number of people experiencing acute hunger will rise by 33 million to 47 million people because of the conflict in Ukraine. The report expects countries in sub-Saharan Africa to be the most affected by the disruption.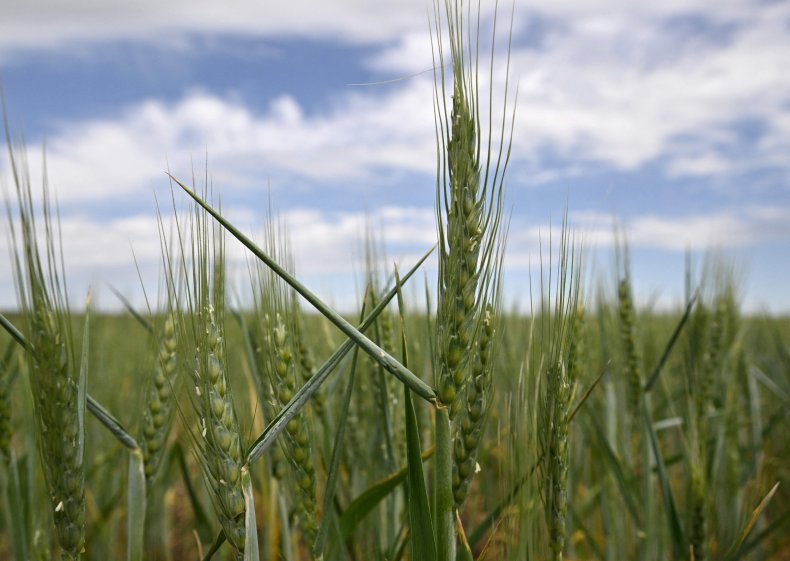 Africa relies on Russia and Ukraine for more than 40 percent of its wheat imports. Tanzania, Rwanda and Senegal import 60 percent of their wheat from the two countries, with Somalia and Benin relying entirely upon them for wheat.
The Famine Early Warning Systems Network last week issued a warning that Somalia faces risk of famine due to drought, increased staple food prices and conflict.
"Many countries in Africa were already in a food crisis," said Lena Simet, senior researcher on poverty and inequality at Human Rights Watch, in an earlier interview with Newsweek. "Rising prices are compounding the plight of millions of people thrown into poverty by the COVID-19 pandemic, requiring urgent action by governments and the international community."
However, Ukrainian officials have accused Russia of stealing Ukrainian grain and trying to sell it abroad.
"I call on all states to stay vigilant and refuse any such proposals," Ukrainian Foreign Minister Dmytro Kuleba said in a tweet last month. "Don't buy the stolen. Don't become accomplices to Russian crimes. Theft has never brought anyone luck."
Newsweek reached out to the State Department and African Union for comment.