U.S. Warship Holds Black Sea Drills Amid Surprise Russia Military Exercise
The U.S. Navy is participating in Black Sea drills just as the Russian military conducted massive surprise exercises across its southern and western borders, potentially wracking up new tensions as Washington and Moscow navigate their geopolitical competition in Europe.
Arleigh Burke-class guided-missile destroyer USS Porter (DDG 78) and a P-8A Poseidon surveillance aircraft joined in the multilateral Sea Breeze 2020 maneuvers Monday alongside assets from Bulgaria, Georgia, Norway, Romania, Spain, Turkey and Ukraine. This installment of the annual training, which is observing its 20th anniversary, involves up to 2,000 personnel, 26 ships and 8 aircraft as well as the forces of NATO Standing Maritime Group 2 and includes maritime interdiction operations, air defense, anti-submarine warfare, damage control and search and rescue operations.
"These exercises will allow us to learn and grow from our partner nations, increasing our interoperability and overall effectiveness as a fighting force," USS Porter commanding officer Navy Commander Craig Trent said in a press statement.
"By participating in Sea Breeze, we demonstrate our shared commitment to our NATO allies and regional partners," he added.
The press release made no mention of Russia and ongoing tensions with Ukraine, where Kyiv has accused Moscow of backing an eastern insurgency in the wake of its 2014 annexation of the Crimean Peninsula. Russian and NATO forces have occasionally intercepted one another's aircraft such as an incident late last month in which a Sukhoi Su-30 was scrambled to intercept a U.S. Navy RC-135 reconnaissance aircraft, a P-8 Poseidon and a KC-135 aerial refueling aircraft.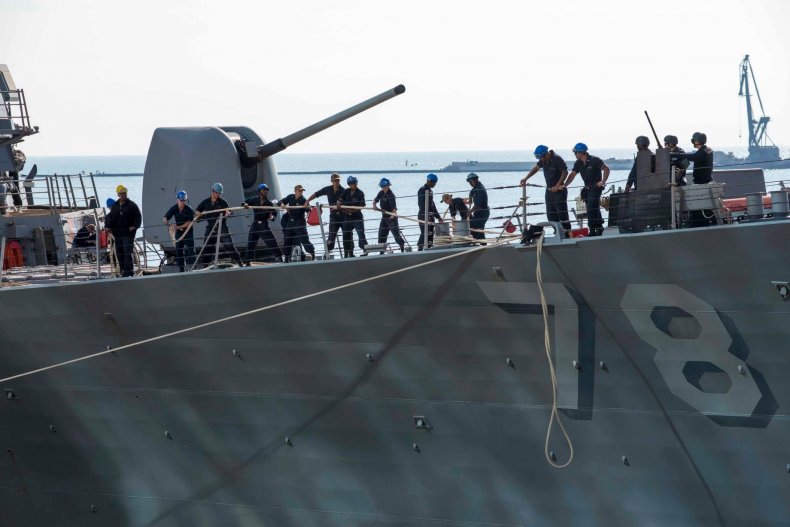 As Sea Breeze 2020 commenced, however, up to 150,000 troops of various Russian forces including the Southern Military District, which borders the Black Sea and includes the Crimean Peninsula, continued a series of snap exercises announced Friday. Ropucha-class landing ships Caesar Kunikov and Novocherkassk of the Black Sea Fleet carried troops Monday to practice storming the shore at the Opuk training ground in Crimea as Sukhoi Su-24 bombers offered air support.
"The bilateral exercise at the Opuk interspecific training ground with the development of anti-amphibious defense and amphibious operations is the culmination of measures to check the combat readiness of the Black Sea Fleet formations," said Vice Admiral Viktor Liina, Deputy Chief of the General Staff of the Russian military, said in a press release.
In a separate statement carried Monday by the state-run Tass Russian News Agency, Deputy Defense Minister Colonel-General Alexander Fomin said that "the troops' surprise combat readiness check is a training measure and is not aimed against other countries."
He said the primary goal was to prepare the armed forces for the upcoming Kavkaz-2020, or Caucasus-2020, exercises set to take place in another restive region. While Russia and NATO have managed to keep their rivalry over the Black Sea from spiraling out of control, longtime Caucasian rivals Armenia and Azerbaijan have exchanged deadly fire over their disputed border territories over the past week, stoking fears of a wider conflict.
Russia and Armenia are allies, as are fellow post-Soviet states Kazakhstan, Kyrgyzstan, Tajikistan, and Uzbekistan that all comprise the Collective Security Treaty Organization. Moscow has called for restraint, however, in the flare-up between Armenia and Azerbaijan and Fomin emphasized Monday that the military exercises had nothing to do with the violence.
The U.S. has also urged restraint. Washington and Moscow have repeatedly agreed to cooperate on international issues despite their various feuds but the steady erosion of arms treaties between them has led to concerns of a new arms race involving newer, faster-flying and highly-maneuverable nuclear weapons.