People Are Sharing 00s Mag Covers to Show How Badly Britney Spears Was Treated
Us Weekly magazine is being criticized online for tweeting in support of Britney Spears, following her court testimony.
On June 23, Spears took to a Los Angeles courtroom to plead her case to have her conservatorship removed.
The 39-year-old has been living under the control of her father, Jamie Spears, for 13 years, and delivered shocking testimony describing the situation as leaving her "unhappy" and "traumatized."
The Slave 4 U singer dropped many bombshells during the 24-minute speech, including that she was forced to work and unable to get her IUD removed so she could have a child with her boyfriend of five years, Sam Asghari.
For years before she broke her silence, a fan-led movement called #FreeBritney was pushing hard for the singer's freedom.
After Spears' testimony, Us Weekly decided to get in on the action. The publication took to Twitter to throw their support behind the star, using the hashtag and tweeting photographs of her supporters.
However, many online feel that was somewhat disingenuous.
The magazine's tweet at the time of writing had 1,811 retweets. It garnered many comments highlighting alleged hypocrisy because of Us Weekly's previous coverage of the star.
Musician Solomon Ray commented: "Y'all knowingly fueled her downfall which forced her into the 13+ year hell she's in now.
"Many of your editors put their children through college off her pain. Meanwhile she has no freedom."
He also attached a cover of the magazine which had the words "SICK!" emblazoned across a photograph of Spears.
It also had bullet points that read: "Mental illness signs worsen. Leaves boys in the car while shopping; denies them trick-or-treating. Swaps clothes with bartender."
Twitter user, JessieOnTheEdge, also replied by sharing a collage of magazine covers, including one that had the headline "Britney's twisted childhood".
Another features a paparazzi shot of her shaving her head in 2007, with overlaid text that reads: "HELP ME. Insiders and ex-staffers reveal Brit's loneliness, self-hatred & drug use as her parents desperately pray. 'No one can get through to her.'"
JessieOnTheEdge accompanied the collage by writing: "You are complicit in what happened to her. You exploited her every step of the way.
"You are not getting a pass for the active & sustained role you played in contributing to her present crisis."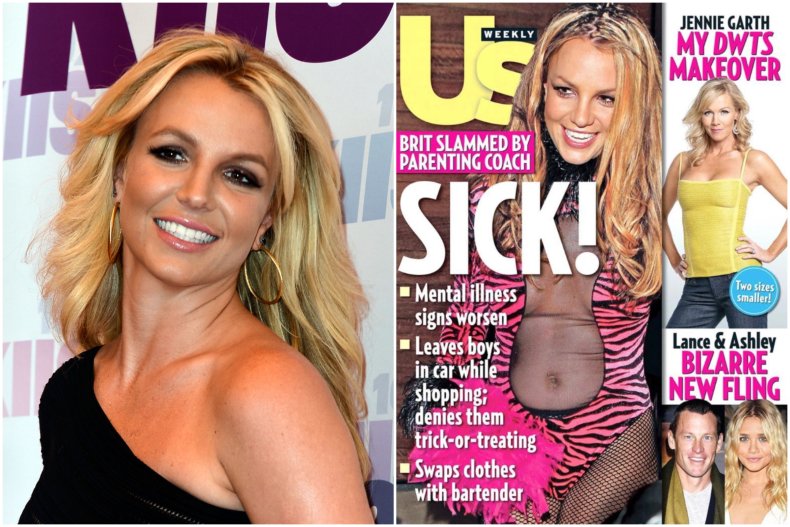 Many others echoed those sentiments, sharing covers and leaving comments, including Xandradurham who wrote: "HOW DARE YOU. Apologize to Britney Spears.
"You thought we wouldn't remember how y'all actually treated her before you posted this?"
MotoThePup added: "Don't act like you're not part of the problem, I wonder how you people sleep at night. Monsters."
JbMust typed: "Apologize to Britney. Make a big cover and address all the sh*t you've done against her. I feel truly disgusted."
Newsweek contacted Us Weekly for comment.