USC Suspends Fraternity Over Sex Attacks After Drug-Spiked Drinks Claim
The University of Southern California (USC) has confirmed its Sigma Nu fraternity is on interim suspension.
A statement on the college's site reads: "The university has received a report of sexual assault at the Sigma Nu fraternity house, 660 W. 28th Street, Los Angeles, California.
"The university also has received reports of drugs being placed into drinks during a party at the same fraternity house, leading to possible drug-facilitated sexual assaults.
"Sigma Nu may not host or organize any activities, social or otherwise, and no parties or other social gatherings may take place at the Sigma Nu house."
In a written update given to Newsweek on Friday, the university wrote: "USC takes reports of sexual assault extremely seriously and has a coordinated response team designed to promptly respond.
"The university provides for a fair, thorough and timely resolution process. We are deeply concerned when any student experiences any kind of trauma, and we offer both private and confidential support resources, as well as supportive measures, to involved parties.
"While we are unable to discuss the specifics of this matter due to student privacy laws, we are unequivocal in our commitment to fostering a safe environment for all of our students, faculty and staff."
USC added the incident has also been reported to the Los Angeles Police Department (LAPD) and encouraged those possessing information "relevant to the crimes" to contact USC's Department of Public Safety.
The LAPD told ABC News the force is aware of four alleged victims, although none are thought to have yet contacted authorities.
Newsweek has contacted USC and the LAPD for further comment
Sigma Nu Fraternity has also issued a statement dated October 21, concerning alleged "violations and misconduct related to the Epsilon Omicron Chapter of Sigma Nu Fraternity at the University."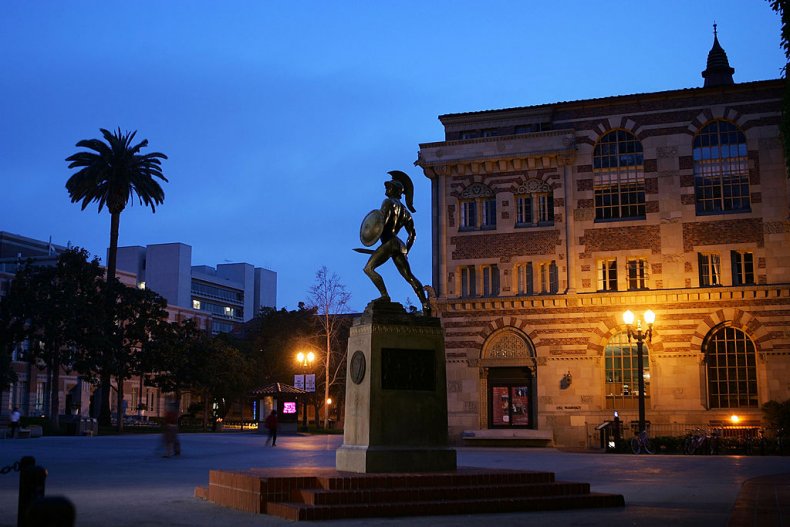 It states: "The Fraternity is concerned by these serious allegations and will seek to work with University officials to investigate the matter.
"The Fraternity will determine its further actions based upon the investigation. Sigma Nu Fraternity remains committed to responding appropriately to all matters of confirmed misconduct."
ABC7 has reported one student as claiming the assaults have occurred "multiple" times in recent weeks.
Student Sophie Beitel said: "I mean, the fact that this happened over multiple weeks over and over, and the guys were confident enough that they could do this multiple weeks in a row to multiple women—that they would not get in trouble, and that it would just be fine, says everything about how safe men feel hurting women."
The Rape, Abuse & Incest National Network (RAINN) estimates 13 percent of all students experience rape or sexual assault through physical force, violence, or incapacitation.
RAINN adds: "Sexual violence is more prevalent at college, compared to other crimes" and college-age victims of sexual violence often do not report to law enforcement."
Founded in 1869, Sigma Nu currently has more than 160 active chapters and colonies on college campuses throughout the U.S. and has initiated over 235,000 members.
Fraternities have faced increasing scrutiny in recent months, following a spate of controversies.
In September, eight people were arrested for the alleged hazing death of a Virginia Commonwealth University freshman.
And in October, a chapter of Penn State's Chi Phi fraternity was suspended after a 17-year-old boy's body was found off-campus.