Trump's New Trade Deal USMCA Was 'Oversold' and Will Hurt Smaller Farmers, Says Rural Coalition
The deal replacing the North America Free Trade Agreement (NAFTA) offers little for smaller farmers and will negatively impact consumers, a group representing rural groups in over 40 states has warned.
Last week, the White House reached an agreement with House Democrats to replace the 25-year-old NAFTA with the United States-Mexico-Canada Agreement (USMCA.)
It still has to pass through the countries' legislatures but could be voted on in Congress as early as this week.
Representatives from the three North American countries signed the pact in Mexico, prompting President Donald Trump to declare victory, and he tweeted that it would be "the best and most important trade deal ever made by the USA.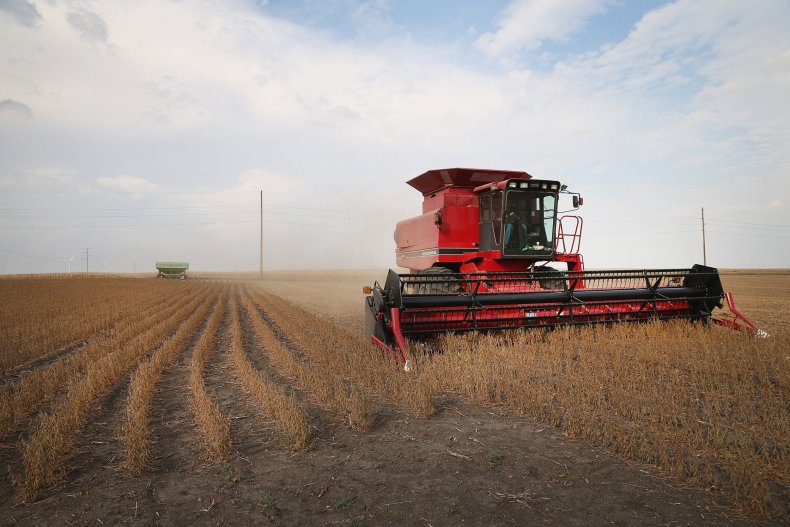 "Good for everybody—Farmers, Manufacturers, Energy, Unions—tremendous support," added the president, who had made updating NAFTA a key policy during the 2016 election campaign.
In a rare moment of agreement with Trump amid the ongoing impeachment inquiry, House speaker Nancy Pelosi said that the bill was "a victory for America's workers."
However, the new deal has dismayed the National Family Farm Coalition (NFFC) representing 50,000 smaller farmers and ranchers, and over 400,000 people in the fishing industry across the country.
NFFC president Jim Goodman said that the benefits of USMCA "have been greatly oversold to the U.S. farm sector."
In his view, the deal missed the chance to address low prices for products by independent family farmers.
"Climate change is not mentioned and the new treaty does nothing to curb the environmental damage that was part of the original NAFTA," he said in a statement to Newsweek.
"NFFC dairy producers do not support dumping excess U.S. milk on the Canadian or Mexican markets, as that will force family dairy farmers out of business in those countries.
"We instead call on Congress to support dairy supply management to deliver fair prices to farmers in all three countries."
Dena Hoff, producer from Glendive, Montana, with NFFC member group Northern Plains Resource Council, said that UMSCA does not reinstate "country of origin" labeling for beef, pork, and dairy products, thus making it harder for U.S. farmers to compete against cheaper imports.
"Consumers deserve the right to know where their meat is from, and ranchers deserve the right to an honest market," she said, in a statement to Newsweek.
"This agreement doesn't support our producers," she stated, adding that "it betrays American ranchers, consumers, and our rural communities."
Newsweek has contacted the White House for reaction to the NFFC's statement.
However the deal, which Democrats and Republicans argued over for more than a year, does have the backing of the group Farmers for Free Trade, which said it would guarantee that their closest and most important markets, would be "free from tariffs and red tape."
"This is welcome news and a relief for American farmers. Now it's time to get the bill passed before politics can get in the way," it said.
If the deal is passed, it could offer a boost to Trump, who was facing waning support in the rural sector due to his trade wars, as he goes into the 2020 election campaign.
The story has been updated with the correct spelling of USMCA in the headline.