USPS Delays Leave 82-Year-Old Texas Man Without Heart Medication as Trump Withholds Funding
As operational shifts within the United States Postal Service (USPS) incite growing unease about voting by mail in November's election, an 82-year-old Texas resident called attention over the weekend to the immediate consequences of delivery delays. Widespread delivery problems come amid President Donald Trump's resistance to additional USPS funding in the next coronavirus relief package.
Don White, who lives in Houston, said on Sunday that postal service slowdowns stalled delivery of his heart medication. He told CBS-affiliated news station KHOU that his USPS tracking information showed the package was being held at a nearby processing facility, where it had arrived 10 days earlier. He obtained the medication from a local pharmacy after more than a week of delays.
"There have been a few times in which it's taken a week, week and a half, two weeks [for USPS to deliver the medication]. But this is the first time I actually ran out," White told the station. He noted that "checking with the post office didn't do much good," even with a tracking number assigned to the parcel.
The USPS cited increased workloads caused by the coronavirus pandemic, coupled with stretched resources to meet demand, as an explanation for delays, according to KHOU's report.
"The Postal Service is flexing its available resources to match the workload created by the impacts of the ongoing coronavirus (COVID-19) pandemic," the USPS said in a statement to the news station. "We appreciate the patience of our customers and apologize for any inconvenience that may have been experienced."
The statement added, "We also appreciate the efforts of employees as conditions change on a day-to-day basis."
Newsweek reached out for comment to a USPS representative responsible for the agency's Houston-area services but did not receive a reply in time for publication.
White's medication delay is one example of postal problems affecting regions across the country, as policy changes made by Postmaster General Louis DeJoy cause slower service routes and reduced work hours. During a Board of Governors meeting earlier this month, DeJoy said the alterations are part of an attempt to eliminate "ingrained inefficiencies" in USPS operations, but top lawmakers are concerned about their effects on mail-in voting ahead of the general election.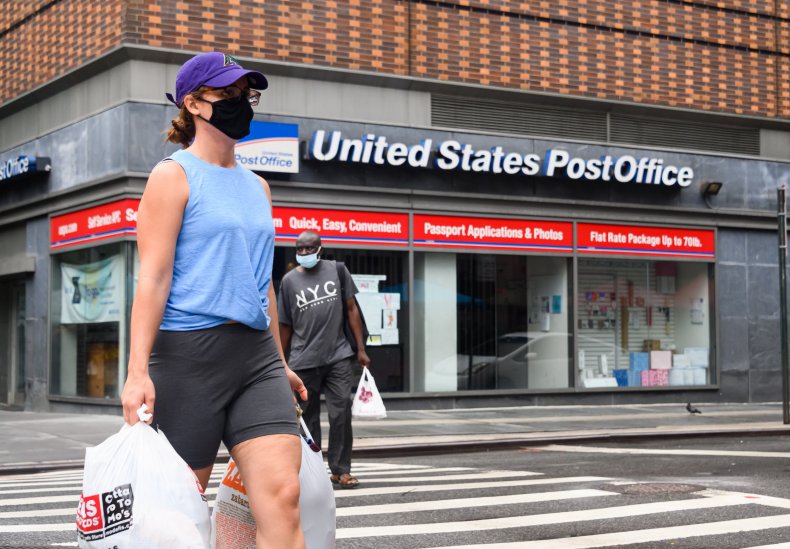 After months of saying, without evidence, that widespread vote-by-mail procedures would lead to fraudulent election results, Trump pushed back against congressional Democrats' proposed funding to the USPS in a new coronavirus relief package. Trump acknowledged his opposition to the funding proposal last week, saying fewer resources likely meant the postal service would not be able to manage an expected surge of mail-in ballots in November.
This past Friday, when a Fox News reporter inquired about Trump's position regarding USPS funding, the president suggested he would consider the Democrats' proposal "if they give [Republicans] what we want" in negotiating other areas of the economic relief legislation.
On Monday, the president insisted the USPS "has been failing for many decades" in a tweet.
"We simply want to MAKE THE POST OFFICE GREAT AGAIN, while at the same time saving billions of dollars a year for American Taxpayers," he wrote. "Dems don't have a clue!"