USPS Plans To Shed 50,000 Jobs To Reach 'Break Even' Point
The U.S. Postal Service (USPS) plans to reduce its headcount by 50,000 over the next few years in a bid to "break even", according to Postmaster General Louis DeJoy.
The figure will be achieved through natural attrition, he explained, with nobody being let go.
On Wednesday DeJoy outlined his plan to the American Enterprise Institute in Washington D.C.
He said: "Right now, to get to break-even, I think we may need to get 50,000 people out of the organization.
"But that's OK, because over [the next 10 years] 200,000 people leave the organization for retirement.
"So we're going to be a hiring organization. We need to be good at retention, we need to be good at recruiting people, and we're doing a lot of different activity around there."
The USPS workforce has grown over the past few years, hitting 517,000 career employees at the end of 2021, it's highest figure since 2012.
At the close of last year the company also employed a non-career workforce of around 136,000.
However, the workforce is still more than 200,000 employees down on its highest figure, achieved around the start of this century.
DeJoy also explained how he has plans to streamline the company by closing 150 annex plants over the next four years, to be replaced by a smaller number of more efficient mega-centers.
Beyond this DeJoy said he does not expect mass closures of USPS facilities, but hopes the number of journeys the average piece of mail makes before arriving at its destination can be cut.
Explaining his plan to consolidate functions the USPS chief executive commented: "We'll take equipment out, we'll rearrange it into a logical sequence within the plants.
"We basically do seven different functions, package destinating processing, package originating processing, destinating mail processing, and we will configure them appropriately once we get into the region."
USPS is currently attempting to electrify a big chunk of its delivery fleet, though DeJoy admitted this has been tough due to a shortage of commercial electric vehicles.
In March the company ordered 50,000 delivery vehicles from Oshkosh Defense, at least 50 percent of which will be electric.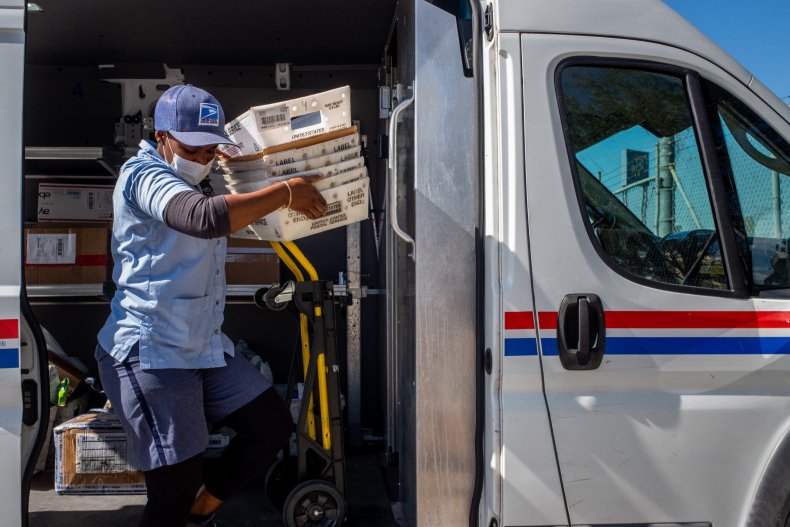 Explaining the problems acquiring more electric vehicles DeJoy said: "If I went out today and said, 'Alright, I've got $2 billion, $3 billion, I want to buy electric vehicles,' you know how many I'd buy? Two, because they're not available."
In May the USPS paused deliveries to an Indiana neighborhood following a spat of dog attacks on its workers.
The company said it would only return to Greenfield if local residents install curb mailboxes.
Separately in April USPS halted deliveries to one block in Santa Monica, California, after a number of its delivery crew were threatened or assaulted.
Speaking to Newsweek Dave Partenheimer, USPS Director of Public Relations, commented: "Any impact on employment that may be required as a result of efficiency gains will easily be accommodated from additional growth expectations and the normal attrition we experience.
"We expect to be in a hiring mode for many years to come."
Correction 08/01/22, 4:04 a.m. ET: The headline of this article was updated to clarify that USPS plans to shed 50,000 jobs.