Utah Police Knew of Brian Laundrie Domestic Violence Allegations, Audio Reveals
Recently released police audio recordings reveal officers knew of prior domestic violence allegations before pulling over Brian Laundrie and Gabby Petito in the days before the vlogger disappeared.
Minutes before the couple were pulled over, an unidentified male caller told a dispatcher that "the gentleman was slapping the girl" and hitting her near a store in Moab, Utah, around 4:30 p.m. on the afternoon of August 12.
About 15 minutes later, officers from the Moab City Police Department would pull over 23-year-old Laundrie and his 22-year-old fiancée Petito in their white Ford Transit van.
Moab City Police body cam footage appeared to indicate that deputies may have been unaware of the witness' claims, or initially believed Petito was the aggressor.
A report later written by a responding officer also concluded that "no one reported that the male struck the female."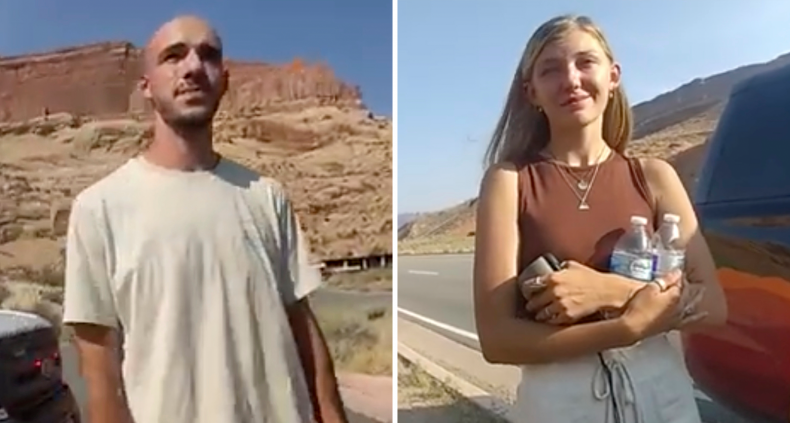 However, dispatch audio, obtained by FOX 13 Utah, contradicts these reports and shows the dispatcher did inform the officers of allegations that Laundrie had been the aggressor.
"RP (reporting party) states seeing male hit a female, domestic," the dispatcher states at around 4:38 p.m. MT on August 12. "He got into a white Ford Transit van, has a black ladder on the back, Florida plate."
After one of the responding officers asks for the witness' phone number and victim location, the dispatcher again indicates that Laundrie had struck Petito.
"Phone number is [redacted], name's [redacted]," the dispatcher responds at 4:42 p.m. "I'm not sure [inaudible], but the female who got hit, they both, the male and the female, both got into the van and headed north."
In body cam footage, a responding officer can be seen pulling the van over. The officer later described that when he approached, Petito was "crying uncontrollably" in the passenger seat.
Petito and Laundrie are then seen speaking with Moab City Police officers.
"[...]The driver of the van, a male, had some sort of argument with the female, Gabby," a responding officer wrote in a police report.
Petito and Laundrie said that "they are in love and engaged to be married and desperately didn't wish to see anyone charged with a crime," the police report said.
The Moab City Police Department advised the couple to separate for the night and said that they didn't see a reason to file charges.
Under Utah law, officers are required to make an arrest or issue a citation when they have "probable cause to believe that an act of domestic violence has been committed."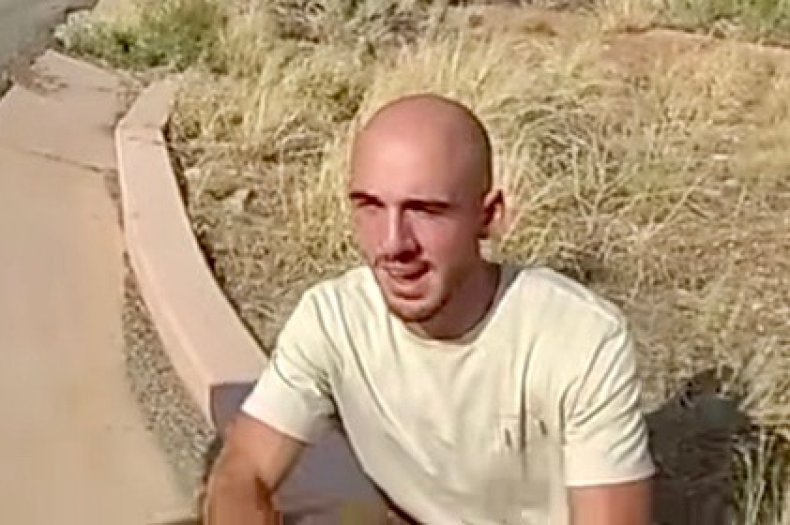 On Thursday, September 23, the City of Moab, Utah, said they will conduct a formal investigation into how the Moab City Police Department handled the August 12 incident between Petito and Laundrie.
"During the past week, our police officers have been both praised and criticized for their response and their resolution of the incident involving Ms. Petito and Mr. Laundrie," the statement read.
"The Moab City Police Department has clear standards for officer conduct during a possible domestic dispute and our officers are trained to follow those standards and protocol."
The city said that they are unaware of any breach in policy that occurred during officers' interaction with Petito and Laundrie.
Moab City Police Chief Bret Edge previously told Newsweek that an outside party filed a request with the police department to conduct a formal investigation and the department remains committed to fully address these concerns.
An unaffiliated law enforcement agency will conduct the investigation on behalf of the Moab City Police Department.
"We look forward to the investigation. Should the investigation identify areas for improvement we will take that information to heart, learn from it, and make changes if needed to ensure we are providing the best response and service to our community," Edge said.
Petito was first reported missing on September 11, more than two months after leaving for a cross-country road trip and 10 days after Laundrie returned home without her.
On Sunday, September 19, investigators said they discovered a body "consistent" with the description of Gabby Petito on the outskirts of Grand Teton National Park in Wyoming.
Laundrie, who is officially named as a person of interest in the case, is refusing to talk to police and has not been seen since September 13, according to reports.