Utah Wildfire Sparked As Man's New Generator Explodes: 'It Makes Me Sick'
Firefighters in Utah continue to battle the Jacob City Fire, a wildfire that has so far burned more than 4,000 acres after a man's generator reportedly exploded.
Gary Carr told Utah news station Fox 13 News he had ordered the brand new generator at the end of June and plugged it in for the first time on Saturday. After some time, he said he heard noises and walked outside to find that trees were on fire.
Carr said he called 911 and tried to put the fire out, leaving him with burn marks on his arms. However, despite his and firefighters' efforts, his home was destroyed and the fire has continued to burn for multiple days.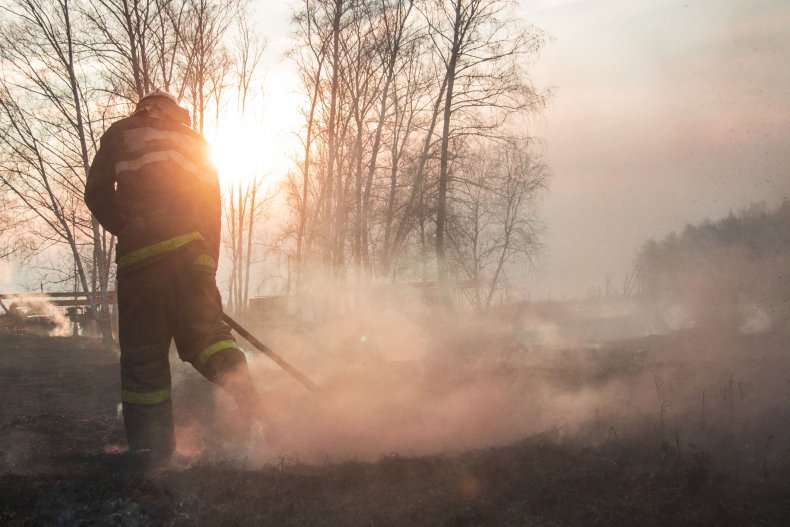 Carr, now living out of his Toyota, added he is trying to contact the company that made the generator. "I sit there in my car at night watching the east mountain," Carr told Fox 13. "Big flames, man. Fifty, sixty feet in the air."
"It makes me sick, especially when you don't have much anyway," he added.
Sierra Hellstrom, a public information officer with the Northern Utah Interagency Type 3 Incident Management Team, said local officials including police are investigating to work out whether the generator's explosion was due to an equipment failure or a user error.
On Tuesday morning, Utah Fire Info tweeted that the Jacob City Fire had been mapped at 4,094 acres and had reached 19 percent containment.
"Burnout operations were successful this afternoon, and night shift will monitor activity overnight," the tweet read.
It's not the only wildfire that Utah emergency responders are tackling currently. Other blazes ongoing on Monday night and early Tuesday included the Halfway Hill Fire, which had increased in activity on Monday evening.
Fox 13 reported that four people had been arrested after being linked to the blaze, which was traced back to a campsite.
Firefighters had also been tackling the Dry Creek Fire and the Little Dell Fire on Monday.
That day, Utah governor Spencer Cox tweeted a plea to state residents to act responsibly in order to stop preventable wildfires from happening.
"All but three of the 25 fires that burned over the weekend were human-caused—meaning most were preventable," Cox wrote. "We are asking all Utahns to be diligent and help prevent human-caused wildfires.
"These fires don't just put a strain on state resources, they endanger lives and property and they stress resources of local communities across the state.
"We can't thank first responders and other firefighters throughout the state enough."
The fires come as the western U.S. continues to experience the worst drought in more than 1,200 years, with concerns that human-caused climate change is a contributing factor.