Uvalde Council Shifts Course, Swears in Police Chief as Cooperation Unclear
Officials in Uvalde, Texas, have sworn in Pete Arredondo as a member of city council, as the police chief faces an investigation into law enforcements' widely criticized response to last week's deadly shooting at a local elementary school.
Uvalde Mayor Don McLaughlin said Tuesday evening that Arredondo has been sworn in along with other members who earlier won their elections to city council, reports KENS 5. A day earlier, a special city council meeting to swear in new members was canceled in the wake of the Robb Elementary School shooting. The police response to the massacre has sparked a state review that Arredondo is reportedly now stonewalling.
Arredondo, chief of police for the Uvalde Consolidated Independent School District, reportedly prevented nearly two dozen officers from forcing their way into a classroom to confront the gunman who killed 19 children and two teachers.
The shooter fired more than 100 rounds with a military-style rifle. Arredondo reportedly made the call to wait for more resources before confronting the shooter.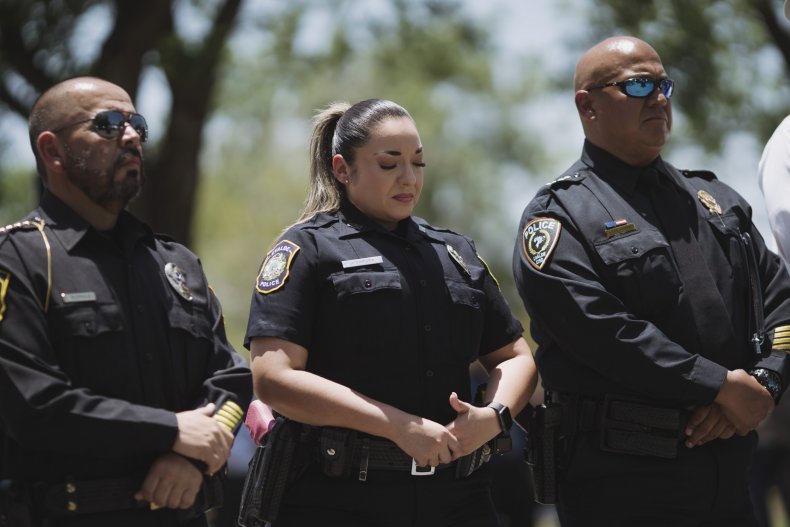 Police have offered conflicting accounts of how the shooting unfolded. But as details emerged, local police were condemned online as "cowards." Texas Department of Public Safety Director Steven McCraw also joined the critics as his agency launched an investigation, led by the Texas Rangers, into the handling of the shooting.
But Arredondo has reportedly taken his seat on city council after handily winning his race earlier this month, reports the Uvalde Leader-News.
"Uvalde City Council members were sworn in today as per the City Charter," McLaughlin told KENS 5 Tuesday. "Out of respect for the families who buried their children today, and who are planning to bury their children in the next few days, no ceremony was held. Our parents deserve answers and I trust the Texas Department of Public Safety/Texas Rangers will leave no stone unturned."
McLaughlin said Monday that while a previously scheduled swearing in of new city council members had been canceled, there was nothing legally preventing Arredondo from taking his oath of office.
As part of their investigation, the Texas Rangers had been in touch with Arredondo, but he now hasn't answered any of their requests in two days for follow-up interviews, reports the Texas Tribune.
The school district has a police force separate from the city's police. Aside from Arredondo, both police forces have been cooperating, the news outlet reports, citing an agency spokesman.
The U.S. Justice Department earlier said it was reviewing the police response to the shooting.
The Combined Law Enforcement Associations of Texas (CLEAT), a large union representing law enforcement, on Tuesday advised its members to "cooperate fully with all official governmental investigations" into police response to the shooting.
Citing the spread of false information, the union said, "We believe that a strong, independent investigation by the U. S. Department of Justice with assistance from the FBI will discover what really happened, thus helping agencies everywhere to understand how best to stop a similar compounded tragedy from happening again."
Newsweek reached out to Arredondo and McLaughlin for comment.