Uvalde Officials Deny Claim That Officers Rushed to Rescue Their Own Kids
Uvalde officials, during a press conference on Friday morning, denied the claim that police officers entered Robb Elementary School during the mass shooting on Tuesday only to rescue their own children.
During another update regarding the investigation of the school shooting in Texas that left 19 children, two educators and the suspect dead, Steven McCraw, the head of the Texas Department of Public Safety (DPS), answered questions.
Someone asked whether or not several officers entered the school building on Tuesday afternoon in an attempt to rescue their own children during the active shooter situation, referencing a claim that has been widely circulated since Tuesday.
When asked if any officers went into the school to get their own kids, McCraw said no.
Some on social media, including activist Shaun King, began talking about the claim. King, who has 1 million followers on Twitter, wrote: "Texas law enforcement officials now admit that police went into Robb Elementary School DURING THE SHOOTING... To get their own kids out of school. I kid you not. They went and got their own kids out, then took 91 minutes to stop shooter."
Uvalde police have been scrutinized after updates of the timeline of events at the shooting became public. It is reported that police took a significant amount of time, some reporting over an hour, before managing to neutralize the suspect, 18-year-old Salvador Ramos.
CNN's Wolf Blitzer questioned Texas Department of Public Safety (DPS) Lieutenant Chris Olivarez, who defended the actions of the police on Friday.
"One thing I want to stress is that officers were in that building within minutes," Olivarez said. "They maintained their presence inside that school.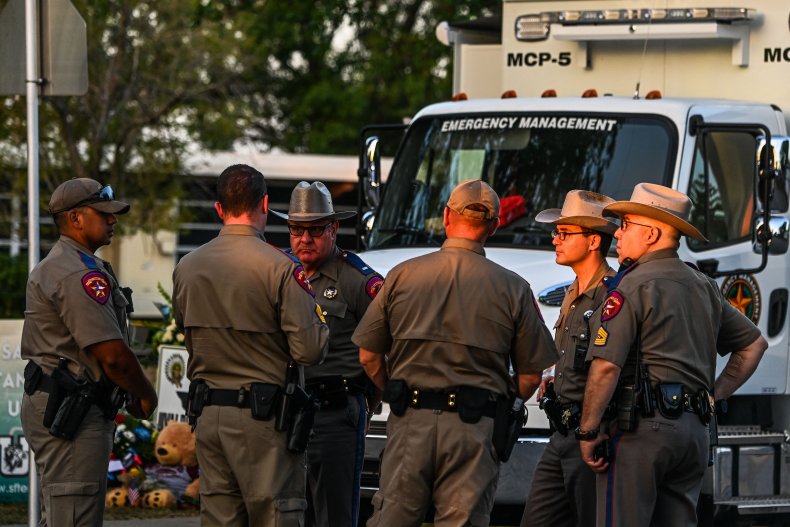 "We had multiple officers that responded on the scene within minutes. Two of those officers were shot, they took cover because you have to understand this is an active situation."
Texas DPS official Victor Escalon said on Thursday that they are still trying to confirm all the details of the events on Tuesday.
"Once we interview all those officers, what they were thinking, what they did, why they did it, the video, the residual interviews, we'll have a better idea," Escalon said.
Videos have emerged showing parents arguing with authorities on Tuesday as police attempted to set up a perimeter. One video, shared by Gizmo writer Matt Novak, showed several parents screaming at police outside the school during the attack.
The video continues to show police on the street attempting to stop parents who were looking for their children. One officer keeping people at bay is seen holding a Taser in the clip, as parents called on officers to charge into the school.
The suspected shooter reportedly crashed his truck outside the school around 11:30 a.m., grabbed his AR-15-style semi-automatic rifle and shot at two people outside a nearby funeral home who ran away uninjured. Officials said he also encountered a school district security officer, and there are conflicting reports on whether or not they exchanged gunfire.
Ramos then ran inside, firing at two arriving Uvalde police officers who were outside the building, before barricading himself in a classroom and shooting the students and teachers.
Newsweek reached out to the Uvalde Police Department for comment.
Update 5/27/22, 2:03 p.m. ET: This story has been updated with additional information.