Uvalde Victim's Google Doodle, Note Shared: 'I Want People to Be Happy'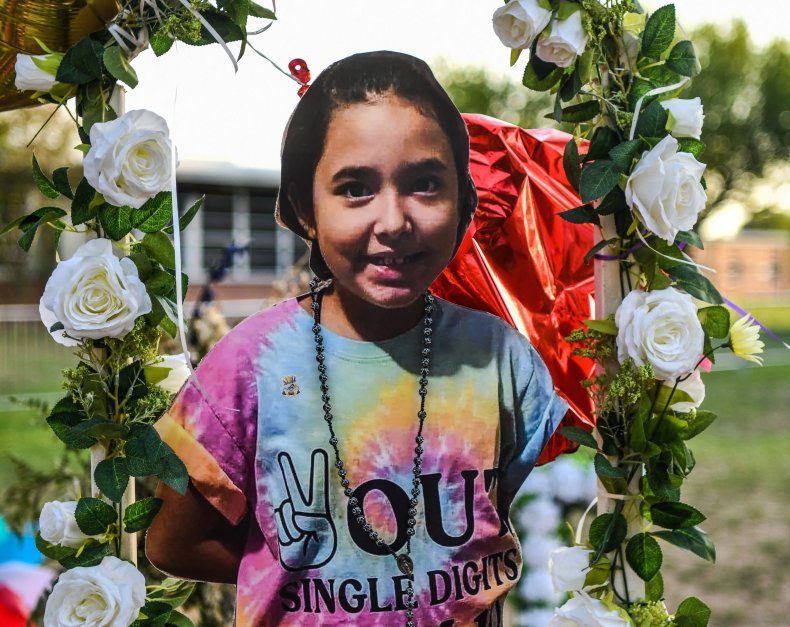 A drawing by Alithia Ramirez, one of the 19 children killed in the Robb Elementary School mass shooting in Uvalde, Texas, on May 24, has been shared by Google alongside a heartwarming, albeit heartbreaking note from Ramirez.
Ramirez, who turned 10 years old shortly before her death, had sent the drawing to Google as a "Doodle for Google" contest submission earlier this year. Google published the submission and an attached note Friday on a special page that serves as a memorial to her "and all of the victims of the Uvalde, TX tragedy."
The colorful drawing shows a child curled up on a couch next to a ball of yarn and a dog that is holding a toy. Letters forming the word "Google" are spelled out in art and other objects hanging above the couch. The drawing is signed with her initials "A.R."
"I want the world to see my art and show the world what I can do, I want people to be happy when they see my passion in art," she wrote in a note shared alongside the submission.
Alithia Ramirez's love for art has been well documented following her death. Her father Ryan Ramirez told ABC affiliate KSAT about her Doodle for Google submission shortly after the shooting, while her obituary describes her as "a smart, talented, reliable, extremely loving young lady who dreamt of attending Art School in Paris."
"She started drawing at the age of 4," Ryan Ramirez told KSAT in June. "I believe that she wanted to be when she was in pre-K, she wanted to be a nurse ... and I guess with the more drawings, you know, the following year she ... wanted to be an artist, and it just took off from there."
"She really wanted to be known for her art," he added. "That's what she wanted."
President Joe Biden met with both of Alithia's parents during a trip to Uvalde on May 29, according to CBS affiliate KENS.
The president reportedly asked for one of Alithia's drawings to hang at the White House after being told of her passion for art, while promising to send her parents a picture of it on display and inviting them to visit.
The Doodle for Google contest is an annual competition open to K-12 students. Winners and finalists receive prizes that include Google hardware and college scholarships. Submissions for this year's competition took place from January to March. National finalists are set to be announced July 28.
Google spokesperson Colette Garcia said in a statement to The San Antonio Express-News that Alithia's submission had "described her desire to show the world her art and everything she can do" and that the company was "committed to honoring those wishes and her legacy.
"Her story and art profoundly touched us, and we wanted to honor her family's request to share her unique talents that were so tragically taken as a result of senseless violence," Garcia added.
Newsweek has reached out to Google for comment.