V-Shaped or K-Shaped Recovery? What Experts Are Saying About U.S. Economy
As many people continue to struggle amid the coronavirus-wrought economic downturn, attention has turned to what kind of recovery the U.S. can expect.
After Chris Wallace, moderator of the U.S. presidential debate on Tuesday, posed a question about whether the U.S. can expect a V- or K-shaped economic recovery to the presidential hopefuls, experts offered their opinion on expectations for what is realistic.
A V-shaped recovery is when key economic indicators, such as gross domestic product (GDP), bounce back comprehensively and quickly to where they were pre-pandemic.
A K-shaped economy is when different strata of society recover at different rates, meaning that those that are better off recover faster than everyone else, a scenario experts think is a likelihood.
The nature of the coronavirus, and the fact that it has hit jobs in sectors where people cannot work from home during lockdowns, means it has hit poorer communities far harder, and some argue that it has increased the inequality gap.
Presidential candidate Joe Biden and the Democrats remain in the camp that believes the K-shaped recovery is the most likely outcome in the coming months. Experts also believe a full V-shaped recovery is unlikely.
"A V-shaped recovery is already pretty much off the table," Eric Winograd, Senior Vice President and Senior Economist for Fixed Income for AllianceBernstein told Newsweek. "The economy isn't going to bounce back to where it was for several quarters still to come."
"There are still 10 million people unemployed, many industries are going to be deeply distressed for a long period of time, so it would be difficult to get back to the previous level of GDP until late next year," Winograd said.
"A lot of the jobs that were lost are at the lower end of the income distribution spectrum. Lower earners are struggling more. Whether you want to call it a K-shaped recovery or not, I do think there's been a wide gap between the haves and the have-nots. People who started off wealthy have recovered much more rapidly than those that were struggling before."
He said that the key thing to monitor is the ongoing fiscal negotiation in Washington over stimulus. Action to keep household incomes afloat has been broadly successful so far, however the support system for people who are still out of work is on the cusp of dissipating.
Both candidates have voiced support for a second one-time direct stimulus payment in recent months, but it does not appear to be an integral part of Biden's economic recovery plan for the country.
Peter Atwater, adjunct lecturer in the economics department at William & Mary also feels that the U.S. economy is past the point of a V-shaped recovery.
"There's a very clear divergence in experience from the bottom and on the top," he told Newsweek. "There's stacked inequity for those on the bottom, versus stacked privilege for those on the top, cutting across race, gender, education—any of the demographic classifications."
"One of the things that must stop is the traditional top-down policy-making that we've seen from the Fed and Congress. They've taken the approach that if you help those at the top it will trickle down, and to me that's a mindset that's 40 years out of sync with the U.S. economy.
"The focus needs to be urgently redirected to those at the bottom on the leg of the K," Atwater said.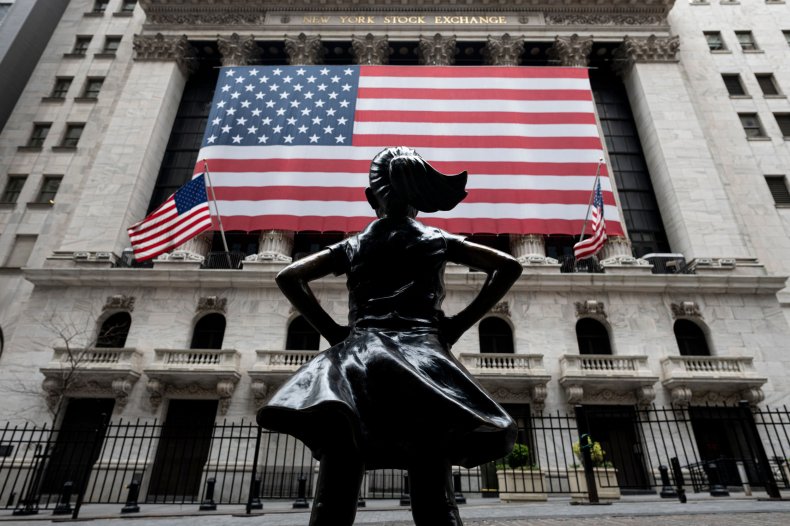 Other economists concur with the evaluation, citing the increasing disparity between the stock market and the real economy. Markets have continued to go up following a punishing selloff in March, on hopes of a coronavirus vaccine and continued support from the Federal Reserve.
As a result of this the S&P 500 has reached record levels and investors are cashing in. Meanwhile many are still in dire need of new unemployment support measures.
"It's one recovery for financial market investors and another recovery for everybody else," Joe Brusuelas, chief economist at RSM told The Washington Post.
While a V-shaped economy was what optimists had hoped for and has played out on the stock market, a K-shaped recovery looks set to widen the inequality gap, as ordinary people wait on stimulus.