Second Stimulus Check Mired in Congress Six Months After Trump Signed First
It is now six months since President Donald Trump signed the CARES Act, a stimulus package including $1,200 stimulus checks, yet negotiations in Congress over a fresh relief bill and more payments are frozen.
Though there is support on both sides of the aisle for another package, and even for a second stimulus check, they are firmly divided on the details. A deal that could pass the Democrat-controlled House and GOP-majority Senate remains elusive.
Trump signed the CARES Act, which was worth around $2 trillion in support for Americans and the economy as the COVID-19 pandemic bit down hard, on March 27.
Below, Newsweek takes a look at key points in the debate over another package.
HEROES Act
With the economy still reeling from the virus and lockdown measures, Democrats pushed forward their HEROES Act, a sprawling $3.4 trillion package which swiftly passed the House.
The HEROES Act included another round of stimulus checks when it passed the House in May, more than 130 days ago.
Republicans opposed the scale of the bill, branding it dead on arrival in the Senate and dismissing it as a "socialist wish list."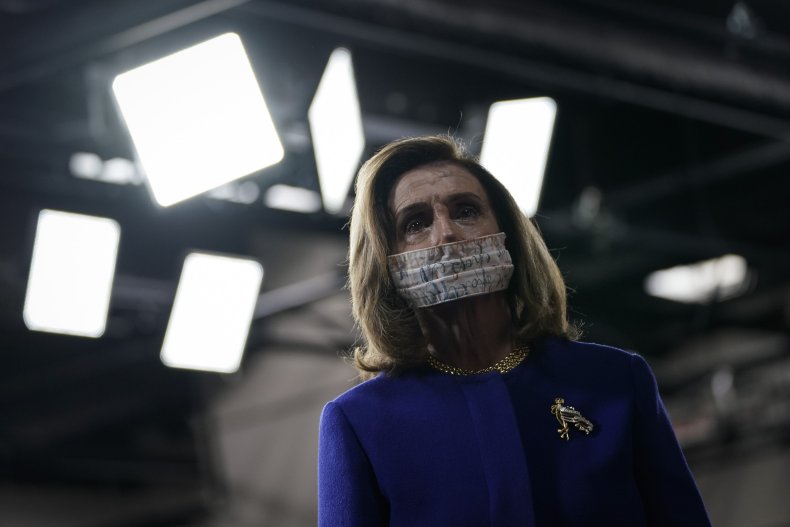 Call for Pause
That same month, Senate Majority Leader Mitch McConnell (R-KY) proposed that there be a pause in order to assess the impact of the previous stimulus before taking further action.
McConnell's remarks prompted a backlash from Democrats. House Speaker Nancy Pelosi (D-CA) suggested McConnell "tell that to the virus."
The Senate Republican leader has since said he wants further stimulus for Americans and blamed the delay on bipartisan divides fueled by the election, despite his previous call for lawmakers to wait before moving on with further plans.
HEALS Act
Republicans in the Senate put forward their HEALS Act in July, a $1 trillion proposal also including stimulus checks. This was a package within a spending limit palatable to most Republican Senators.
At less than a third of the amount Democrats proposed in the HEROES Act, and with disagreement on liability protections and the amount of unemployment enhancement, it could not secure bipartisan support.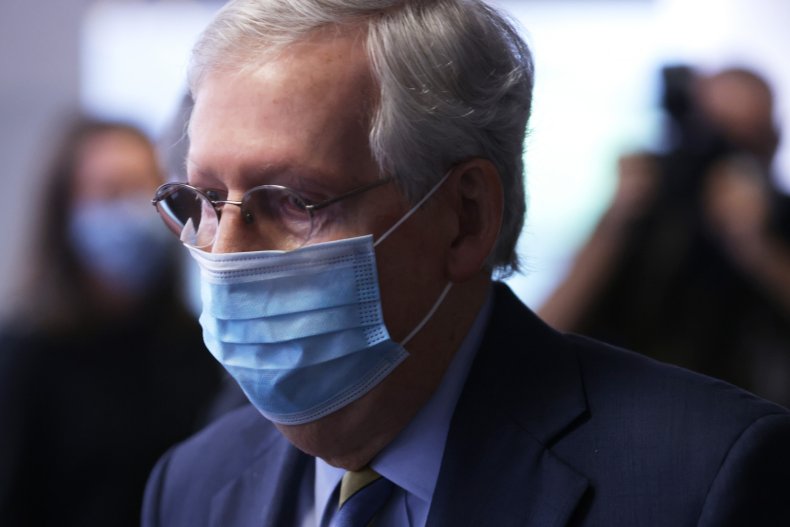 White House Talks
Pelosi and Senate Minority Leader Chuck Schumer (D-NY) have held stimulus talks with White House Chief of Staff Mark Meadows to breach the impasse. However, these also failed, with each side blaming the other for the delay.
Democrats offered to come down to $2.2 trillion, from the $3.4 trillion in the HEROES Act, though have shown resistance over going any lower. The White House has previously offered to go up to $1.3 trillion.
Meadows questioned exactly what the Democrats want within the $2.2 trillion spend. He has also faced blame over the lack of progress, accused of being stumbling block.
Talks between Pelosi and Mnuchin are reportedly more productive.
McConnell, having faced Democratic criticism over his earlier stance in talks, came under fire for not attending the meetings given the fundamental need for the Senate GOP to back any deal.
Trump used his executive powers to issue orders on certain areas requiring stimulus, such as extending unemployment support, though these moves were branded inadequate by critics.
Skinny Bills
With talks having stalled, separate bids to get some form of stimulus through have been pitched in Congress.
McConnell put forward a cut down so-called skinny bill valued at around $500 billion. This did not include another round of stimulus checks.
Democrats dismissed the proposal, saying it would be better described as emaciated than skinny. It did not garner enough support to move forward after a vote in the Senate.
As well as this, a bipartisan group of lawmakers, the Problem Solvers Caucus, has put forward a $1.5 trillion package. Trump has said there are good aspects in this, though felt unable to endorse it in its entirety.
Pelosi also pushed back against it, standing firm on the $2.2 trillion spending demand.
What Next?
Both sides have shown a willingness to pursue further stimulus despite the repeated failure of talks on a final deal.
Trump has suggested Democrats do not want a deal to pass because it might boost him in the election. However, Democrats say they just see the proposals from their opponents as insufficient for the problem.
There are calls for lawmakers to not leave Washington for the October recess until a deal is finally struck.
Polls indicate the public wants to see a further stimulus package, with many wanting more checks to help them cover basic expenditures.
Newsweek has contacted the White House, Pelosi, Schumer, and McConnell for comment.