Trump Welcomes Bipartisan Stimulus Proposal, Including Checks, But Won't Endorse Plan
President Donald Trump says he agrees "with a lot" of a bipartisan stimulus proposal from the Problem Solvers Caucus though not enough to endorse it.
The pitch outlines a package worth around $1.52 trillion—short of the amount requested by Democratic figureheads but around three times the amount on the so-called "skinny" bill previously pitched by the Senate GOP.
House Speaker Nancy Pelosi (D-CA) has pushed back against the latest suggestion, insisting that having previously lowered the amount of spending she would agree to, she feels "we can only go so far."
Pelosi has long spoken of her commitment to sealing a bipartisan agreement, despite previous talks with White House negotiators having faltered.
Trump welcomed this stance from Pelosi, having previously said he would talk to her directly on stimulus "at the right time," while also suggesting the Problem Solvers Caucus had pitched some palatable ideas.
"I think they're well on their way to suggesting some pretty good things," he said of the bipartisan group's proposals, during a press briefing on Wednesday.
"I agree with a lot of it. I think the things I don't agree we can probably negotiate. But I think we've made some progress over the last week, and I think it was positive that they came out with that report."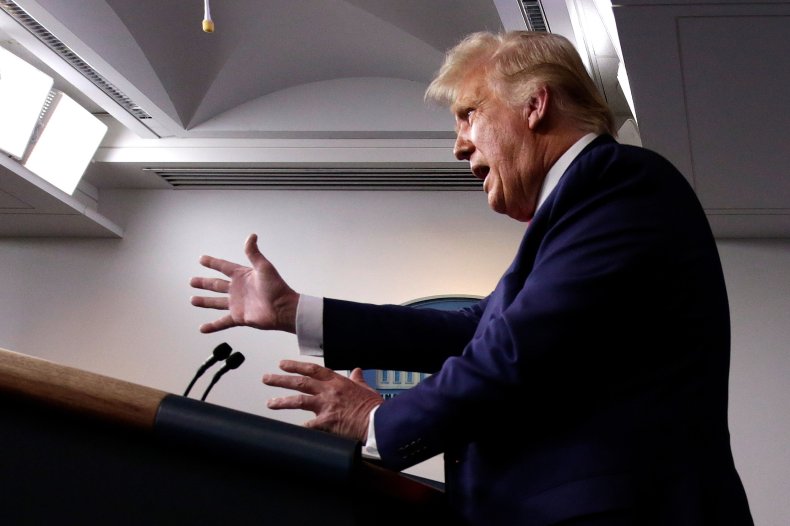 Asked if he could endorse it, he said: "Well, not that proposal, but we're getting closer. We're getting closer.
"I do like a lot of money getting sent to people that really were—really were hurt unnecessarily by China, because they could have stopped it."
He reiterated his stance that China should have prevented the spread of coronavirus, stating: "They could have stopped it from coming to our country."
While Trump has said he wants a stimulus package agreed and previously expressed backing for more stimulus checks, he has said he thinks Democrats do not want one passed prior to the election in case it boosts his chances.
The Problem Solvers Caucus pitch includes measures such as another round of stimulus checks, which has bipartisan support, as well as a compromised amount on unemployment enhancement—after disagreements over the level at which the boost should continue.
Spending has been a key sticking point, with the Democrats' HEROES Act having proposed around $3.4 trillion be put into relief, with Republicans in the Senate having then pushed back with a cap of around $1 trillion.
A skinny bill proposed in the Senate then offered $500 billion, though this failed with lawmakers indicating the chance of a deal passing pre-election was fading. Democrat leaders have agreed to come down from the HEROES Act figure but not as far as the White House and GOP leadership in the Senate have called for.
Newsweek has contacted the White House, Pelosi and the Problem Solvers Caucus for comment.