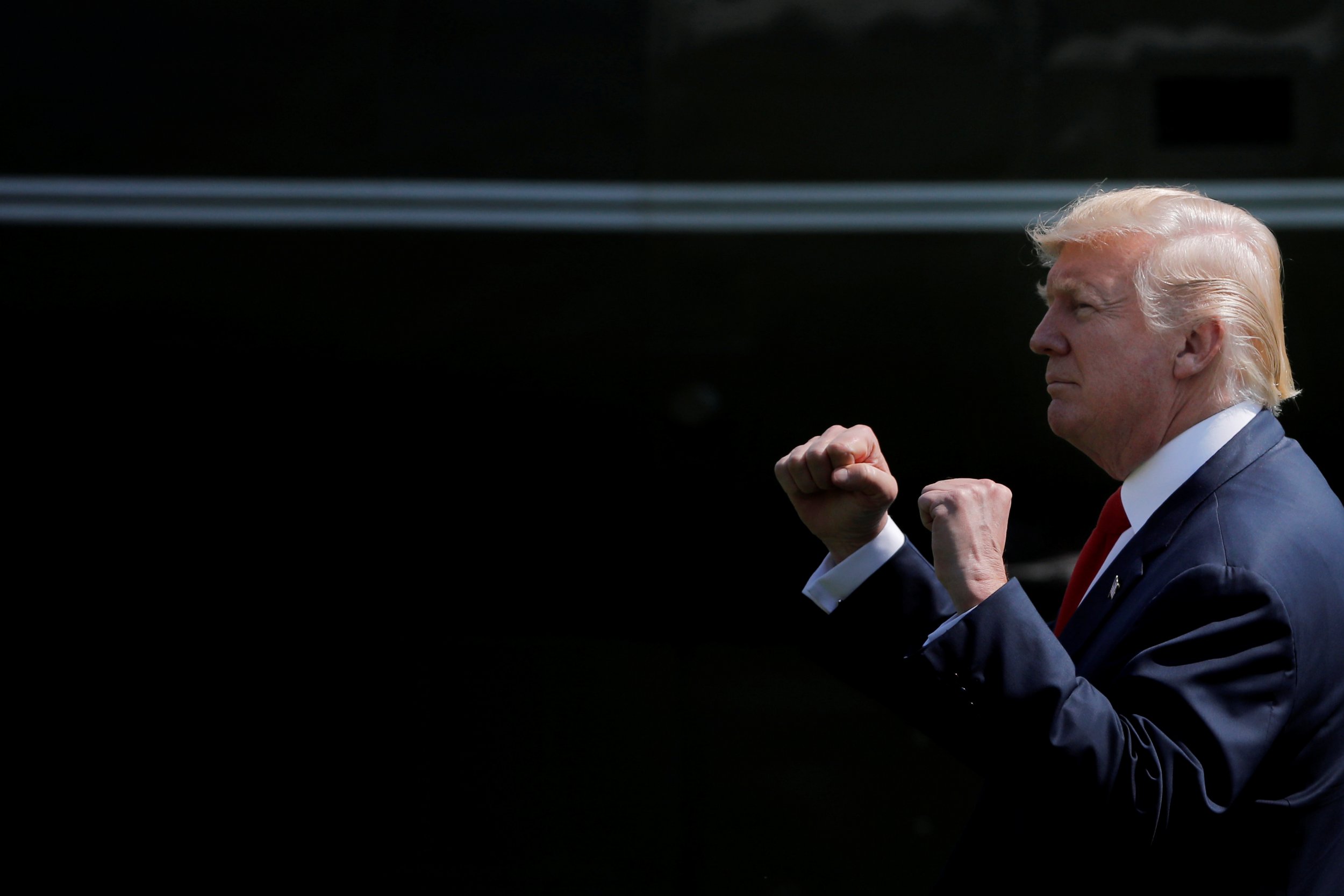 Sunday night and Monday morning, the president took time from his 17-day work vacation at his private Bedminster, New Jersey golf course to complain about "fake news" and the coverage of what he sees as the big successes of his administration.
His continued attacks on the media coincide with his campaign team's launch of a new "real news" channel meant to only give good news about his administration.
"The Fake News refuses to report the success of the first 6 months: S.C., surging economy & jobs,border & military security,ISIS & MS-13 etc." Trump tweeted after 10pm Sunday.
Early Monday Trump was back on Twitter to say that his "base is far bigger & stronger than ever before (despite some phony Fake News polling)." New polling numbers last week showed that he has lost ground with key voters that supported him during the 2016 election. Nevertheless, Trump said what he has achieved so far has "driven the Trump base even closer together."
Nationally Trump has the lowest ever approval rating of any president during the same point in their term.
The "S.C." Trump touted in his Sunday night message is his Supreme Court justice pick Neil Gorsuch who was confirmed in April. Trump also often returns to the stock market as his measure of economic performance. The president tweeted on August 1 that the "mainstream media seldom mentions" the stock market highs that have been reached during his administration.
However, data shows stock market performance grew much more rapidly under Presidents George H.W. Bush and Barack Obama, who both achieved more than double the growth that has been seen under Trump's administration so far.
Trump is right that the Islamic State (ISIS) extremist group's losses have been "dramatically accelerated" in Iraq and Syria, U.S. officials confirmed last week. In his tweet, Trump counted combating the international street gang MS-13 among his successes, but the FBI says that the gang is growing.
Each of the issues Trump tweeted about has received coverage by major broadcasters and publications.
Not satisfied, the Trump administration has started producing its own "real news."
On Sunday former CNN commentator Kayleigh McEnany appeared for the first time in a "news of the week" segment put together by the Trump campaign meant to share only good news about the Trump administration. The video series launched last week and seeks to discredit established news outlets.
Read more: Trump slammed Obama for taking vacation, but he just booked 17-day golf retreat
Trump has continued his own efforts to discredit the media through his social media accounts and hasn't been available on his vacation so far. Over the weekend Trump held no public events and has none scheduled for Monday. When asked Sunday by the White House press pool about what the president would be doing on his vacation, an official did not provide details.
The president will be meeting with his new Chief of Staff John Kelly, White House advisers and lawmakers during his two week stay White House official told Fox News.
Video footage of Trump arriving in a golf cart and dressed in his golfing clothes to surprise wedding guests at the Trump National Golf Club appeared online Saturday.
"Working in Bedminster, N.J., as long planned construction is being done at the White House. This is not a vacation - meetings and calls!" Trump tweeted Saturday.
Trump held a call Sunday with South Korean President Moon Jae-in which they discussed North Korea's test launch of a ballistic missile July 29.
"The two leaders affirmed that North Korea poses a grave and growing direct threat to the United States, South Korea, and Japan, as well as to most countries around the world," a White House readout of the call said.
Presidents often take vacation during August while Congress is on recess.