Woman Regrets Family Not Getting COVID Vaccinations After Father Died
A woman from Jacksonville, Florida, has spoken of her regret that she and her family had not been vaccinated against COVID-19, telling a news network that her father had died from the disease.
Amanda Beinborn and her family had wanted to investigate vaccines further before deciding whether to get one. However, before she could find out more, the 20-year-old tested positive in June and her family members quickly followed suit.
Beinborn told News4Jax that said she was sick for four days before her parents and brother became ill too. She said her father, Dennis Beinborn, 55, was admitted to the ICU on July 3 and died on July 19 from the disease.
"A lot of people have that mentality that, you know, this isn't going to happen to them. I basically felt the same way," Amanda Beinborn told News4Jax.
Meanwhile, her 30-year-old brother was hospitalized as well but discharged and is being kept on oxygen at home. She says her mother is expected to be out of the ICU in a few days.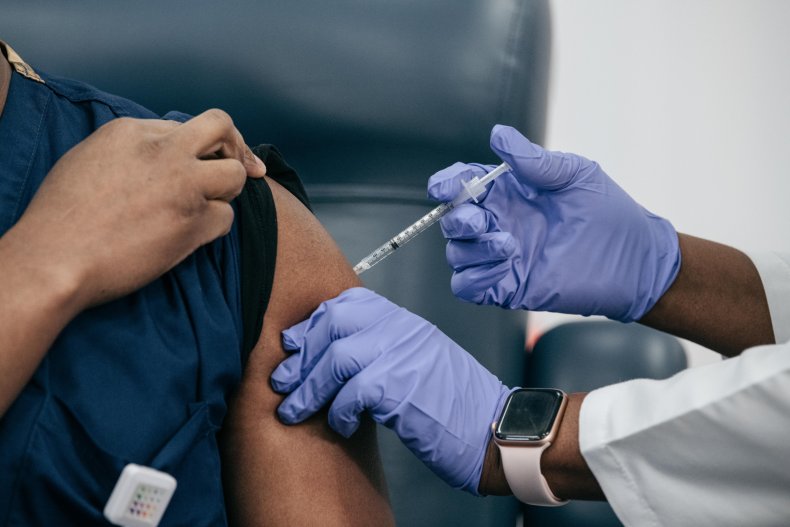 "No one should have to go through this," Amanda Beinborn said, according to First Coast News. "It can be prevented if we would have taken better precautions for sure."
"It's definitely now something that we are going to want to get," she said of the vaccine.
With the contagious Delta variant sweeping across the country, more anecdotal accounts are being shared by those affected by the disease who wish they had had the jab.
In Arkansas, Angela Morris was left distraught when her 13-year-old daughter, Caia Morris Cooper, was put on a ventilator at Arkansas Children's Hospital in Little Rock, where she is fighting for her life.
She had resisted vaccinations for her and her daughter because she thought that masks and staying at home would suffice.
Now she wishes she could turn the clock back. "It's heartbreaking. I wish I would've made better choices for her," Morris told CBS affiliate THV 11, "I just want people to get their kids their shots.
"It's a much better route than the one we're in," she added.
Arkansas and Florida are among the states that are being hit particularly hard by the Delta variant, with COVID cases across the country surging by 140 percent over the last two weeks.
Despite the increase in cases, a Yahoo News/YouGov poll this week found that less than a third (29 percent) of unvaccinated Americans thought the virus was more dangerous to their health than vaccines.
It also revealed that 93 percent of unvaccinated U.S. adults—equal to 76 million people expressed doubt about the vaccines— 51 percent of unvaccinated adults said they would never take the jab, 22 percent wish "to see what happens to others before deciding," and 20 percent say they are not sure, the survey found.
Data from the Centers for Disease Control and Prevention (CDC) shows that more than 162 million have been fully vaccinated against COVID. There are currently three vaccines available in the U.S., by Pfizer/BioNTech, Moderna, and Johnson & Johnson. More than 607,000 people have died of CODID-19, according to the CDC.
The CDC has said that those who are fully vaccinated are protected against hospitalization and death due to COVID, including the Delta variant.
It has added that "a small percentage of fully vaccinated people who still get sick, are hospitalized, or die from COVID-19."
Still, it has recently warned of a "pandemic of the unvaccinated" as Delta variant cases surge across the U.S.