Vaxxed 2 Tickets: Anti-Vaccine Documentary Sequel to Secretly Screen in 19 States to Try and Avoid Being Blocked
Anti-vaccination campaigners are putting on secret screenings of a movie which peddles unfounded conspiracy theories about the MMR jab.
Vaxxed II: The People's Truth is due to premiere on November 6 in 30 theaters across 19 states in the U.S.—California, Colorado, Connecticut, Florida, Indiana, Michigan, Minnesota, Missouri, Nevada, New Jersey, New York, North Dakota, Ohio, Oklahoma, Pennsylvania, South Carolina, Texas, Wisconsin and Washington—according to the site's official website.
When trying to buy tickets on the film's website for a certain location, potential viewers are told they are "reserving a ticket to a secret screening" and theater details will be emailed to them on the night of the showing.
The 92-minute-long film is a sequel to 2016's controversial Vaxxed: From Cover-Up to Catastrophe, which made headlines after actor Robert De Niro axed it from his Tribeca film festival after the scientific community raised concerns.
Earlier this year, Amazon removed anti-vaccine films including Vaxxed from its streaming service. The move came after congressman Adam Schiff wrote to Amazon founder Jeff Bezos, complaining "harmful anti-vaccine messages have been able to thrive and spread" thanks to the website's algorithms.
The makers of Vaxxed II claim many screenings of the new film have "sold out despite intentionally avoiding public attention." They say they have been "forced to undergo a rogue grassroots release strategy" in the wake of what they describe as the censorship of the first film. However, it is unclear if the sequel has been banned from showing anywhere, or censored in any way.
Its creators claim the sequel was made after parents lined up outside theaters at screenings of the original Vaxxed, to share so-called "vaccine injury" stories, which are not based on scientific evidence.
The film touts the myth that there is a "vaccine injury epidemic." But the overwhelming consensus among health professionals, including the U.S. Centers for Disease Control and Prevention (CDC), is that the MMR shot is "very safe and effective."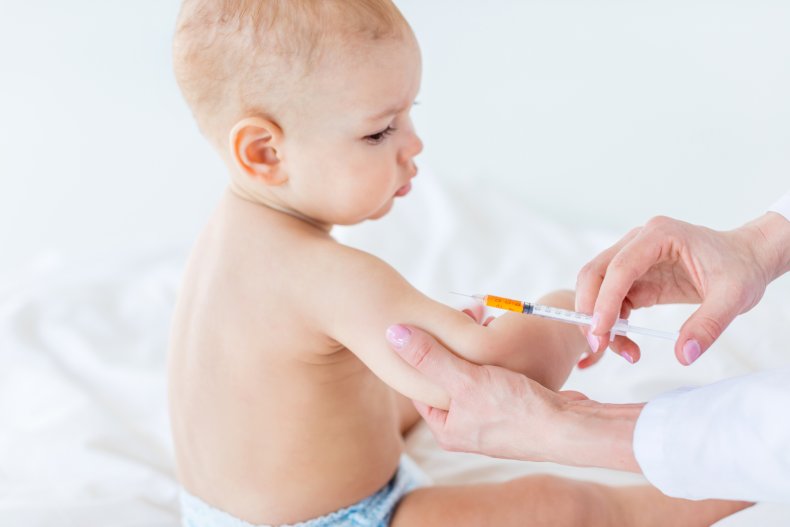 The trailer features distressing footage of parents making anecdotal and unfounded claims that vaccines caused their children to have developmental problems, including autism.
The Guardian, which has previewed Vaxxed 2, slammed the film for its false claims but described it as "slickly produced" and "potent." Footage includes a gallery of photographs of dead babies, without evidence to back suggestions their deaths were linked to vaccines.
Disgraced former doctor Andrew Wakefield, who is partly responsible for the rise of the anti-vaccine movement, also appears. In 2010, Wakefield was struck from the medical register for publishing a 1998 study in The Lancet journal wrongly linking the MMR vaccine, which protects against measles, mumps and rubella, to autism. The work has since been shown to have no scientific basis.
Executive producer Robert F Kennedy Jr., the nephew of president John F. Kennedy, told The Guardian the film gave so-called "vaccine-injured" individuals a voice.
"Their stories are muzzled by the media, and the film in many ways is an effort to allow those families a chance to speak," he said.
The film comes amid a worldwide measles outbreak. Before the measles vaccine was made widely available, the virus killed millions. Between 1963 when a jab was developed and 2000, death rates dropped and measles was declared eliminated from the United States. But cases of the potentially deadly virus have spiked by almost 300 percent worldwide since 2018 due to a drop in children being vaccinated.
Since the start of the year, 1,250 cases of measles have been confirmed across 31 states, according to the CDC.
Dr. Paul Offit, a physician and Director of the Vaccine Education Center at Children's Hospital of Philadelphia, told The Guardian: "If that level rises to 2,000 or 3,000 cases a year we will start to see children dying of measles once again. That's the dangerous game that is being played here."
Helen Bedford, professor of children's health at UCL Great Ormond Street Institute of Child Health, a world-leading institution in the U.K., told Newsweek the filmmakers "are making money out of the distress of parents and families. It's a simple as that."
"Once again this group are determined to spread misinformation which, as we have already seen, is a serious threat to public health," she said.
By wrongly linking developmental disorders to vaccines, the film's creators are contributing to research funds being diverted from understanding the true causes of conditions like autism, she added.
Bedford argued the secrecy around the film is a deliberate attempt "to create the impression that their voice is being censored."
She said the blame for the spike in measles cases around the country "can be put firmly at the door of the U.S. anti-vaccine movement of which the makers of this film are prominent figures. If these outbreaks continue, very sadly children will die," Bedford warned.
This article has been updated with comment from Professor Helen Bedford.