Viewers Obsessed With This Woman's Themed Hotel Room at Best Western
Viewers are obsessed with a themed hotel room at a Best Western that was shared by a popular TikToker.
Margaret, who runs the account @aprettycoolhoteltour with her husband Corey, shared the TikTok on March 15 and received more than 4 million views and 2,000 comments, many from people who recalled their own experiences in a Best Western theme room.
The American Hotel and Lodging Association estimated that the hotel industry lost nearly 50 percent of its revenue compared to before the pandemic.
Experts expect the industry to make a comeback, with room revenue reaching similar levels to 2019—although some believe the industry won't fully recover until 2024.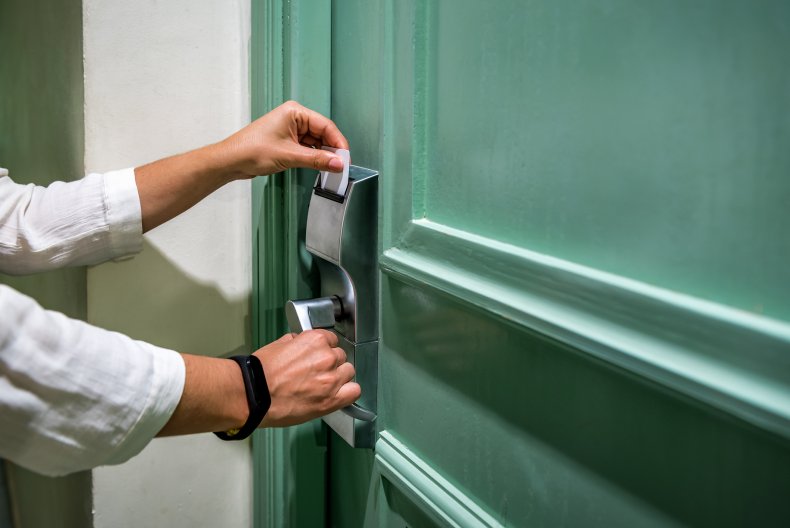 In the video, Margaret stood in front of a hotel door with a room card in hand and said that she was able to get her hands on a theme room. She also called out viewers who didn't believe her in a previous video when she recommended people ask to see if there are any "secret theme rooms" at Best Western
"Themed rooms in a @Best Western part 2!" the caption read. "This one is in Missouri!"
In the video, Margaret showed a hotel room covered with Elvis Presley memorabilia and a large black and white wall mural.
The room also flaunted a large jacuzzi in the corner and a bed with a pink Cadillac bench.
More than 2,000 users commented on the TikTok, many joking that her videos alone were promotion for Best Western. Others revealed other theme rooms across the United States including a Marilyn Monroe room and a bed built to resemble a hot air balloon in flight.
"We can't help but falling in love with that Elvis room," the official Best Western account commented.
"You're about to single handedly put Best Western back on the map," one user joked.
"That's in Springfield, MO!" one user who recognized the room commented. "Elvis stayed there! And it's on Route 66."
A spokesperson for Best Western told Newsweek that all Best Western hotels are independently owned and operated, leaving the choice up to the individual owner to have a themed room.
Newsweek reached out to Margaret for comment.
This is not the first time the internet has gone crazy over a unique hotel experience. One unique stay was in a renovated potato hotel, fully furnished with neutral decor and an elegant chandelier.
The large fiberglass potato was gifted to the owner, Kristie Wolf, by the Idaho Potato Commission when they retired it. The hotel went viral as soon as Wolf opened in 2019.
Another hotel in Finland went viral after announcing a Game of Thrones-inspired hotel made entirely of ice. The hotel, which is only open in the winter, covers 5 acres of land and includes a restaurant, bars, shops and various sized rooms and suites.