Venezuelan Military 'Ready to Die' in Fight Against U.S. Imperialism, Defense Minister Warns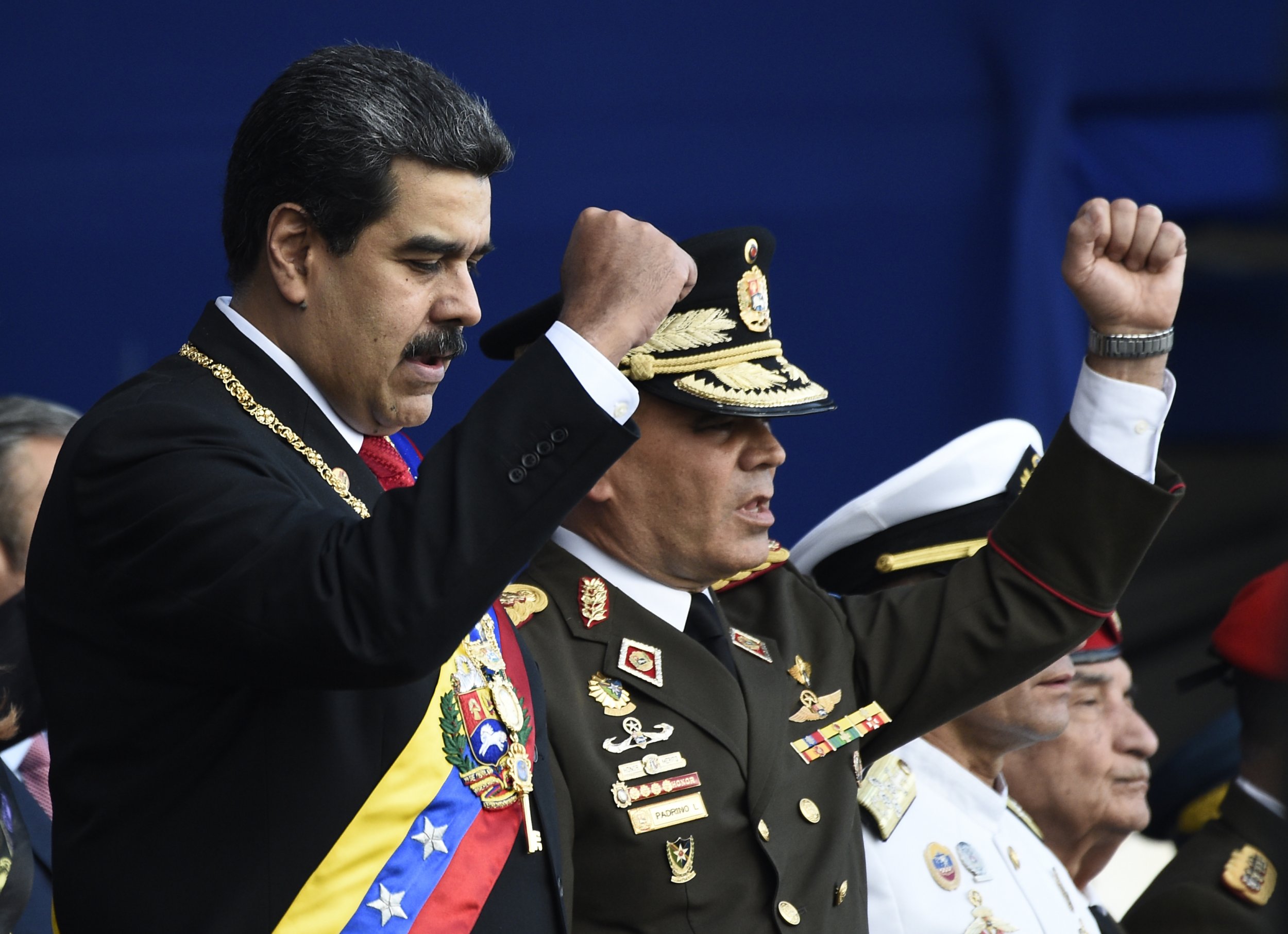 Venezuela's minister of defense has vowed that his troops are ready to die in the battle for control of their beleaguered South American nation, and urged the country's soldiers to stand up to imperialism and fight for independence.
Vladimir Padrino made the remarks while addressing soldiers on Monday at a show of military strength at an army base in Caracas. Dressed in full battle uniform with a rifle slung over his shoulder, Padrino denounced the movement to depose President Nicolás Maduro and urged his troops to stand firm in the face of foreign interference.
Padrino is supporting Maduro, who has served as president since replacing revolutionary leader Hugo Chávez in 2013, amid the president's power struggle with opposition leader Juan Guaidó, who declared himself interim president last week. Guaidó is leader of the country's parliament and has said he is constitutionally bound to take power if there is no legitimate president in the country.
Multiple nations, led by President Donald Trump in the United States, have officially recognized Guaidó as the country's leader. They include the United Kingdom, Canada and most of Venezuela's neighbors. Though Maduro won a presidential election in 2018, the domestic opposition and international critics have declared the result illegitimate, citing voter fraud, opposition repression and other irregularities.
The country's strong military has thus far remained loyal to Maduro, who has used his forces to suppress dissent and prop up his embattled regime.
Guaidó has attempted to rally support within the armed forces and offered a legal amnesty for any troops who defect to his parallel administration. But his efforts appear to have failed so far with Padrino, who has served as defense minister since 2014.
"It is time for revolutionary, Bolivarian, patriotic activism," Padrino told assembled troops in footage posted to Twitter by the official Defense Ministry account and retweeted by the minister himself. "This is the activism that today empowers us in this new phase of defending our homeland. We are not going to hand it over! We are ready to die for it!"
The minister also praised the military establishment for standing up against "the constant attacks of American imperialism." Maduro has argued that U.S. interference in Venezuela constitutes an attempted coup.
"We would be unworthy of wearing this uniform and these patriotic symbols, if we did not face in this difficult moment of certain threat against the fatherland," Padrino added. "In the face of any aggression, of any nature and intensity, we will defend Venezuela, as it belongs to us."
Treasury Secretary Steve Mnuchin and National Security Adviser John Bolton announced on Monday new Trump-approved sanctions against Venezuela's state-owned oil company. In a statement to reporters, the two men accused the PDVSA of corruption, embezzlement and looting the nation's assets. The sanctions are an attempt to deprive Maduro's government of cash and undermine his support from the military.
Maduro has repeatedly accused the U.S. of leading an "economic war" against his country. Venezuela has been crippled by low oil prices, hyperinflation, unemployment and chronic food and medicine shortages.
Last week, Maduro's government suffered its first senior military defection. The country's top military attaché to the U.S.—Colonel José Luis Silva—came out in support of Guaidó. Announcing his decision in a video posted to social media, Silva urged his colleagues, "Please, brothers, don't attack our people. The state gave us arms to protect our country, not to touch our equals."