Venezuela's Capital Is Running Out of Water as Hospitals Forced to Cancel Operations
Already battling hyperinflation, a lack of medical supplies and empty supermarket shelves, Venezuelans in the capital city of Caracas are now running out of water.
Citizens and businesses are struggling with the shortage while hospitals are being forced to postpone or cancel operations because equipment cannot be washed, Reuters reported.
Even when the water is running, it is often dirty. With the health network already running low on vaccines and antibiotics, using the scant water supply is both a necessity and a health risk.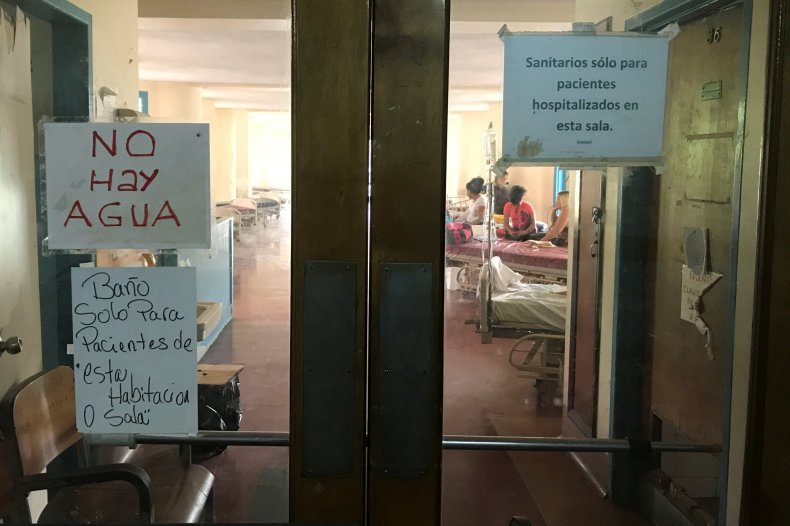 At the Central Venezuelan University hospital, there is a growing backlog of patients whose operations cannot be completed. "I have gone to the operation bloc and opened the tap to wash my hands, as you must do before a surgery, and nothing comes out," gynecologist Lina Figueria told Reuters.
Venezuela has been crippled by a five-year economic crisis. This has been exacerbated by the crashing price of crude oil since 2015, leaving gaping holes in the Venezuelan budget. The government has responded by printing more money, but this has led to runaway inflation and made the bolívar effectively worthless.
As many as 3 million Caracas residents face intermittent water cuts. The city sits in a valley almost 3,000 feet above sea level, meaning water must be pumped up from sources lower down. But poor maintenance of the pumps and pipes and a lack of government cash for replacement parts has left the city's taps running dry.
"For many years this deterioration process was not noticeable. But now the water transport systems are very damaged," said Jose De Viana, former president of Hidrocapital, the state-run company that looks after Caracas's water supply network.
Citing surveys conducted by Venezuelan NGOs, Reuters notes roughly 75 percent of Caracas residents say they do not have regular access to water. About 11 percent are suffering skin and stomach problems from the dirty water they do receive.
In July, Information Minister Jorge Rodriguez said there was a "special plan" to address the water crisis but did not specify any details. The government blames the water crisis on right-wing terrorists intent on taking down President Nicolas Maduro. The president and his allies say the wider economic situation is caused by an "economic war" waged by domestic opponents with the support of the U.S.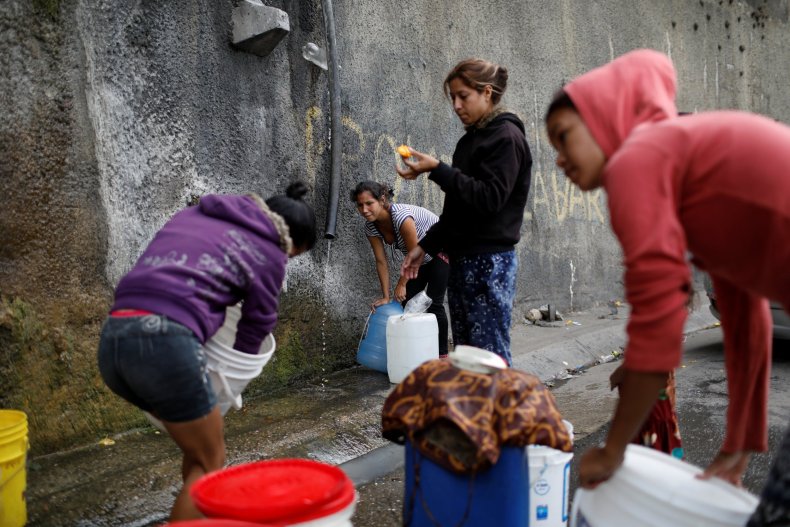 The collapsing currency has left the government unable to import food stuffs, medical supplies or fuel. Last month, the International Monetary Fund predicted inflation would hit 1 million percent by the end of this year, describing the situation as "a profound economic and social crisis." Exact inflation figures are difficult to gauge because the government no longer publishes official data.
As day-to-day life becomes more difficult, Venezuelans are fleeing the country in droves, many to neighboring Colombia. The U.N. estimates that 2.3 million citizens have left the country, with around 5,000 crossing the border every day.
Those who remain are becoming more desperate, but Maduro's government has refused to change course. Earlier this month, the president survived an apparent assassination attempt using two explosive drones. Maduro alleged it was supported by America and Colombia, though has not yet provided evidence to back up his assertions.
The little-known "Soldiers in T-shirts" group claimed responsibility for the attack, which would make it the latest anti-government operation by rogue elements within the military.