Venice Tourist Forcibly Removed From Boat for Refusing to Wear a Face Mask
A tourist was forcibly removed from a boat in Venice, Italy, on Friday after he repeatedly refused to wear a face mask and mocked those who asked him to do so.
The altercation took place at San Zaccaria pier, behind Piazza San Marco, when the tourist stepped onto the platform to make way for others disembarking from the Vaporetto, or public water bus. But when he tried to reboard, he was met with a wall of passengers who refused to let him on.
In a video of the incident, passengers on the boat can be seen shoving the man onto the platform, as the man, who has been identified as a German tourist, continues to try and board the boat.
The tourist appears to be wearing a face-covering in the video but according to local media reports, while aboard the boat, the young man refused to listen to multiple requests from crew members and fellow passengers who asked him to wear his mask properly.
He also allegedly mocked the crew and passengers by lowering his mask when the crew looked away. A passenger who repeatedly shoved the tourist from the boat had to be held back by other passengers as the fight broke out.
In Italy, it is mandatory to wear a face mask in public indoor places, and from 6 p.m. until 6 a.m., it is mandatory to wear masks outdoors at gatherings and in busy trafficked streets and squares, amid the coronavirus pandemic.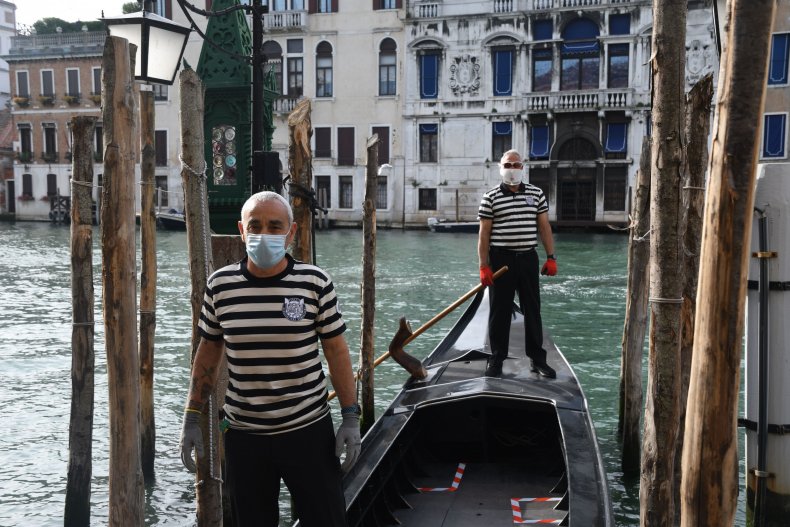 The Centers for Disease Control and Prevention (CDC) is encouraging all Americans to wear a face-covering to prevent the spread of the coronavirus. CDC Director Dr. Robert R. Redfield said in a statement: "We are not defenseless against COVID-19."
"Cloth face coverings are one of the most powerful weapons we have to slow and stop the spread of the virus—particularly when used universally within a community setting. All Americans have a responsibility to protect themselves, their families, and their communities."
However, similar to the incident in Venice, some Americans are reluctant to wear masks and have been forcibly removed from businesses for refusing to comply with face mask guidelines.
Last week, when asked to wear her face mask properly in Costco, a woman pulled down her mask and coughed at a person, telling them that she had COVID-19.
Earlier this month, a woman was arrested for hitting an American Airlines gate agent who would not let her board the plane without a mask.
In Utah, employees at a grocery store yelled at a customer who refused to wear a mask correctly, telling him: "Trumpster, just leave." The employees also swore at the customer and threatened physical violence.