Vermont Bill Sparks Fear of 'Suicide Tourism'
Vermont lawmakers are weighing legislation to expand the state's decade-old medically assisted suicide law to allow non-residents with terminal illnesses to receive care, raising fears that Vermont could become a bastion of what opponents have described as "suicide tourism."
Earlier this week, the state's House Human Services Committee unanimously voted in favor of removing the residency requirement from the law, sending the proposal to the Democratic-controlled House of Representatives for further review. If approved by the Senate, it would then have to be signed by Governor Phil Scott, a Republican, into law.
If passed, Vermont would join Oregon as one of two states in the United States that allows the terminally ill to receive lethal medication. It comes after a doctor in Oregon led a successful lawsuit last year challenging a ban on providing out-of-state residents with end-of-life care.
While Oregon—one of the first states to pass such a law—is an outlier, it's hardly unique. Currently, states such as California, Colorado, Hawaii, Maine, New Mexico, New Jersey, and Washington have medically assisted suicide laws. Montana's Supreme Court recently ruled that state law does not prohibit the terminally ill from seeking a medically assisted death, a seeming recognition of one's right to go out on their own terms.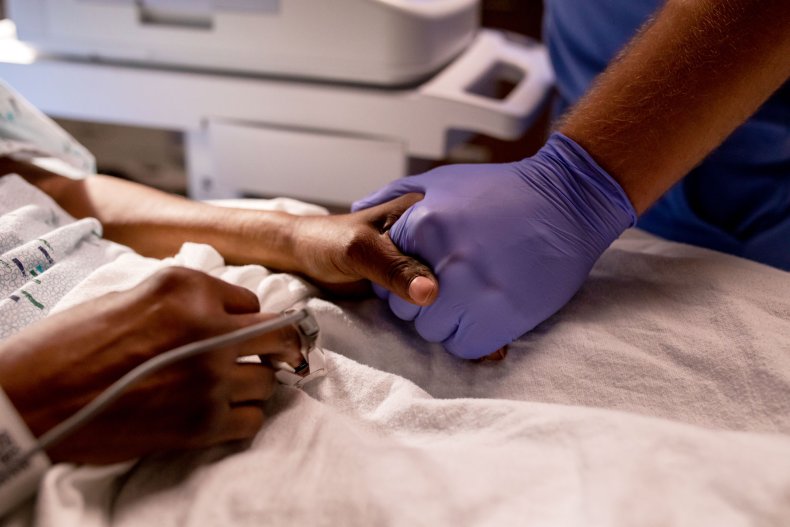 The gist of the bills is simple: to provide people who are likely undergoing slow and painful deaths to end their lives quickly and painlessly.
Of the 291 residents who took medication to end their life under Washington state's "Death With Dignity" Act in 2021, approximately 91 percent were in hospice care, with a vast majority bearing terminal diagnoses for diseases like cancer, according to state statistics.
Similar numbers have been reported in states like Oregon, where the three most frequently reported end-of-life concerns for 2021 participants in the program were loss of autonomy (93 percent), decreasing ability to participate in activities that made life enjoyable (92 percent), and loss of dignity (68 percent).
"Using the pejorative term 'assisted suicide' to describe a terminally ill person who is going to die no matter what—and just wants the option to peacefully end their suffering if it becomes unbearable—shows opponents don't understand what the term medical aid in dying means," Sean Crowley, a spokesperson for Portland-based end-of-life clinic Compassion & Choices, told Newsweek.
Moral Concerns
Others, however, have expressed moral qualms with those end-of-life programs and the laws that enable them, saying such an option could open the floodgates to a culture of "death on demand" that cheapens the very value of life itself.
As states have begun loosening regulations surrounding patients' ability to pursue end-of-life care, some commentators have begun to question whether there are proper controls in place to ensure the last decision a patient makes is one they truly want. According to Oregon's 2021 data, just two of the state's 383 patients who received prescriptions were referred to psychiatrists, far below the 4 percent rate exhibited between 1998 to 2019.
Meanwhile, most states that have "Death With Dignity" laws have seen steady increases in the numbers of participants year-by-year, raising concern from some conservative commentators who believe the small number of people who choose medically assisted suicide could be the sign of a burgeoning trend.
"The ultimate goal—or, at least, the consequence—of allowing assisted suicide/euthanasia is death on demand," Wesley Smith, a leading critic of assisted suicide legislation, wrote in the conservative National Review earlier this month. "Some jurisdictions are getting there faster—Germany, Belgium, the Netherlands, and Canada—and some slower, such as Oregon, Vermont, California, and Colorado. But that tide only flows in one direction."
Proponents, however, say that's an overly paternalistic view of an immensely personal decision between doctor and patient.
Under most medical aid-in-dying laws, the attending physician writing a prescription must be the licensed physician with primary responsibility for the care of an individual. Most also require that two doctors provide the patient's terminal diagnosis and, in all cases, the doctors must confirm their patient has less than six months to live and is mentally capable of making their own healthcare decisions.
"Physicians are experts at determining their patients' mental capability," Compassion & Choices writes in guidelines explaining medical aid-in-dying programs. "Doctors are specially trained and required on a daily basis to assess whether patients have the mental capacity to make informed healthcare decisions—including life and death decisions. If either the attending or consulting physician is concerned about the patient's mental capacity, evaluation by a mental health specialist is required before a prescription for aid-in-dying medication can be written."
Cultural Questions
Still, opponents of the programs are concerned expanding the practice to people out-of-state could result in the practice spreading even further and, potentially, changing public perceptions of death.
Assisted suicide clinics have proliferated in Switzerland, with one firm there reporting approximately 93 percent of patients hailing from outside of the country. One study from the past decade pointed to a trend suggesting non-terminal conditions such as neurological and rheumatic diseases were increasing among Switzerland's suicide tourists, raising new ethical questions about the practice. Meanwhile, patents like one Swiss doctor's "suicide pod" called the "Sarco" inflamed international debate over the accessibility of ending one's life among right-to-die advocates.
"[Medically assisted death] is about being able to celebrate our life, to gather the people who mean the most to us, to reminisce and say goodbye, safe in the knowledge that we can leave this world at a time, in a place and by the manner of our choosing," Dr. Stephen Duckworth, a leading voice in the right-to-die movement, wrote in a 2021 op-ed in The Independent. "The 'Sarco' would instead deprive users of human connection and replace it with a lonely, virtual reality experience."
While U.S. law is nowhere near Switzerland's, it's currently unclear how prevalent the so-called practice of "suicide tourism" has become in Oregon.
While officials with the Oregon Health Authority (OHA) told Newsweek that it did not have documentation to prove anyone from out-of-state had received care since the ban was overturned last year, one Portland-based clinic has already begun advertising the availability of suicide assistance to out-of-state residents, something opponents have significant reservations about.
"We're concerned about suicide tourism's negative effects on public policies that prevent suicide," Carolyn McDonnell, an attorney for Americans United for Life, an anti-abortion law firm and advocacy group that opposes assisted suicide laws, told Newsweek. "Studies show that legalizing assisted suicide increases the rates of non-assisted suicide. Since suicide tourism permits residents to travel from states that prohibit assisted suicide, it may negatively impact those states' suicide prevention policies and rates of non-assisted suicide."
Proponents argue that preventing people from making their own decisions about how to end their life, however, is not a cultural issue; it is an issue of humaneness, and the right for someone to avoid a long and painful death.
Those able to access it, they say—especially under the parameters of U.S. law—are most likely those who need assisted suicide most: terminally ill people who live near a legal jurisdiction, but are unable to access it in their own state.
"The reality is most terminally ill people are too ill to travel long distance to Oregon or Vermont, then find new physicians willing to prescribe medical aid in dying and complete the multi-step process required to access the multi-step eligibility process," Crowley said. "But eliminating this unconstitutional residency barrier should help terminally ill people access medical aid in dying who live near Oregon, especially if they already receive care in Oregon, like Dr. [Nick] Gideonse's patients in neighboring Washington State, or in Vermont, like Dr. [Diana] Barnard's patients in neighboring northern New York State."