Vermont Under Fire for Distributing COVID Vaccine Based on Race
Vermont has come under fire for expanding vaccine eligibility to individuals 16 or older who identify as Black, Indigenous or a person of color, over two weeks before offering all races the same access.
Republican Governor Phil Scott announced the initiative on Thursday in an effort to address racial disparities associated with the coronavirus pandemic.
"If you or anyone in your household identifies as Black, Indigenous, or a person of color (BIPOC), including anyone with Abenaki or other First Nations heritage, all household members who are 16 years or older can sign up to get a vaccine!" Scott tweeted.
The decision falls in line with earlier moves by state leadership and the health department to target communities that are at higher risk for contracting COVID-19, or may have more difficulty accessing health benefits.
"As part of our strategy to prioritize Vermonters most at risk of severe illness and save lives, we have also begun vaccinating Vermonters in communities that have unique needs, such as people who speak languages other than English and people who are homebound," the Vermont COVID-19 vaccine website states.
"We still have much more to do to address the significant disparities in the rates of COVID-19 infection, hospitalization, and death among Vermonters who are Black, Indigenous and people of color (BIPOC)," the website adds.
"This coordinated vaccination effort is an important step in working with and compensating trusted community partner networks to reach some of the most historically marginalized people in Vermont."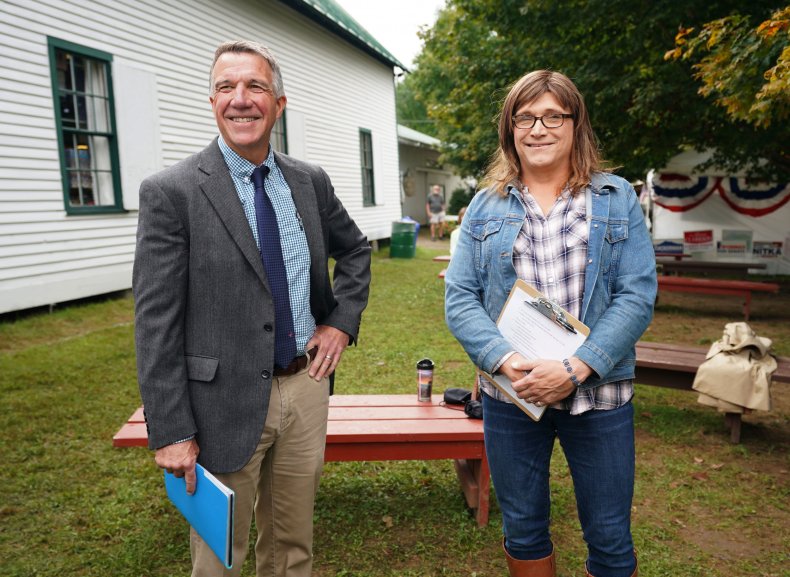 The initiative comes more than two weeks before Vermont plans to open up vaccine eligibility to all people regardless of race on April 19, prompting a wave of harsh criticism online.
"That Vermont is discriminating on the basis of race in distributing lifesaving vaccines should be a headline story. It's appalling and a betrayal of the promise of America," Inez Stepman, a senior policy analyst at the Independent Women's Forum, wrote on Friday.
Conservative commentator Matt Walsh tweeted Thursday that the move was "wildly unacceptable and absurdly unethical."
Chris Rufo, a researcher at the conservative nonprofit Discovery Institute, told Fox News Friday that the issue was a violation of constitutional rights, and urged public interest lawyers to sue Scott.
"Vermont's program of racially separated standards, which denies medical services to a specific racial group, is a flagrant violation of the Fourteenth Amendment," he told the outlet.
"It follows the logic of critical race theory, which demands that society practice racial discrimination to rectify racial disparities, but is not compatible with American law. Sadly, Vermont is another example of state neo-racism that has gained in popularity in recent years. Public interest lawyers should immediately file suit against the governor," he added.
Data journalist G. Elliot Morris added Friday that the decision "seems like an ethically questionable way to address the racial disparity in vaccinations."
Vermont's decision to address racial disparities in the coronavirus pandemic comes after research has shown that Black, Hispanic and Native American people die from COVID-19 at almost three times the rate of white people.
Additionally, data from numerous states has shown that people of color have received the coronavirus vaccine at much lower rates than their white counterparts.
President Joe Biden's administration has also addressed the disparity by encouraging states to target vulnerable neighborhoods by using tools such as the CDC's social vulnerability index, which analyzes data on race and poverty.
"Right now we are working with funded community partners to understand the barriers that might limit vaccine access for BIPOC Vermonters, as these require unique public health solutions," the Vermont vaccination website states.
"Because of these increased risks, historical harms and the resulting mistrust of health care and public health, we will ensure that Black, Indigenous and people of color in Vermont community gets the support they need, in the language they need, in the locations they need, to make informed choices and to get scheduled for vaccinations," the website adds.
Newsweek contacted a representative for Scott for an additional comment but did not hear back in time for publication.