A progressive veterans group plans to spend almost $2 million on adverts targeting Senator David Perdue in Georgia as he prepares to contest a runoff election against Democrat Jon Ossoff in less than a month's time.
The VoteVets group released an advert on Friday that took aim at Perdue's stock trades, business dealings and voting record as they questioned whether the Republican senator could be trusted in the upper chamber.
It was reported by Politico that the group planned to spend $1.75 million on TV attack ads in Georgia ahead of the Senate runoff elections on January 5. The outcome of the two contests decide which party holds control over the upper chamber until 2022.
Narrating the attack ad, the retired Major General Paul Eaton said: "When I trained our troops at Fort Benning, I told them you have to learn to trust each other. I want to be clear: I don't trust David Perdue.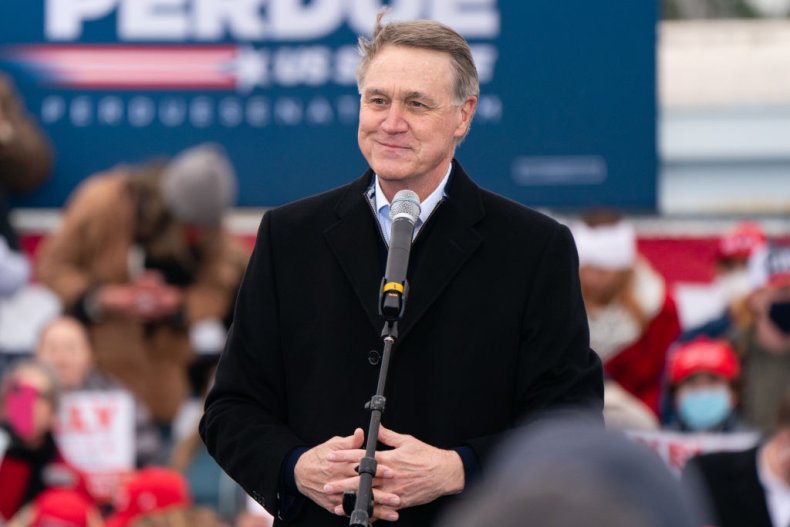 "Perdue voted to take away health care from 500,000 veterans. And now, new stock scandals, profiting from contracts for Navy submarines, and an FBI investigation into insider stock trading. Georgia needs a Senator who puts our country first, and that's not David Perdue."
The advert pointed to the senator's vote to repeal the Patient Protection and Affordable Care Act in July 2015 when it claimed that he had sought to "take away health care" from half a million veterans.
Reuters reported in November that Perdue purchased shares in a Navy contractor that made submarine parts before he became the chairman of a Senate armed services committee panel last year. Prosecutors did not bring charges against the senator over his stock trades earlier this year.
Newsweek has contacted VoteVets for confirmation and further details on its planned ad run. Sen. Perdue's re-election team has also been contacted for a response to the attack advert.
The group released its new attack advert as the latest Georgia polls found Sen. Perdue and his Republican colleague Sen. Kelly Loeffler held slim leads over their Democratic rivals with weeks to go until the state's Senate runoff elections.
Emerson College Polling revealed that both GOP incumbents were three percentage points ahead of Democratic candidates Ossoff and Raphael Warnock—a narrow lead within the survey's margin of error.
Fifty-one percent of likely voters in Georgia said they would back the Republican incumbents in early January, while 48 percent opted for the Democratic challengers.
Releasing a statement with the new data, Emerson College Polling director Spencer Kimball said: "The data revealed there is little crossover support, which suggests one party should win both seats."