Vicky White Used Multiple Banks to Withdraw $90,000: Officials
Corrections officer Vicky White used multiple banks in Alabama to withdraw $90,000 before allegedly helping capital murder suspect Casey White escape from jail.
While speaking with ABC News on Friday, Lauderdale County District Attorney Chris Connolly confirmed that Vicky White used several local banks to withdraw the funds. According to ABC News, Connolly also confirmed that the banks were located in Lauderdale County, but could not provide any information on when the withdrawals were completed.
It was also recently reported that Vicky White sold her home several days before she was accused of helping Casey White escape from the Lauderdale County Jail. According to reports, Vicky White sold her home for around $95,000. Following the sale of her home, Lauderdale County Sheriff Rick Singleton said that investigators believe she is currently "flush" with cash, ABC News reported.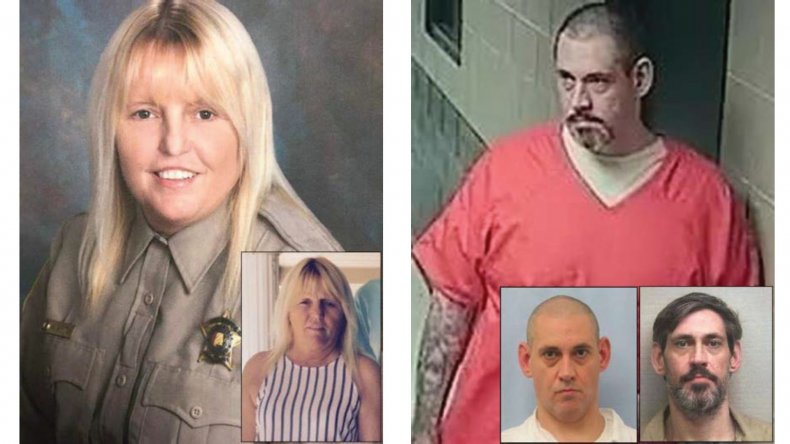 The news from Connolly on Friday comes on the eighth day of the ongoing investigation for the two Whites, who are not related, according to authorities.
Vicky White and Casey White were first reported missing by the Lauderdale County Sheriff's Office on April 29. Vicky White told colleagues that she was transporting Casey White, who was being held at the jail on capital murder charges, to a courthouse. Surveillance footage captured the pair leaving the jail. In addition to that footage, the Lauderdale County Sheriff's Office also released a video showing Vicky White's squad car drive past a gas station, which is located close to where the vehicle was eventually abandoned.
Since abandoning the squad car, police said that they believe the two Whites are now traveling a "orange or copper colored" 2007 Ford Edge.
On Friday, Singleton revealed to the local Alabama news station, WHNT-TV, that investigators recently learned that Vicky White stayed in a hotel near where her squad car was found abandoned, the night before she allegedly assisted Casey White escape from jail.
Casey White was previously sentenced to 75 years in prison for a spree of crimes that occurred in 2015 including "home invasion, carjacking, and a police chase," the U.S. Marshals Service said.
"Casey White stands 6 feet 9 inches and weighs approximately 330 pounds. He has brown hair and hazel eyes. He should be considered armed and extremely dangerous," the U.S. Marshals Service said in a recent update, which included several pictures of Casey White's tattoos.
The U.S. Marshals Service said on Thursday that some of Casey White's tattoos are "affiliated with the Alabama-based white supremacist prison gang Southern Brotherhood."
On Friday, the Williamson County Sheriff's Office in Franklin, Tennessee, confirmed on Twitter that the 2007 Ford Edge was found abandoned in Bethesda. "There is NO sign the two are still in our area. The SUV was reported abandoned a week ago. It was identified last night," the sheriff's office said in a tweet."
Newsweek reached out to Connolly's office for further comment.