Vicky White Stayed in Hotel Near Getaway Car Night Before Jail Break
Amid the ongoing manhunt, investigators have recently learned that corrections officer Vicky White stayed at a hotel, which is located close to where a getaway car was parked, the night before she assisted capital murder suspect Casey White escape from jail.
While speaking with local Alabama news station WHNT-TV on Thursday, Lauderdale County Sheriff Rick Singleton said Vicky White spent the night at a hotel located near Florence Boulevard, just before the two disappeared from the Lauderdale County Jail on April 29. Even though the two have the same last name, they are not related, according to authorities.
The sheriff also told the station that the 2007 "orange or copper colored" Ford Edge, that the pair is believed to be currently traveling in, was found parked in a lot that was near the hotel that the corrections officer stayed in on the night of April 28. Investigators also released a video showing Vicky White's squad car driving past a gas station near Florence Boulevard. The squad car was eventually abandoned in the same parking lot that the 2007 Ford Edge was parked the night prior, Singleton told WHNT-TV.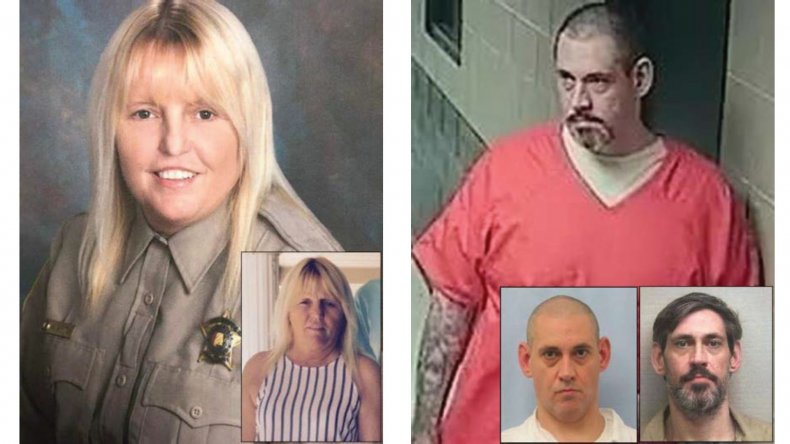 The U.S. Marshals Service is also offering rewards for the arrests of both Casey White ($10,000) and Vicky White ($5,000).
Prior to his escape, Casey White was detained in the Lauderdale County Jail ahead of his upcoming court date for capital murder charges, following the fatal stabbing of 58-year-old Connie Ridgeway in September 2020.
"He was already serving a 75-year sentence for a 2015 crime spree that involved home invasion, carjacking, and a police chase. White confessed to the murder and was awaiting trial at the Lauderdale County Jail when he disappeared," the U.S. Marshals Service said.
According to the U.S. Marshals Service, Vicky White sold her home a month ago, and has been living with her mother ever since.
Singleton was also asked by WHNT-TV why he thinks the corrections officer stayed in a hotel the night before the escape. "This is just basically, strictly, my own opinion," the sheriff said. "I think she didn't want to face her mother that morning, knowing that she was going to leave."
Singleton also speculated that the pair is not likely to still be in the nearby area. "Of course, they could be right down the street, you know how that is. If I knew where they were at, that's where we would be. But my gut feeling is that they're out of this area," he said.
Newsweek reached out to the U.S. Marshals Service for comment.
WHNT-TV also spoke with Lauderdale County District Attorney Chris Connolly who said that Casey White and Vicky White will face charges for the escape once they are found.
"He's going to be charged with escape in the first degree, which is a (Class) B felony," Connolly said, noting that these charges will be on top of the ones he's already facing. "She can be charged as an accomplice to that as well. Plus, there's a separate charge against her for aiding in the escape."