Casey White's Ex Protected by Marshals After He Threatened to Kill Her
The U.S. Marshals Service is protecting the ex-girlfriend of Casey White, who escaped from an Alabama jail last month, because of threats he has made in the past to kill her.
In a press release on Wednesday, the U.S. Marshals Service said they recently learned that during Casey White's "pre-sentence reporting in 2015 he made threats against his ex-girlfriend and her sister, warning that if he ever got out, he would kill them and that he wanted police to kill him."
"USMS and local law enforcement authorities have been in contact with his potential targets to advise them of the threats and the escape and have taken appropriate protective actions," the release continued.
The new information released by the U.S. Marshals Service comes amid the ongoing manhunt for Casey White and corrections officer Vicky White, after the two disappeared on April 29. Casey White, was being held at the Lauderdale County Jail on capital murder charges for the "the brutal stabbing of 58-year-old Connie Ridgeway," which occurred in September 2020, according to the U.S. Marshals Service.
The Marshal's Service said Casey White "was already serving a 75-year sentence for a 2015 crime spree that involved home invasion, carjacking, and a police chase. White confessed to the murder and was awaiting trial at the Lauderdale County Jail when he disappeared."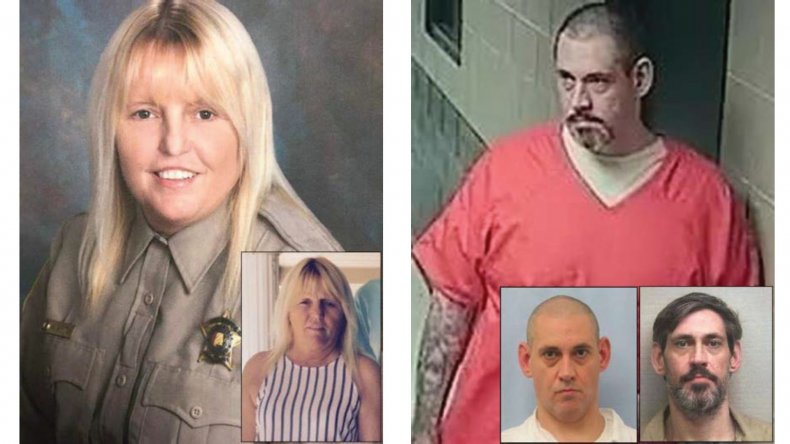 While the two are not related, authorities believe that Vicky White helped Casey White escape from jail, after she reportedly told colleagues she was transporting him to a local courthouse in Alabama. Authorities have also said that Casey White and Vicky White allegedly had a "special relationship" while he was in prison.
During a recent interview with the local Alabama TV station WAFF, Lauderdale County Sheriff Rick Singleton revealed that Vicky White provided Casey White with "special treatment" while he was in custody.
"It was obvious there was a relationship there," Singleton said.
Since the disappearance, authorities have released two videos of Casey White and Vicky White. One of the videos captured Vicky White escorting Casey White out of jail and into her squad car. A second video, released on Wednesday, appeared to show Vicky White's squad car driving past a gas station in Alabama. The squad car was eventually abandoned approximately a half-mile away from where the gas station is located, WAAY News in Alabama reported.
A few days prior to their disappearance, Vicky White reportedly filed for retirement, however, Singleton said on Wednesday that she is "no longer employed by the Lauderdale County Sheriff's Office." Singleton also noted that Vicky White's retirement papers were not finalized before she allegedly helped assist Casey White with his escape.
Update 5/4/22 4:05 p.m. ET: This story has been updated with additional information and a new video.