Vicky White Ensured Casey White Was Taken Care of in Prison: Sheriff
Alabama corrections officer Vicky White made sure that capital murder suspect Casey White was taken care of while in prison prior to his escape, according to authorities.
Lauderdale County Sheriff Rick Singleton recently spoke with local TV station WAFF on Wednesday and said that while his office was not aware of any physical contact between the two missing people, he said: "The contact I am aware of is the special treatment he got while he was here."
"Seeing he had extra food and other things that inmates don't normally have. When I say, 'don't normally have,' it was nothing that was contraband. It was obvious there was a relationship there," Singleton said.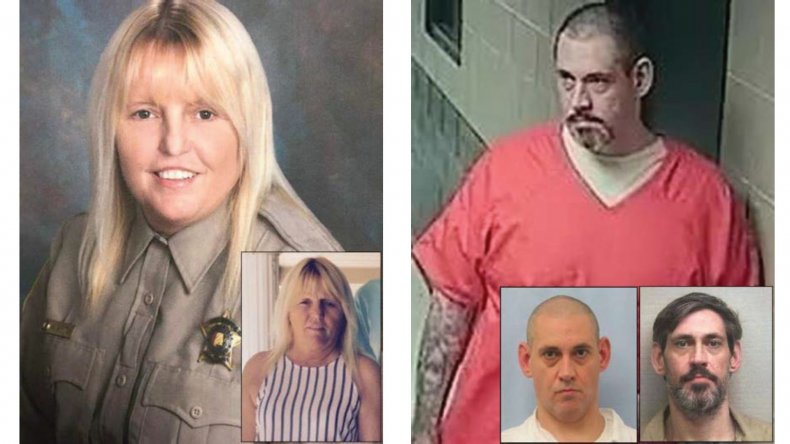 The comments by Singleton on Wednesday come shortly after the Lauderdale County Sheriff's Office confirmed that Vicky White and Casey White had a "special relationship" after speaking with some of Casey White's fellow inmates at the Lauderdale County Jail.
Vicky White and Casey White first went missing on April 29 and were seen on surveillance videos leaving the Lauderdale County Jail. Vicky White told her co-workers that she was transporting Casey White to a courthouse.
The U.S. Marshals Service is currently assisting with the ongoing manhunt and is offering up a $10,000 reward for Casey White's arrest and a $5,000 award for Vicky White's arrest. They are both considered to be armed and dangerous, according to the service.
On Wednesday, the Lauderdale County Sheriff's Office released surveillance video from the morning of April 29 showing a squad car believed to be carrying Vicky White and Casey White driving through an intersection between Huntsville Road and Cox Creek Parkway. Per WAAY, the intersection is located half a mile away from the Florence Square shopping center where Vicky White's squad car was eventually abandoned.
WAAY also reported that Casey White was first transported to the Lauderdale County Jail in February from state prison, ahead of his upcoming court date that he is required to be present for.
During an interview Wednesday morning on ABC's Good Morning America, Singleton urged Vicky White to turn herself in and help get Casey White "back behind bars."
"You've seen this scenario play out more than once and you know how it always ends. Go ahead and end it now, get the phone, call 911, turn yourself in and help us get Casey White back behind bars, because you know that's where he's eventually gonna end up," Singleton said.
Vicky White and Casey White are not related, authorities have said.
According to the U.S. Marshals Service, the pair are believed to be driving in a 2007 "orange or copper colored" 2007 Ford Edge. Authorities have not released any information about the license plate number of the vehicle.
Update 5/4/22, 3:17 PM ET: The story has been updated with additional information.