Vicky White Suspected of Using Aliases While on Run With Casey White: Cops
Corrections officer Vicky White is suspected of using several different aliases while on the run with escaped capital murder suspect Casey White.
During a press conference Friday, Lauderdale County Sheriff Rick Singleton was asked about reports that Vicky White was using aliases, to which he responded by saying "we know she used aliases and we're following up on that as well."
"She used the alias to purchase the car," Singleton said. "So we know she has used those aliases."
The U.S. Marshals Service previously issued an alert to local law enforcement agencies detailing two aliases that Vicky White may be using. This information was accidentally leaked to the public, which Singleton said likely prompted her to ditch them. Newsweek is not publishing the aliases per a request from the U.S. Marshals Service.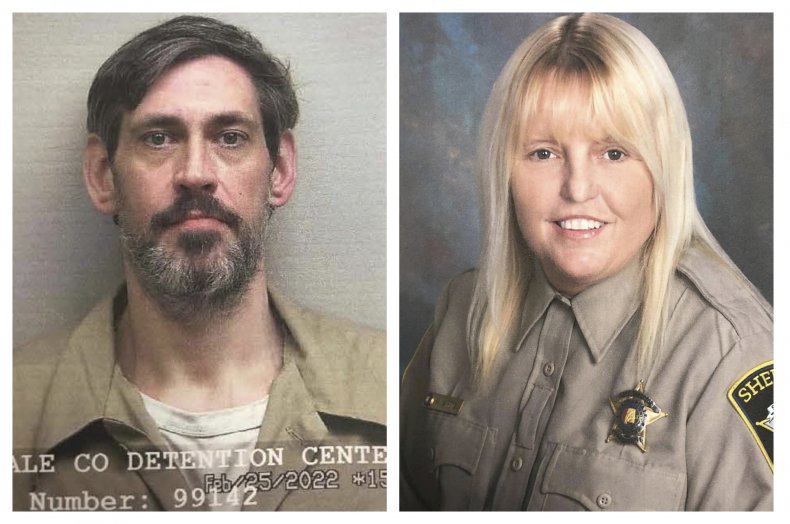 "So I'm assuming she's probably ditched those aliases and probably got some new identities," Singleton added.
Singleton also said that he didn't have any information on whether Vicky White used an alias to communicate with Casey White while he was in prison.
Earlier in the ongoing investigation, the U.S. Marshals Service released photos of a 2007 Ford Edge the two were believed to be driving after Vicky White abandoned her squad car in a parking lot in Lauderdale County. However, on Friday, the Williamson County Sheriff's Office in Tennessee announced they had previously discovered the SUV in Bethesda, Tennessee. The SUV was discovered several days before the U.S. Marshals released information on the model and color, officials said.
"There is NO sign the two are still in our area. The SUV was reported abandoned a week ago. It was identified last night," the Williamson County Sheriff's Office said on Friday.
During the press conference, Singleton said that the discovery of the SUV brought the ongoing manhunt "back to square one as far as the vehicle description."
"Right now we are trying to canvas the area for any witnesses," Singleton added in regard to the vehicle's discovery in Tennessee.
On Friday, Lauderdale County District Attorney Chris Connolly also revealed that investigators believe Vicky White withdrew $90,000 from several local banks in the county. In addition to the $90,000, Vicky White also sold her house for roughly $95,000 several days before allegedly assisting Casey White escape from jail.
In an update on Thursday, the U.S. Marshals Service shared several new pictures of Casey White, as well as a new picture of what Vicky White could look like if she dyed her hair a darker color.
"Vicky White is 5 feet 5 inches and weighs approximately 145 pounds. She has blond hair (but may have tinted it a darker shade) and brown eyes and reportedly has a waddling gait," the U.S. Marshals Service said.