Video of Alleged Sky 'Explosion' in Billings Unleashes Wild Conspiracies
A video of an alleged "explosion" in the sky over Billings, Montana, has sparked a wave of new conspiracies involving the Chinese spy balloon that has been traveling across the country this week.
Speculation was rampant on Friday night after Twitter user @MMtTreasures shared a video taken from a window in Billings that was said to show "a jet go by so fast and then [an] explosion in the sky." The video, which appears to show a jet contrail in the sky above a residential neighborhood, includes a brief and silent flash of light that is claimed to be an explosion.
Connections were quickly made between the Chinese spy balloon that was spotted hovering in the area on Wednesday and Thursday, with many suggesting that the video was evidence that the balloon had been shot down. However, the balloon had long since left Montana, being observed in Missouri at around the same time that the video was purportedly recorded.
Fox News interrupted a broadcast to share the video and claim that a "massive explosion" had been observed in Billings. A short time later, the City of Billings said on Twitter that there had been no "massive explosion" in the area, while Montana Governor Greg Gianforte and the Montana Disaster and Emergency Services unit had confirmed that no explosions had recently taken place anywhere in the state.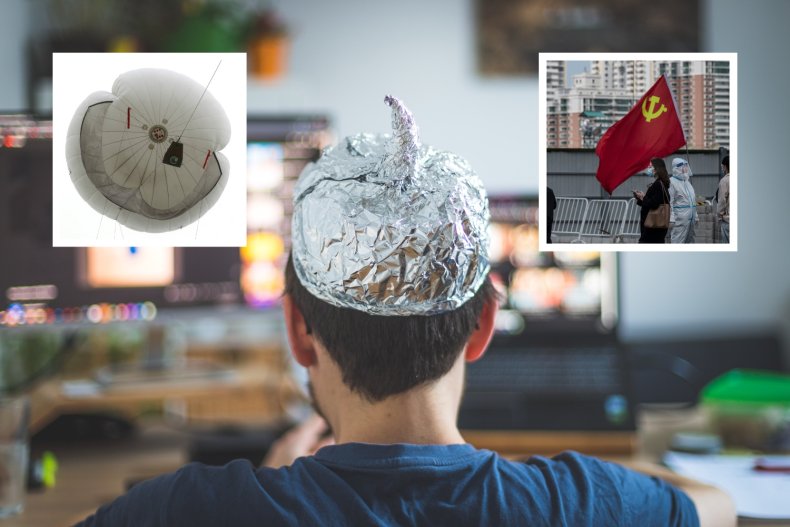 Some responses to the video explained it in mundane terms, reasoning that the images in the sky were of a jet contrail, while the "explosion" was likely caused by the camera recording the images itself.
"This viral video from Billings, Montana, appears to be a jet contrail and a smartphone camera lens auto-adjusting exposure, not an explosion nor the Chinese spy balloon being shot down, as many posts on this app are claiming without any evidence," tweeted Shayan Sardarizadeh, a BBC reporter who specializes in online disinformation and conspiracy theories.
Republican U.S. Representative Matt Rosendale of Montana reacted with alarm, tweeting that he was "genuinely concerned with the lack of transparency about the original Chinese Spy balloon and potential unexplained explosion above Billings." He later shared the City of Billings update and said that he was "still following all of these events closely."
After it was reported that there was no explosion, tattoo artist Christine Barnum lamented that "they" were "saying this video is fake," while claiming in a tweet that "others have footage" of the event. Newsweek was unable to find any other online footage of the purported explosion.
Twitter user @Chase7601 seemingly attempted to stoke the flames of conspiracy by sharing an old photo that was claimed to be of "what fell out of the sky in Billings."
"Not sure if it was a balloon or some other explosion," @Chase7601 tweeted. "Tried to go find it in my truck but was told to turn around by the National Guard blocking the road in a humvee."
User @Lhayes67 quickly pointed out that the photo was from a "weird news" article about UFOs that had been published by British tabloid Daily Star in 2020.
Others offered their own conspiracy theories about the Chinese balloon on Friday, although not necessarily connected to the video of the alleged explosion in Billings.
Republican Representative James Comer of Kentucky speculated during a Fox News appearance earlier in the day that the balloon may have been launched "from Wuhan" and contain a "bioweapon," alluding to unsubstantiated theories that claim the virus that causes COVID-19 is an intentionally engineered bioweapon from China.
"My concern is that the federal government obviously doesn't know what's in that balloon," Comer said. "Is that bioweapons in that balloon? Did that balloon take off from Wuhan? You know, we don't know anything about that balloon."
On Twitter, evidence-free conspiracy theories claiming that the "next COVID" was being carried on the balloon were rampant.
"Chinese balloons full of the next COVID variant," @TrumpTajMaWall tweeted. "Just in time for the 2024 election lockdowns, and the printing of millions of fraudulent Democrat Mail in ballots."
"Allowing these 2 balloons is a test to permanently place 100's more. No one is connecting the dots," tweeted Jerrod Sessler, former NASCAR driver and Republican candidate for Congress. "COVID came from a lab in China & just one of these balloons could haul enough bioweapon content to decimate North America. Yet, the feckless Mr. Illegitimate does nothing."
"I wonder what new variants of COVID are in that Spy Balloon," podcaster Graham Allen tweeted. "Hey @pfizer what do you think?"
"Just thinking out loud, but this second balloon makes me wonder if it would be good way to slow mist a new covid strain," tweeted former Paralympic athlete Derrick Helton.
"How do we know that the Chinese didn't have a deadly virus in those balloons?" Republican former congressional candidate Bill Engelbrecht tweeted. "This is very provoking. This is a start of WW III. We shot it down, let the winds spread it across America. Get yours guns and ammo ready."
China has claimed that the balloon is really a civilian research "airship" that is meant to gather weather data. U.S. officials have said that they are nearly certain the object is a high-altitude surveillance balloon intended to gather intelligence for China. A second similar balloon has also been spotted over Latin America.
The Pentagon on Friday said that the balloon was expected to remain in U.S. airspace for "a few days." It was on a trajectory to reach the skies of North Carolina on Saturday, where local police have urged residents to refrain from aiming their guns into the sky and attempting to shoot it down.
Newsweek has reached out to the Pentagon for comment.