Video of AOC Pretending to Be Handcuffed Viewed Over 2 Million Times
A video of Democratic Representative Alexandria Ocasio-Cortez pretending to be handcuffed while being arrested at a protest on Tuesday has been viewed over 2 million times on Twitter.
Ocasio-Cortez has been vocal about the U.S. Supreme Court's decision on June 24 to overturn Roe v. Wade, which protected the right to abortion in the U.S. On Tuesday, at an abortion rights protest outside of the Supreme Court, Ocasio-Cortez was detained for blocking traffic and put her hands behind her back as she was escorted away by a Capitol Police officer, making it appear as though she'd been handcuffed.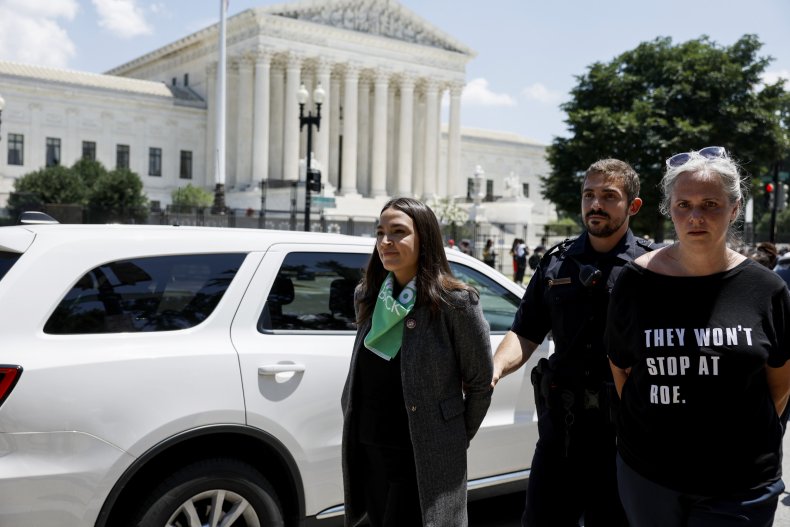 Videos have circulated showing the incident. In the video posted on Twitter by reporter and contributor for Conservative think tank The Heritage Douglas Blair, Ocasio-Cortez can be seen walking away with her hands behind her back, an officer holding her left arm, but near the video's end, she raises her right fist in the air to supporters watching.
The video has been viewed 2.2 million times at the time of publication.
Another video was posted by Representative Alexandria Ocasio-Cortez's Twitter account and has so far amassed almost 300,000 views. In the tweet, the federal staff running the account wrote, "Today, Rep. AOC was arrested along with other members of Congress outside the Supreme Court for protesting in support of abortion rights."
Capitol Police announced they made a total of 35 arrests at the protest, 17 of which were members of Congress.
The Congress members arrested on Tuesday included Representatives Ilhan Omar of Minnesota, Ayanna Pressley of Massachusetts, Andy Levin of Michigan, Barabara Lee of California, Cori Bush of Missouri, and several others.
In a statement from her office following the arrest, Representative Carolyn Maloney said, "There is no democracy if women do not have control over their own bodies and decisions about their own health, including reproductive care."
California Representative Jackie Speier, who was also arrested, wrote on Twitter: "Proud to march with my Democratic colleagues and get arrested for women's rights, abortion rights, the rights for people to control their own bodies and the future and our democracy."
The protest in front of the Supreme Court was one of many following the decision to overturn Roe v. Wade, as abortion rights activists across the country have continued to fight against it.
Just days after the Supreme Court's decision, Ocasio-Cortez tweeted a list of things that she believes Democrats can do to "fix this and act," including calling on President Joe Biden to "open abortion clinics on federal lands in red states."
We can do it!" she tweeted. "We can at least TRY."
Newsweek reached out to a representative for Alexandria Ocasio-Cortez for additional comment.
Update: 07/19/22 5:54 p.m. ET: This article was updated with additional information.