Video Captures Asian Reporter Being Harassed During Live Shot: 'F*** You, I Live Here'
A video on Tuesday captured a journalist being harassed and accosted while reporting on a live news story in Springfield, Illinois.
Alyssa Hui, an Asian-American reporter for WICS and Fox Illinois, tweeted Tuesday that she was filming a news segment when a man drove past her in his car and shouted profanities at her.
"Moments before my live shot, a man drove by in his car and screamed out the window, "I live here, F**k you." My photographer and I never said a word to him. He got out of his car and started to ask questions like "what's the news...," she tweeted.
Hui then shared a video in which the man can be heard saying: "F*** off my block, how's about that? You can take your f****ing live news and shove it right up your a**."
The man also accosted Hui for taking a video of the incident. "B*** I don't give a f*** if you film me," he said, as he continued to harass Hui and her photographer while they packed up their bags.
Hui added on Tuesday that she pulled out her phone during the incident because she was afraid of what the man might do.
Hui told Newsweek on Wednesday that it was unclear whether or not the harassment was racially motivated, but added that the verbal assaults were directed only toward her.
"I can't say for sure if the incident was at all racially motivated. The man in the video did not say anything related to my race, although he targeted several of his comments at me and not my photographer (not sure if race or gender played a role in that)," she said in an email.
"The video was only a snippet of his behavior, it didn't capture some of the other verbal harassment and vulgar language that he said targeted towards me and not my photographer while I was live on air," she added.
Hui also mentioned that she has experienced racially motivated harassment before, where people have called her racial slurs and told her to "go back to China."
The Tuesday incident comes amid a rise in anti-Asian hate crimes and discrimination across the country.
According to a report released last month by the Center for the Study of Hate & Extremism at California State University, San Bernardino, anti-Asian hate crimes increased by 145 percent last year in 16 of the largest cities in the U.S. The report attributed the rise in hate crimes in part to "negative stereotyping of Asians relating to the pandemic."
The nonprofit organization Stop AAPI (Asian American Pacific Islander) Hate recorded 3,795 separate hate crimes, including both verbal and physical altercations, between March 19, 2020 and February 28, 2021.
The issue was further brought to light last month after eight people, six of them Asian women, were killed during a mass shooting in Atlanta.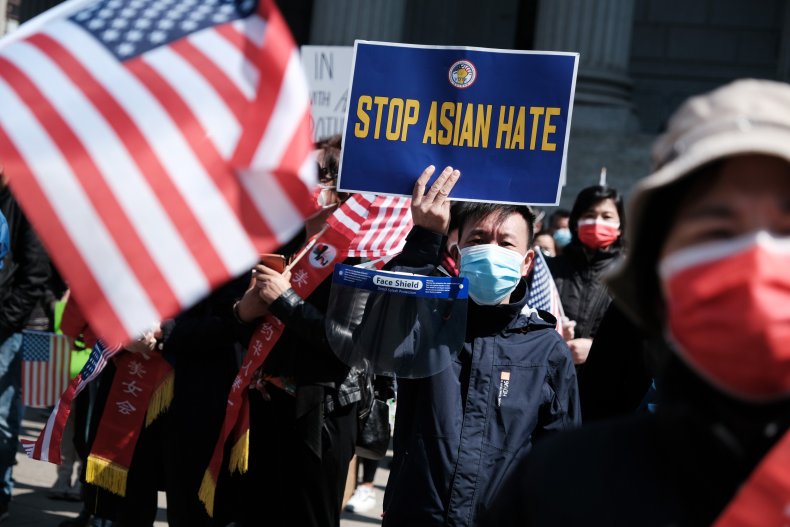 Some lawmakers and activists have since attributed the rise in hate crimes to former President Donald Trump's rhetoric throughout the coronavirus pandemic. Trump would often refer to COVID-19 in racially motivated terms such as the "China virus," or "Kung-flu."
"President Trump clearly stoked the flames of xenophobia against AAPI's with his rhetoric," Representative Judy Chu, (D-Calif.), chair of the Congressional Asian Pacific American Caucus, said last month.
White House Press Secretary Jen Psaki added last month that President Joe Biden believes Trump's speech has promoted hate across the country.
"I think the president has spoken about the concerns he had about the rhetoric and the provoking of hate speech by his predecessor," Psaki said in March.
Vice President Kamala Harris, the first Asian-American vice president, said in February that the new administration was taking steps to address the spike in hate crimes against Asian Americans, tweeting that "we must continue to commit ourselves to combating racism and discrimination."
On March 31, the White House outlined a plan to combat AAPI discrimination that includes federal, state and local law enforcement training on handling hate crimes; establishing a committee within the COVID-19 Equity Task Force to address xenophobia against Asian people; and allocating $49.5 million to fund community-based services for Asian or Pacific Islander survivors of sexual and domestic violence.
"Too many Asian Americans have been walking up and down the streets and worrying, waking up each morning the past year feeling their safety and the safety of their loved ones are at stake. They've been attacked, blamed, scapegoated, and harassed. They've been verbally assaulted, physically assaulted, killed...," Biden said in a statement.
"That has to change—because our silence is complicity. We cannot be complicit. We have to speak out. We have to act," he added.