Hillary Clinton Slams Trump—'We Have a President Who Is Part of the Cover-up'
Former U.S. Secretary of State Hillary Clinton has accused President Donald Trump of working with the regime in Riyadh to cover up the murder of Saudi journalist Jamal Khashoggi, putting commercial interests ahead of justice.
Kicking off a 13-date speaking tour with her husband, former president Bill Clinton, she addressed issues of foreign policy, trade and, unsurprisingly, Trump.
She was especially critical of how the current president had handled the case of Khashoggi, who was killed in the Saudi consulate in Istanbul on October 2.
"We have a president who is part of the cover up as to what happened in that consulate or embassy when Mr. Khashoggi was murdered and we have a president and those closest to him who have their own personal commercial interests," CNN reported her as saying.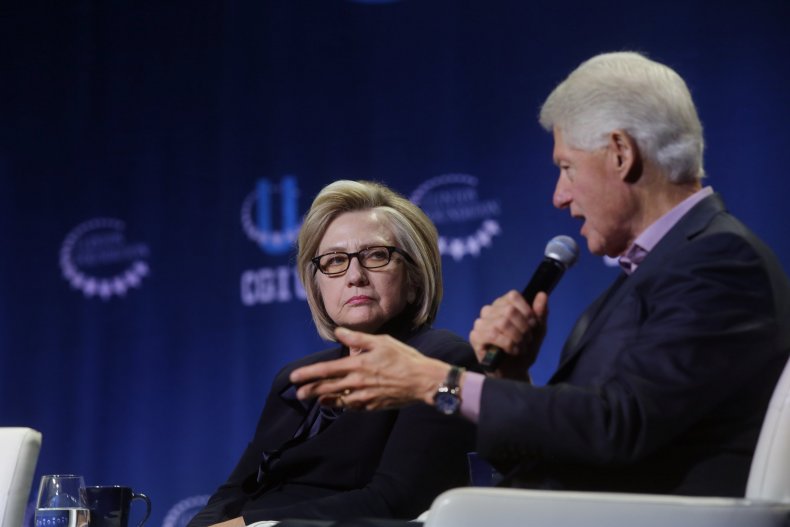 "What we don't know is how much commercial interest both the President's family and business and his son-in-law's family and business have with the kingdom."
She also lambasted Trump's attacks against Admiral William McRaven, who spearheaded the raid that killed Osama bin Laden, and also mocked the president's assertion made to The Washington Post that his "gut tells me more sometimes than anybody else's brain can ever tell me."
Referring to Trump's rejection of the findings of a White House report into climate change, she said: "It just riles me up. If you won't listen to people who actually spend time over decades studying problems, my goodness, your gut is not the answer to everything that is important in the world, I'm sorry."
Meanwhile, Bill Clinton appeared to referring to scrutiny of their marriage and the Monica Lewinsky affair in one answer.
"We have been dissected, psychoanalyzed, cut open and down but it has been the most interesting thing you can possibly imagine. It is still interesting to me. And wonderful," he said.
He also took aim at Trump, saying that the U.S. had "compromised" its moral leadership.
"We got a chance to become a democracy again and reclaim a debate," he said, referring to the elections adding that were Republicans of good will "who don't want to make America a single homogenous authoritarian country. We got a chance to have a debate again now."
The event on Tuesday night at Toronto's Scotiabank Arena was hosted by Frank McKenna, the former Canadian Ambassador to the United States. There were rows of empty seats at the 19,000-seat venue where tickets ranged from $6 to $300, Mail Online reported.
The former presidential candidate drew laughter when in response to whether she would consider running again in 2020, she said: "Actually, Frank, I am thinking about standing for parliament here in Canada."
However, there are question marks over the wisdom of conducting a multi-city tour. Bill Whalen, a Republican consultant, told The Guardian: "Other than the story of their relationship, I'm not sure we really want to hear from these two. And with the Clintons there's always the question of profiteering. Do they have something to say or are they grubbing for money?"
A former Democrat aide told CNN: "I am not sure that is the right way to reingratiate them back into the public sphere."
This story has been updated to include a quote from Bill Clinton