Video: CNN Host Don Lemon Sums up Trump Lawyer Rudy Giuliani's Latest—He's 'Out-Giulianied Himself'
CNN's Don Lemon has expressed amazement at Rudy Giuliani's claim that he never said there was "no collusion" with the Russians in the 2016 election campaign.
At the start of his show on Wednesday, Lemon referred to an interview that President Donald Trump's lawyer had given to the network the previous hour.
Read more: Rudy Giuliani: 'I never said there was no collusion' with Trump campaign
The former mayor of New York City told Chris Cuomo: "I never said there was no collusion between the campaign or between people in the campaign," which was met by Cuomo scoffing that he had.
But Giuliani told the Cuomo Prime Time host: "I have not. I said the president of the United States. There is not a single bit of evidence that the president of the United States committed the only crime he could commit here, conspire with the Russians to hack the DNC. He said he didn't. He didn't say nobody. How would you know that nobody in your campaign [did]?"
Cuomo replied that collusion did not just relate to Trump's own actions but whether he knew what his team did.
Giuliani's claims are false, USA Today reported. Both Giuliani and the president have asserted there was no collusion between the campaign and Russia.
In August, Trump tweeted, "Russian collusion with the Trump campaign, one of the most successful in history, is a TOTAL HOAX." The Daily Beast posted a video of Giuliani on Fox News claiming there was no collusion between the campaign and Russia.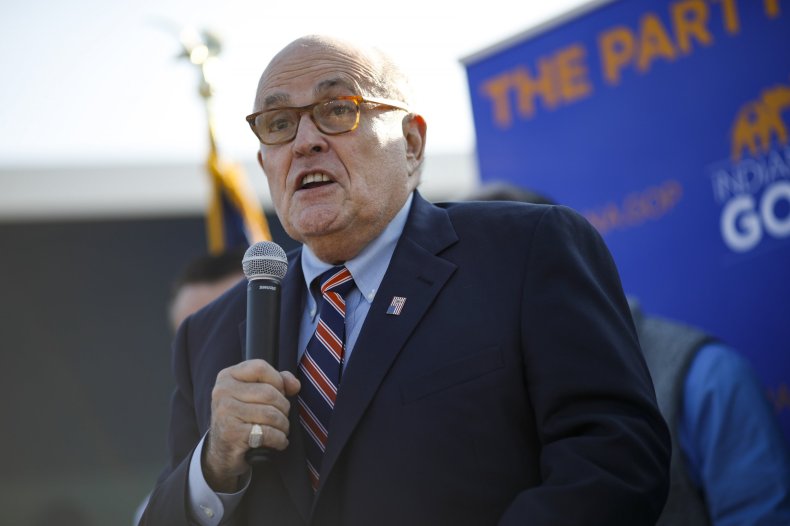 Before playing a clip of Giuliani's remarks on Wednesday, Lemon said, "Man, Rudy Giuliani out-Giulianied himself tonight," Mediaite reported.
After playing the clip, Lemon said, "Quite a performance, right? But make no mistake, there is a method to this madness. The president's attorney, as he always does, laying out the groundwork there for what is to come. So stay tuned to that."
Lemon went on to say, "So many of the things we thought were under control, the institutions we thought we could all depend on are on shaky ground right now."
The CNN Tonight host said that the "turmoil" in the government right now "plays right into the hands of Vladimir Putin, pulling the strings."
Lemon pointed out that Putin would benefit from Trump's assertion that ISIS has been defeated in Syria, a claim which is at odds with the bombing attack that left four American personnel dead on Wednesday in the northern city of Manbij.
Meanwhile, the probe by special counsel Robert Mueller has seen more than 30 people indicted, including four members of Trump's campaign team and his personal attorney Michael Cohen.
Last week, it was revealed Trump's former campaign chairman, Paul Manafort, shared polling data with a Russian before the 2016 election.