Video Comparing Russian Army vs U.S. Army Ads Viewed Over 800k Times
Social media users have mocked the U.S. Army's new recruitment campaign, with some noting stark differences between it and an advertisement for Russia's military.
A video has combined Russian and American recruitment campaigns which, side by side, highlight markedly different tones being struck. The video has been widely shared on social media and appears to have been first posted on Monday on TikTok by the user thoughtcrimes_.
To dramatic music, the video, which appears to have been edited down, starts with a soldier waking up in a barracks while the Russian male narrator says: "Your new life. What do you know about yourself and what are you capable of?"
Using visual grammar that builds tension, the darkly lit video contains a series of jump cuts of guns being loaded, personnel jumping out of aircraft and soldiers on a battlefield.
With an air of menace, the narrator intones "find out what the limits of your potential is," adding "to hell with limits," followed by "there is no victory without battles."
The video then segues into a far more brightly lit U.S. recruitment video which is part of the Army's new recruitment campaign, "with a series of animation videos collectively named "The Calling," about five different service members.
In it, Cpl. Emma Malonelord, for instance, describes how she was born in California and was "raised by two moms."
"I also marched for equality. I like to think I've been defending freedom from an early age," she said in the edited video which is partly animated, adding that after meeting an army recruiter she had found "a way to prove my inner strength."
The video drew criticism in some quarters with user Pardes Seleh tweeting the video and adding the message: "Russian army vs U.S. army." In a follow-up tweet, Seleh compared the hulk of the Russian soldier with a cartoon image of a woman, saying "Pick your fighter."
As of Thursday, the video was viewed more than 800,000 times and sparked a lively discussion among users on Twitter.
John Hawkins, founder of the Right Wing News blog, tweeted: "Russians are building a military focused on killing people and breaking things. We're apparently building a military focused on being capable of explaining microaggressions and critical race theory to Afghan Tribesmen."
Jessica Lynne tweeted: "It's pathetic and shameful. Not the military we used to be. Hard to be proud of this." Vice President of Free Speech America, Business and Culture at the nonprofit Media Research Center, Dan Gainor shared the video, and in a message to his 20,000 followers wrote: "We are so doomed." Another user wrote: "As a former US Army Recruiter there are no words!!"
Newsweek has contacted the U.S. Army for comment.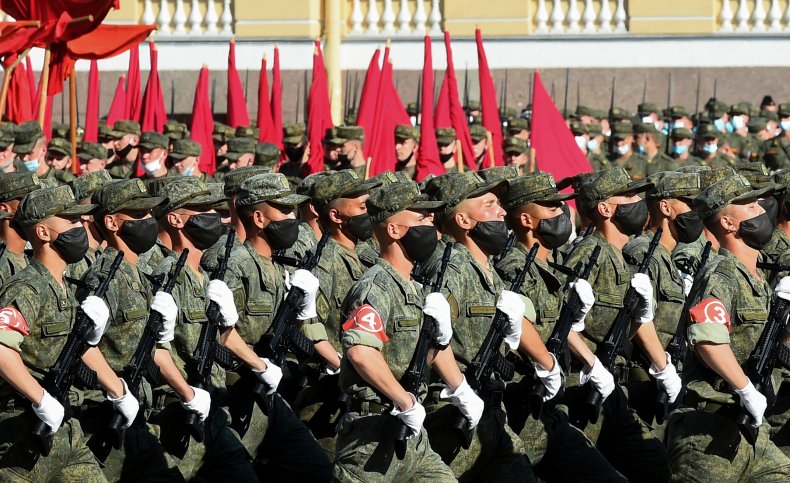 Earlier in May, the U.S. Army said the campaign was aimed at showcasing previously underrepresented groups in the military, including LGBT+ families, women and people of color.
Maj. Gen. Alex Fink, head of Army Enterprise Marketing said the campaign "shatters these misperceptions by showing that Soldiers are all of us: real people with hopes, dreams, fears, aspirations, families, friends, and obstacles to overcome."
Also in May, there was a backlash to a CIA recruitment video which featured a recruit who described themselves as "intersectional cisgender millennial who's been diagnosed with generalized anxiety disorder."
Conservative author Dinesh D'Souza described the campaign as being full of "woke propaganda and America's enemies are laughing their heads off." Among other critics was Donald Trump Jr. who shared the video, adding the message: "China and Russia love this."
The CIA has said that the video had been very effective at helping attract candidates to the agency. "2020 was a standout recruitment year for CIA despite the pandemic. Our 2021 incoming class is the third-largest in a decade," the agency told Fox News.