Video: Donald Trump Brought a List of His Accomplishments to a Rally—And Read It Out
President Donald Trump took to reading out his administration's list of accomplishments to dismiss suggestions he had become "complacent" during a campaign rally in Nevada.
Speaking at a "Make America Great Again" rally at the Las Vegas Convention Center, Trump pulled out pieces of paper and read to the crowd a number of achievements secured since he entered the White House.
The majority of the points Trump read out focused on the country's economy, while he also mentioned moments such as moving the U.S embassy to Jerusalem and the U.S. securing the soccer World Cup in 2026, along with Mexico and Canada, and Los Angeles putting in a bid to host the 2028 Summer Olympics.
"I don't believe there's been any administration in the history of this country that has done more in two years—we're not even up to two years yet—than our administration," Trump said.
The president then pulled out some pages to show to the crowd, taking credit for the nation's low unemployment rate and rising stock market.
Reading from the pages, Trump said: "Almost four million jobs created since the election, more Americans are now employed than ever, think of that!" he tells the crowd. "Today, more Americans are working than ever before.
"We've created more than 400,000 manufacturing jobs, remember when President Obama said you can't have manufacturing jobs anymore?" Trump added, prompting boos from the crowd.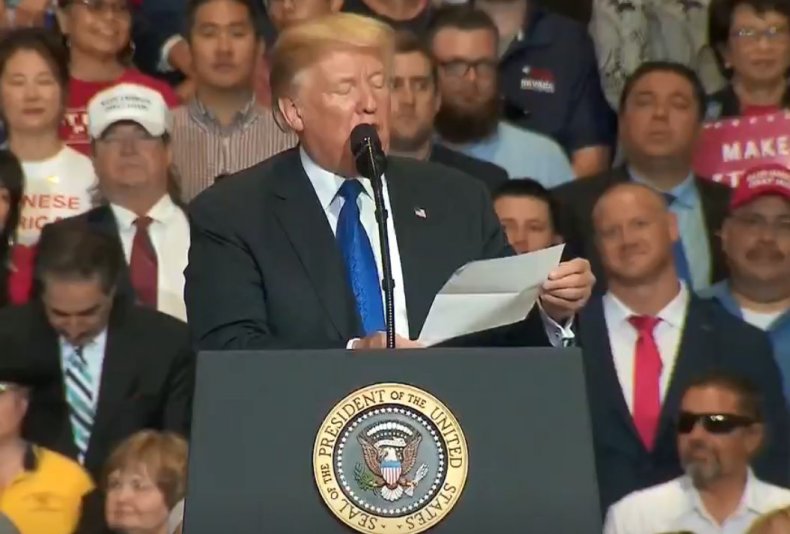 Trump continued: "Look, manufacturing jobs—which [Obama] said we won't have again. I said 'why won't we have it? We're not going to make anything?' These are the best jobs. Manufacturing, are like the best jobs, the most important jobs—manufacturing jobs growing at the fastest rate in more than 30 years."
He added: "Economic growth, and let me tell you when I took over it was a sick puppy, it was heading down, so last quarter we hit GDP 4.1, adjusted 4.2 percent.
"Look at this, new unemployment claims recently hit a 49-year low. You know what that means? Simple, that means people are working."
The president then broke down the unemployment rate into different demographics. "African American unemployment has recently achieved the lowest rate ever recorded. What do you have to lose, remember?" Trump said in reference to a comment he made during his presidential campaign.
"Hispanic American unemployment is the lowest rate in history. And the Asian—Asians, Asians, any Asians?" He asks the crowd, "Asian unemployment recently achieved the lowest rate ever recorded in our history."
Trump then sarcastically apologizes for the female unemployment rate being the lowest in 65 years as "that's not as good."
"Youth unemployment recently hit the lowest rate in nearly 50 years. Under my administration, veteran employment reached its lowest rate in numerous decades, whatever that may be," he adds.
Trump also listed pulling out of the "job killing, income killing" Paris Climate Agreement as one of his successes, while claiming that the U.S. has the cleanest air and water in the world.
Trump also showed his support for Senator Dean Heller ahead of the upcoming midterm elections, despite admitting at one point "I didn't like him, he didn't like me.
"But as we fought and fought and fought, believe it or not we started to respect each other, than we started to like each other, then we started to love each other," Trump said.