Video of Drag Queen's George Santos Show Viewed 800K Times
A video of Los Angeles-based drag artist Meatball performing as House Republican George Santos has gone viral online, receiving more than 640,000 views on Twitter and 170,000 on TikTok.
In January, photographs emerged that purported to show Santos dressed as a drag queen who went by the name of Kitara Ravache in Brazil in 2008.
Santos initially said the claim he had performed in drag was "categorically false," but later admitted "I was young and I had fun at a festival."
Meatball, whose real name is Logan Jennings, delivered a dance routine dressed as Santos on Sunday at Le Poisson Rouge in New York City.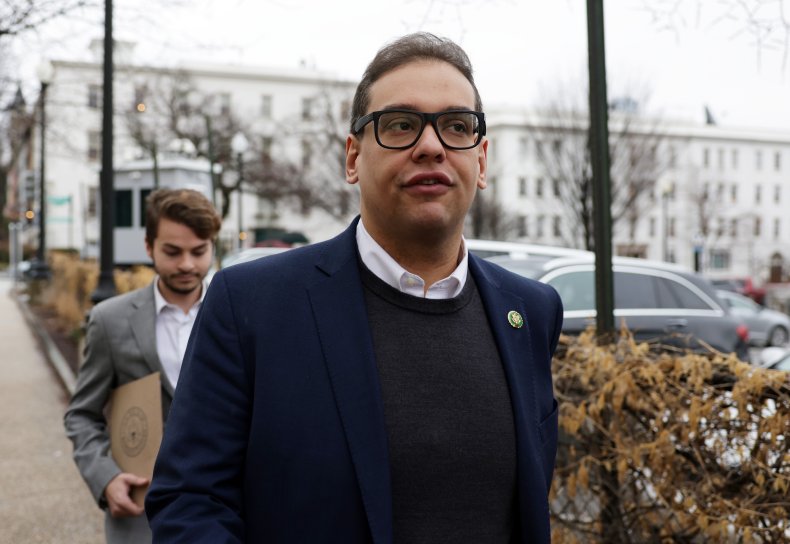 The show began with news clips about the numerous controversies around Santos, after which Meatball entered wearing the the New York representative's regular jacket, sweater and glasses combination.
To the sound of the hit 2017 Kesha song "This Is Me," Meatball began to strip, removing the jacket and sweater to reveal a red dress, prompting loud cheers from the audience.
The outfit, which came complete with frilly red edges around the top, closely matched the one Santos was pictured wearing during his 2008 Brazilian performance.
Speaking to the New York Post, Meatball admitted they had "kinda got obsessed with" Santos after the drag photos emerged. "I decided to do the number the day before I flew to New York. The glue [on the dress] was still drying."
The 33-year-old was blown away by the reaction, saying, "I didn't realize it was gonna [be] like this. It's crazy...everyone has been texting me and sharing."
Newsweek reached out to Santos for comment.
Santos was elected to the House in November after flipping New York's 3rd Congressional District.
It later emerged he had invented large chunks of his back story, including his education, employment history and claim to have lost several employees in the 2016 Pulse nightclub shooting in Orlando, Florida.
Santos is facing calls to resign, including from within his local Nassau County Republican Party.
"It's time to resign," Meatball said. "Take a year, come to a gay bar, we'll have a good time."
House Speaker Kevin McCarthy has refused to move against Santos, though he has vowed to do so if the House Ethics Committee concludes that he broke the law.
During an interview with Piers Morgan, broadcast last week on his TalkTV show, Santos admitted he had "been a terrible liar" but insisted "this wasn't about tricking anybody."
Santos has also been accused of sexual harassment by Derek Myers, who spent a week volunteering in his congressional office in January. Santos has vigorously denied the accusation, which Myers told Newsweek he reported to U.S. Capitol Police and the House Ethics Committee.