Video: Fire Breaks Out on Carnival Cruise Ship
Crew and passengers are safe after a fire broke out on a Carnival cruise ship at Grand Turk, in the Turks and Caicos islands, on Thursday morning.
The ship, the Carnival Freedom, had departed Port Canaveral, Florida, on Monday for a five-day cruise.
"Carnival Freedom's emergency response team quickly activated and extinguished a fire inside the ship's funnel while the ship was in Grand Turk," Carnival said in a statement provided to Newsweek on Thursday. "All guests and crew are safe, and the ship's guests were cleared by local authorities to go ashore. We continue to assess the situation."
Twitter users posted photos and videos of the fire.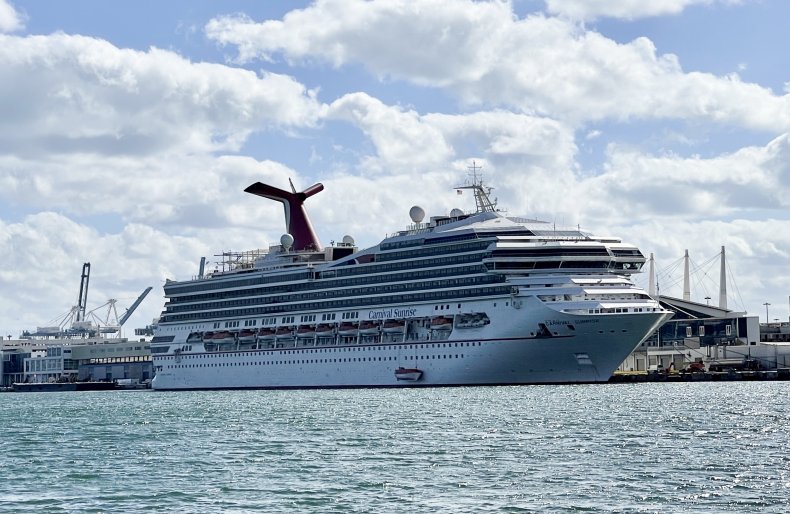 One video shared by user @SantaPanda39 shows what appear to be passengers on a nearby ship watching the fire. It can be seen burning within the funnel on top of the ship with dark smoke billowing into the air.
User @AirborneJM posted a series of photos of the fire, including one that shows crew members working to put it out.
"Carnival Freedom caught fire in Grand Turk while docked this morning. Praying there are no injuries and everyone will be safe. #carnival #fire #grandturk," they wrote.
"There was a fire this morning on board a Carnival cruise ship docked in Grand Turk, #TurksandCaicos," Jacqueline Charles, a correspondent for the Miami Herald, tweeted on Thursday. "Knowing how tiny Grand Turk is I know the panic among folks when they saw the smoke."
Earlier this week, in a separate incident, the Coast Guard said that some passengers aboard a Carnival cruise ship heading to Norfolk, Virginia, reported they were feeling ill after smelling chemical fumes.
In recent months, Carnival has seen a spike in booking following the Centers for Disease Control and Prevention's (CDC) decision to rescind its COVID-19 advisory for cruise travel in late March.
At the time, the CDC said that it's up to passengers to determine their own risks before embarking on a cruise.
"While cruising will always pose some risk of COVID-19 transmission, travelers will make their own risk assessment when choosing to travel on a cruise ship, much like they do in all other travel settings," the agency said in a statement.
In April, Carnival noted a record week for booking.
"The excitement of the industry's restart, our successful return of our entire fleet, the guest reaction to Mardi Gras, our loyal guest response to our 50th birthday this year, the support of our travel advisor partners — and of course, the amazing work of our Carnival team — have all contributed to the strong demand we are seeing, and this record-breaking booking week," Christine Duffy, president of Carnival Cruise Line, said in a statement.