Video Shows Florida Trooper Saving Toddler From Choking on Freeway
Dramatic dashcam footage has documented the moment a Florida Highway Patrol trooper saved a baby girl's life by the side of a busy road.
The Miami Herald reported how the unnamed 1-year-old child was choking on Interstate-95 in Miami-Dade County on the afternoon of October 16.
Someone had already attempted to use an anti-choking device on the child, without any success.
But cameras attached to the front of Trooper Reginald Mathieu's police car recorded the moment he raced to her rescue.
Three cars are seen pulled over to the side of the I-95 southbound lanes in the area of Southwest Seventh Street, with some people surrounding a family on the ground as Mathieu arrives.
The trooper is then observed in the one-minute-long video clip performing repeated back blows on the toddler until she regains consciousness.
Florida Highway Patrol (FHP), which posted the dashcam footage to Twitter, accompanied the video with a brief statement praising their "hero" officer.
FHP, which Newsweek has contacted for an update, wrote: "Trooper Mathieu recently responded to an emergency involving a one-year-old toddler who was unresponsive on I-95.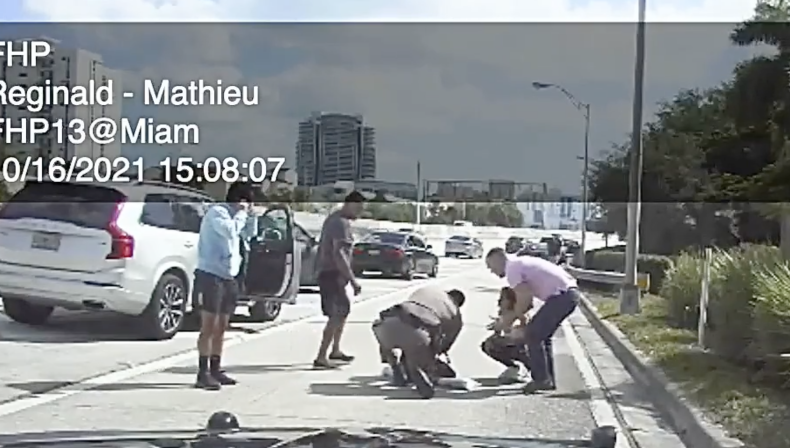 "Trooper Mathieu's first aid training immediately kicked in as he jumped into action, performing a series of back blows until the toddler regained consciousness! #Hero."
It is believed the trooper was attending to an unrelated crash in the vicinity when he was flagged down by the toddler's parents, concerned about the unresponsive girl.
The girl was then taken to a nearby hospital as a precaution.
The video has been viewed almost 4,000 times since it was uploaded to social media on Sunday, while several users used the comments to praise the trooper's quick reactions.
Maribel De Armas wrote: "Thank you for your service Officer!" Lajames Person added: "Good deal," while Twitter user Moe added: "Excellent work!"
The good Samaritan's amazing intervention was only the latest dramatic incident to take place on U.S. roads in recent weeks.
A woman in Virginia has been accused of leaving the scene of a car crash before allegedly stealing a bystander's car while their children were still inside.
A man in Florida was arrested in September after being accused of indecently exposing his genitalia on numerous occasions while passing through several toll booths across Florida.
And a pair of students have been praised for their heroic response after the person driving their school bus fell unconscious behind the wheel on a rural roadway in the state of Missouri.