A video showing the lengths authorities in Germany are going to enforce COVID-19 rules has gone viral on social media.
The video, posted online by various German Twitter users, shows police on Saturday night using folding rulers as they walk through a crowd in Hamburg, measuring to make sure that people stay six feet apart. Some people can be seen carrying signs, but it's unclear what they say and if the individuals are part of a larger protest.
As of Sunday afternoon, the video had been viewed over 700,000 times, with the view count rising rapidly.
Hamburg has seen multiple protests against COVID-19 mandates recently, as have cities across Europe. On Saturday, Bloomberg News reported that around 8,000 people gathered in downtown Hamburg to protest vaccination mandates for children.
Roughly 44,000 people gathered in Vienna, Austria, to protest vaccines mandates the same day. The protest, the third-largest in Europe in the last month, was reportedly organized by the Freedom Party, a far-right political group.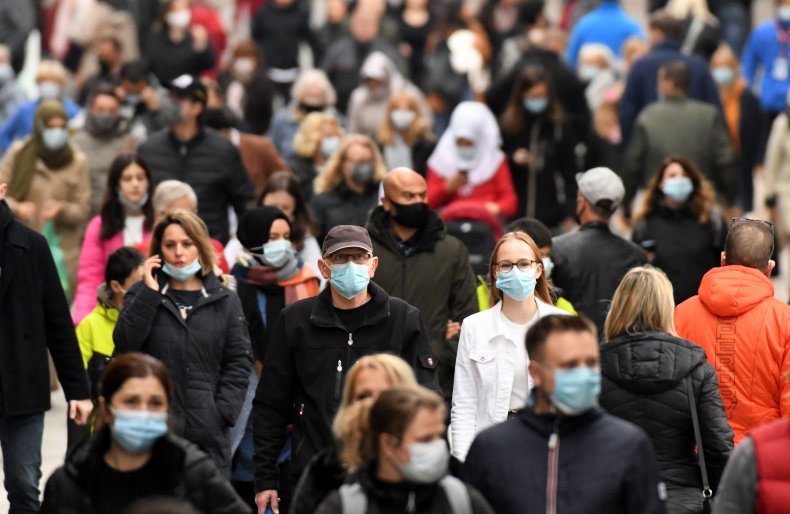 European officials recently warned that the new Omicron variant could surpass the Delta variant as the continent's dominant strain of COVID-19 much sooner than people expect.
"We expect it to overtake Delta within days, not weeks," Nicola Sturgeon, the First Minister of Scotland, said Friday.
The U.K. Health Security Agency also noted in a warning that Omicron could overtake Delta in Great Britain by mid-December, citing its "high growth rate" in comparison to the earlier variant. Preliminary research has found that Omicron appears to be more infectious than Delta, with greater resistance to the current crop of COVID vaccines.
"The speed of [Omicron] is surprising," Linda Bauld, a professor at the University of Edinburgh, told The Washington Post. "If it can overcome Delta in Scotland and the U.K., then it will do elsewhere."
Despite the mounting concern over Omicron's rate of spread, some experts have expressed optimism, as the variant, so far, appears to have only moderate symptoms, compared to the more intense sicknesses caused by earlier strains. During a December 5 appearance on CNN's State of the Union, Dr. Anthony Fauci, though also optimistic, stressed that it was still too early to make conclusions.
"Thus far, it does not look like there's a great degree of severity to it," Fauci explained. "But we have really got to be careful before we make any determinations that it is less severe or it really doesn't cause any severe illness, comparable to Delta."