A video of Republican Senate candidate Herschel Walker's son, Christian Walker, complaining about absent fathers has re-emerged following a report that Walker has another son from a different woman.
The GOP candidate is challenging Democratic Senator Raphael Warnock in Georgia's U.S. Senate race. The Daily Beast reported on Tuesday that Walker has a young son, who was born in 2012, with a woman other than his current wife or ex-wife.
Christian Walker, Walker's eldest son, strongly criticized absent or irresponsible fathers in videos posted to TikTok and highlighted on Twitter by Business Insider senior politics reporter Grace Panetta on Tuesday.
In one video, the 22-year-old Christian Walker recorded himself sitting in a car and strongly criticizing TV host and actor Nick Cannon, who will soon have eight children. Cannon has fathered seven children with four different women and one more baby, with girlfriend Bre Tiesi, is on the way.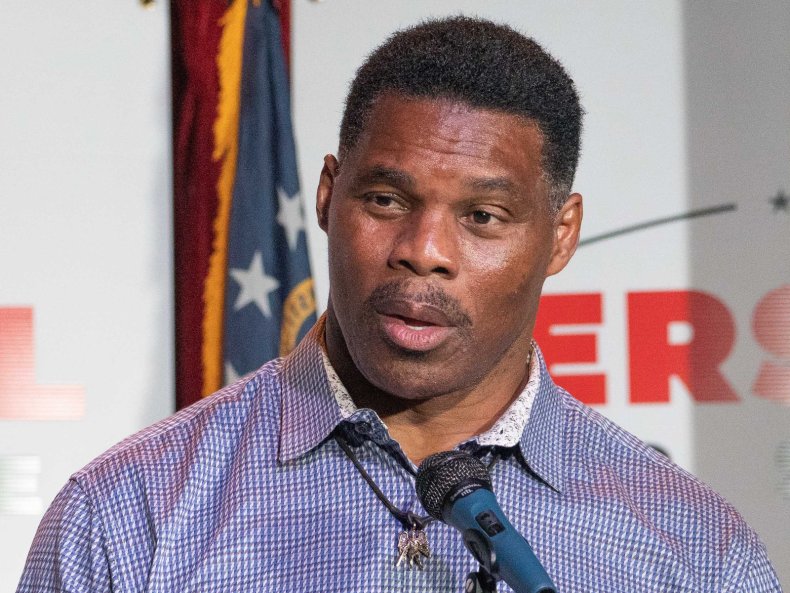 "Nick Cannon is everything wrong with men in America. Get home and raise your kids," Christian Walker shouted in the TikTok video Panetta said had been posted five days earlier. Walker continued to criticize Cannon for "hooking up" with multiple women.
"Get home and raise your kids and take care of the women you're knocking up! Can you control your thing for three seconds?" Walker said.
In another video Panetta highlighted from a few weeks ago, Christian Walker expressed a similar sentiment.
"Fathers, it would be great if you stayed home and raised your kids instead of [running] off to bang a bunch of women who weren't your baby mama. Stay home and raise your frickin kids! Your kids need a father! Get back home," he said.
The Daily Beast reported that while Herschel Walker sends his 10-year-old son birthday and Christmas presents, he has not played an active role in the boy's life and the child lives more than 1,500 miles away from Walker's home in Texas.
The child's mother took Walker to court in order to get a declaration of paternity and a child support order. She was granted that order in 2014 and Walker was named as the child's father in a court document.
Scott Paradise, Walker's campaign manager, told the news outlet in a statement: "Herschel had a child years ago when he wasn't married. He's supported the child and continues to do so. He's proud of his children. To suggest that Herschel is 'hiding' the child because he hasn't used him in his political campaign is offensive and absurd."
Walker also has two other children who were previously not known to the public—a 13-year-old son and a daughter.
"I have four children. Three sons and a daughter. They're not 'undisclosed'—they're my kids," the Republican said in a statement. "I support them all and love them all. I've never denied my children, I confirmed this when I was appointed to the President's Council on Sports, Fitness and Nutrition, I just chose not to use them as props to win a political campaign. What parent would want their child involved in garbage, gutter politics like this?"
Walker has previously discussed parenting and criticized so-called deadbeat dads. In remarks in 2017, he spoke about his relationship with Christian, saying, "if you got a child, hug your child every day."
The news about Walker's second son came shortly after a report that he had falsely claimed to be an FBI agent and a police officer amid a campaign where he has made several false claims, including that he graduated from the University of Georgia.
Newsweek reached out to the Walker campaign for comment.