Video of Mallory McMorrow Hitting Back on 'Grooming' Claim Viewed 1M Times
A video of Michigan state Senator Mallory McMorrow hitting back against a claim she wants to "groom and sexualize" children was viewed more than one million times on Twitter.
Michigan state Senator Lana Theis, a Republican, made the claim in a fundraising email, writing that McMorrow, a Democrat, and others are "outraged they can't...groom and sexualize kindergarteners or that 8-year-olds are responsible for slavery," Michigan Advance reported. The e-mail came after McMorrow walked out of the Senate during an invocation by Theis.
In recent weeks, some conservatives have accused people who want to educate students about LGBTQ issues of being "groomers" and trying to sexualize children—a claim condemned by many as a homophobic attack.
McMorrow, while speaking on the Senate floor on Tuesday, blasted the accusation in a video that has gone viral on Twitter, being viewed more than one million times and causing the senator's name to trend.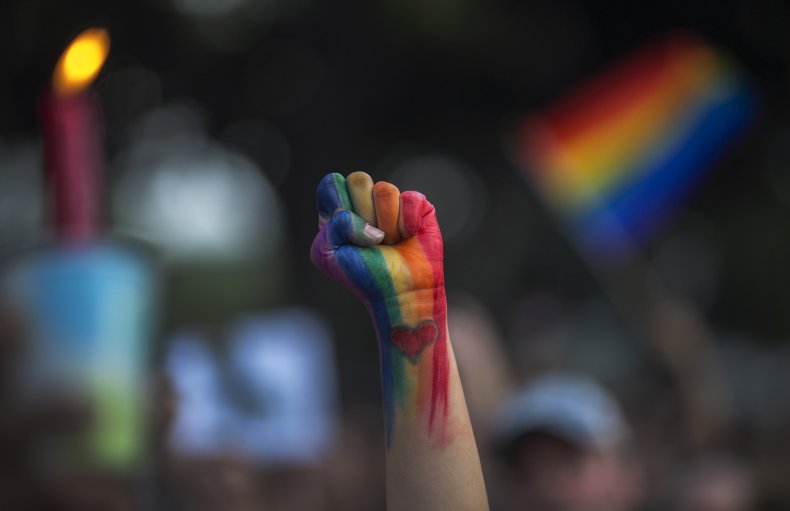 "I sat on it for a while, wondering why me? said McMorrow. "And then I realized—because I am the biggest threat to your hollow, hateful scheme. Because you can't claim that you're targeting marginalized kids in the name of 'parental rights' if another parent is standing up to say 'no.'"
Later in the speech, McMorrow responded to Theis' claim that she believes "8-year-olds are responsible for slavery."
"I am a straight, white, Christian, married suburban mom who knows that the very notion that learning about slavery or redlining or systemic racism somehow means that children are being taught to feel bad or hate themselves because they are white is absolute nonsense," she said.
McMorrow added: "No child alive today is responsible for slavery. No one in this room is responsible for slavery, but each and every one of us bears responsibility for writing the next chapter of history. Each and every one of us decides what happens next, and how we respond to history and the world around us."
She slammed "hateful people" who "scapegoat and deflect from the fact from the fact that they are not doing anything to fix the real issues that impact peoples' lives."
In an interview with Newsweek Tuesday evening, McMorrow said the uptick of anti-LGBTQ rhetoric has been "horrifying to watch."
"This same rhetoric is now being used to attack an already marginalized community, particularly LGBTQ kids to deflect and scapegoat so that people are so mad and taking out their anger on gay kids," she said.
McMorrow said she hopes that more people like her stand up and fight back, adding that Democrats cannot listen to polling that suggests they should not focus on these social issues.
"We can't in good conscious do that. We have to stand up against blatant hatred because that's what allows it to thrive," she said.
Her speech was met with praise on Twitter.
"Sen. McMorrow, you gave a great reply and the national Democratic leadership should learn from you how to respond!" commented Twitter user @khughes1963.
Twitter user @JeffHerz responded: "The Democrats need more of this fire, more of this passion instead of passivity, allowing the other side to drive the narrative. Enough. Its time to push back."
The speech came as several states continue to consider and pass legislation focusing on "culture war" issues, including Florida's controversial so-called "Don't Say Gay" bill that bans discussion of gender identity or sexual orientation through third grade. Supporters of the bill have accused opponents of trying to "groom" children by talking about these topics.
Newsweek reached out to Senator Theis' office for comment.
Update 4/19/22, 6:12 p.m. ET: This story was updated with comment from Senator Mallory McMorrow.