Video: Maryland's GOP Governor Larry Hogan Urges Party to Change, Saying Americans Want 'Humble, Tolerant, Respectful' Leaders
Maryland's Governor Larry Hogan, a Republican, released a new campaign-style video on Monday urging the GOP to transform itself and build a broader coalition of American voters.
Hogan, a frequent critic of President Donald Trump, released the video through his organization An America United. The video compiles footage from media appearances by the Republican governor, as well as from a November speech he gave at the Ronald Reagan Presidential Foundation and Institute.
"We are once again at a time for choosing," Hogan says in the video. "Are we going to be a party that can't win national elections or are we willing to do the hard work of building a durable coalition that can shape our nation's destiny?"
He continued, "Look, I'm a guy that tells it like it is. So here's a truth that our party needs to hear: No one will listen to our message if they don't believe that we're listening to them."
Hogan added, "Most Americans want the same thing. They want humble, tolerant, respectful and effective leaders. We need Washington to get its act together."
Newsweek reached out to Hogan for further comment but did not hear back in time for publication.
Some political analysts have speculated that Hogan could mount a presidential run in 2024. But Hogan recently told Bloomberg's The David Rubenstein Show: Peer-to-Peer Conversations that he is focused right now on serving out the rest of his term as Maryland's governor, which ends in 2023.
In Still Standing, his book released this past summer, Hogan wrote that he considered launching a primary challenge to Trump. But he dismissed the idea, believing it was a "suicide mission."
Following Trump's reelection loss last month, Hogan was one of the first prominent Republicans to congratulate President-elect Joe Biden. Trump has refused to concede, as he and his legal team continue to push unsubstantiated claims of widespread voter fraud. These allegations have nearly all been dismissed or rejected in court, with judges saying that lawyers for the president and his supporters have not provided evidence.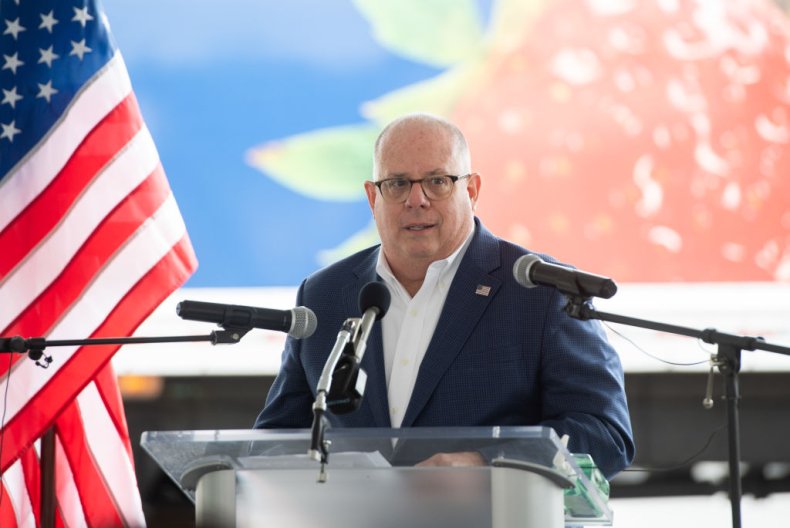 Trump has frequently criticized Hogan, describing him as a "RINO," or "Republican in name only." After the president attacked the governor in a November 22 Twitter post for reportedly paying millions of dollars for ineffective South Korean coronavirus tests, Hogan quickly responded by urging the president to concede the election to Biden.
"If you had done your job, America's governors wouldn't have been forced to fend for themselves to find tests in the middle of a pandemic, as we successfully did in Maryland," Hogan wrote. "Stop golfing and concede."