Video of Mother Stopping Her Son's Marriage Proposal Viewed Over 9 Million Times
A video of a grown man having his marriage proposal ruined by his mother has reached more than 9.4 million views on TikTok.
In the video, a TikTok user with the name @catdaddan, writes, "To the girl I was going to propose to, but my mom put a stop to it."
The video shows him and his girlfriend awkwardly smiling near a stone wall with a countryside landscape behind them. His parents watch from behind the camera. A ring emoji and an arrow overlaid on the video points to a small bulge in the man's right pocket.
The video then cuts to footage of the girlfriend standing on the wall. She excitedly places her hands between her legs as the man's mother protests, "Danny, no! Get down! Nooooo!"
The video then ends suddenly.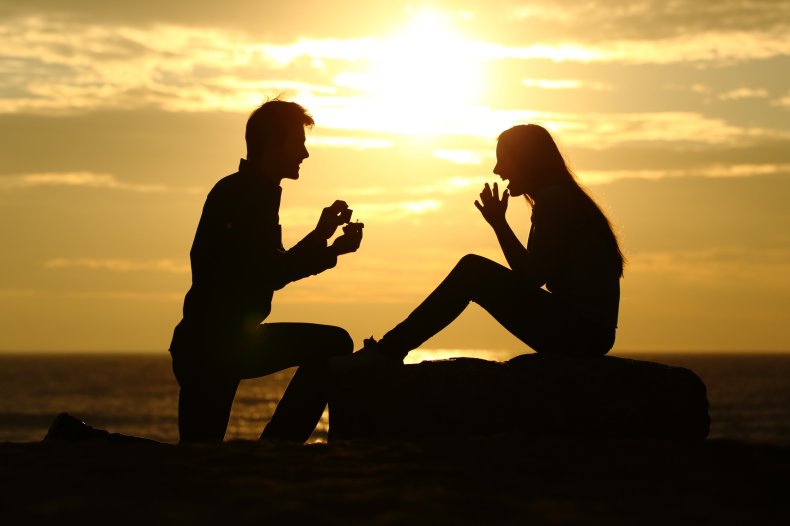 Numerous commenters on TikTok criticized the man for not going through with the engagement despite his mother's protest.
One commented, "She got lucky then. Who wants to marry someone who lets mom pick out their wife?"
However, this viral fail has a happy ending. In response to his critics, @catdaddan posted a follow-up video. In it, he said, "So I didn't propose at that moment for obvious reasons."
"But [my girlfriend] didn't get too lucky," he continues. "And to commemorate the moment, we ended up taking our engagement photos on the wall," he adds.
His follow-up video then shows an image of him and his now-fiancee holding each other and touching foreheads while standing together on the stone wall. The sun-kissed countryside stretches into the horizon behind them.
Naturally, this isn't the only viral video showing a marriage proposal going horribly wrong.
A video that went viral in May showed a woman's now-fiancé proposing during a gondola ride. The ride was at The Venetian Las Vegas resort in Nevada.
The man got on one knee to propose. After his girlfriend accepted, he then stood up. But as he rose to place the ring onto her finger, he lost balance and fell into the water.
Another video that went viral in early July showed a woman surrounded by two female friends just as her boyfriend proposed. However, as the woman turned around to see her boyfriend with a ring box in hand, another man "kidnapped" the woman's friend to her right.
The man put his hand over the friend's mouth and dragged her off to the side. The kidnapped friend waved her arms as her eyes widened in shock. Fortunately, the "kidnapper" was just the woman's husband, trying to make sure that his wife's reaction didn't overshadow the proposal itself.
Text overlaying the video read: "So our cousin didn't know about the proposal ... and we knew she'd be extra. So her husband had ONE job ... don't ruin the romantic moment. Definitely a much better reaction than we anticipated."