Video of Octopus Showing Off Painting Skills at Tampa Aquarium Goes Viral
This artistic octopus gives Pablo Picasso a run for his money.
A sweet video of a cephalopod using its tentacles to "paint" on a canvas provided by aquarium caretakers has gone viral online and impressed marine life lovers with her skills.
The Florida Aquarium located in Tampa posted the video to their social media accounts on Sunday afternoon. As part of the facility's Cephalopod Week, the team decided to plan an activity that would stimulate the octopus, identified as Farallon the giant Pacific octopus in an Instagram comments thread.
The video starts with one of Farallon's caretakers showing the camera a canvas dotted with blue paint. In order for Farallon to "paint" without the canvas sustaining water damage, a plastic wrap was placed over top.
Farallon swims her way closer to the edge of her tank enclosure and allows her caretaker to place one of her tentacles on the canvas. As the aquarium employee acts as an easel to hold up the canvas, Farallon uses several of her limbs to spread out the paint under the plastic wrap.
The video ends with Farallon swimming away as the caretaker shows off two colorful paintings produced by the aquarium's talented cephalopod.
"No better way to wrap up #CephalopodWeek than with an octopus enrichment painting session," the aquarium captioned the video. They also noted that viewers who comment would have a chance at winning the painting Farallon created.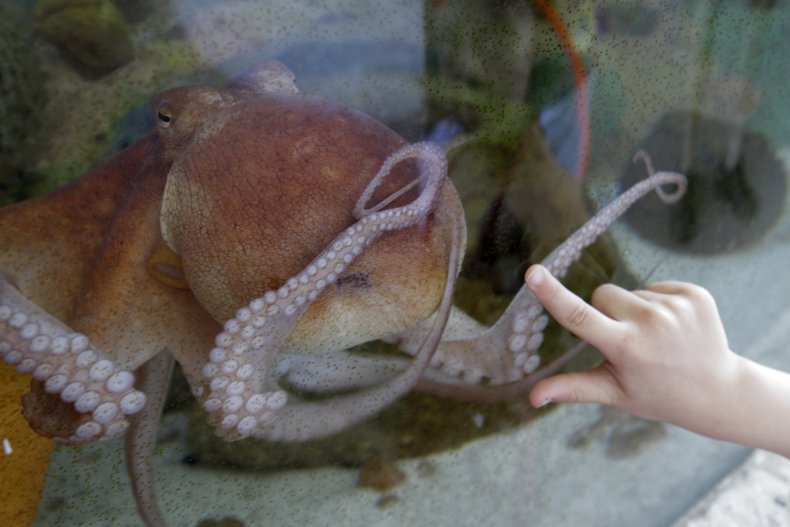 A biologist at The Florida Aquarium, Halley Miller, shared with Newsweek that Farallon is privy to many activities that stimulate her mind and body.
"Like all giant Pacific octopus, The Florida Aquarium's [giant Pacific octopus] Farallon is an extremely intelligent creature," Miller said. "Enrichment activities are key to optimal animal welfare as a result the professional care team provides her with a wide variety of activities from puzzles, to painting and more.
"This was the first time we presented Farallon this [painting] activity," Miller told Newsweek. "She was very engaged with the canvases; using her arms and suckers to push around the paint."
Viewers online were charmed by Farallon's flair for the arts. "How smart they are and how they change colors to blend in so well with their surroundings," one viewer reflected on Instagram. "He or she did a great job. Love it," another added.
"As a scuba diver, I've had many interesting encounters with octopus. What I love most about them is their funny, inquisitive little personalities. They love to check divers out and sometimes will even give you an octo high five or E.T. touch if you're lucky!" one passionate viewer shared on Facebook. "[Octopi] are tricksters, shape shifters, and all-around rock stars. When I see an octopus in the wild, I'm reminded that you don't have to go to outer space to meet aliens."
The Florida Aquarium has posted fun facts and clips of Farallon throughout the week in honor of Cephalopod Week. The aquarium noted that she is stimulated "mentally and physically" with a variety of enrichment exercises, which includes watching video clips of other marine life and ultrasound training.
At the SEA LIFE Aquarium at the Mall of America, a group of puppies also charmed viewers in May as the adorable litter got to explore the facility as part of an adoption fundraiser. A month later, the aquarium hosted a group of adoptable kittens for a field trip of their own.